Updated on March, 2023
According to the resources 10th Class Annual Date sheet 2023 of BISE Gujranwala Board will release in month of March and the exams of the 10th Class to be held in the month of April, 2023. Staying informed with the latest updates about Gujranwala board by visiting our website on daily basis.
Students of 10th class (SSC) will be glad to know that the BISEGRW (Gujranwala) Board has officially announced the annual exam commencement date to be 1st of April, 2023. Students of 10th class(SSC) are now advised to stop wasting their time and start focusing on their examination syllabus and important past papers in order to have any change of securing high marks and successfully passing the annual examination of 10th class 2023.
The BISEGRW board also serves to register students for their SSC and HSSC examination and also providing them with their examination certifications. The board also functions to provide various scholarships, medals, and awards to deserving and top scoring students. The BISEGRW board ensures that all results cards are free from errors by ensuring that students answer books are checked by the best staff possible.
Students of 10th class (SSC) will find all the latest updates regarding their board syllabus and important 10th class study material guides and links on this page. Without proper board exam preparation no student can secure high marks therefore it is important that students study regularly all the courses in their syllabus as recommended by their teachers and gain guidance from them regarding solving the important questions in minimum time as possible.
10th class Date sheet 2023 Gujranwala board will be announce in March, 2023. BISE Gujranwala board always issues the Gujranwala Board 10th Class Date Sheet 2023 before one month of final term exams, as board exams held in the month of April 2023 so the date sheet will be published in the month of March 2023. BISE Gujranwala board registered candidates of the 10th class can check their date sheet online on the specific website of the Gujranwala board. The candidates of the 10th class can prepare themselves in this very short time for final term exams; however, they necessitate a fine podium to help out. Students of the 10th class have an opportunity to find all helping material related to their subjects from a website campus.pk, it is called that number one website to update with the latest studies issues in Pakistan is campus.pk.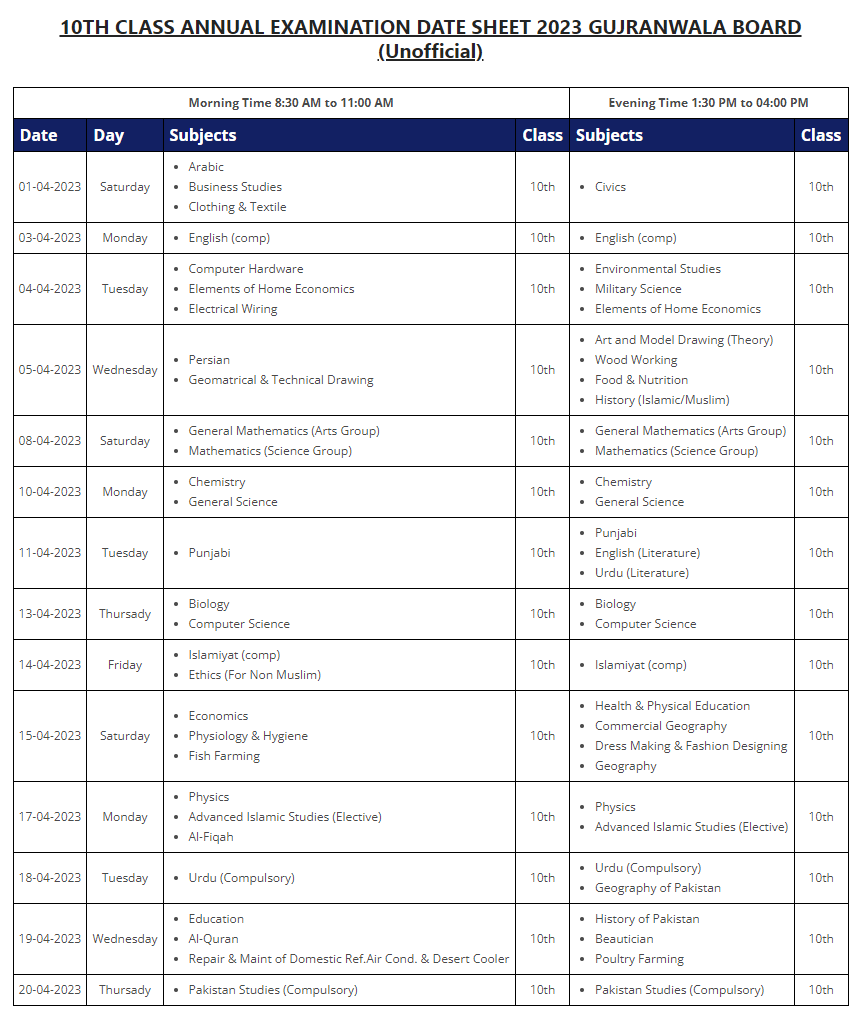 Get Gujranwala Board 10th Class Date Sheet 2023 Online
Bise Gujranwala board is responsible to provide students all requirements, issuance of roll number slips, date sheets, matric results for all board, selections of controllers, selections of examiners set up final term exams of matric class and intermediate class. Time has been improved things, in the past board was issued announcements through post offices, which consumed a lot of time. But now there is an official website of BISE Gujranwala board online, every newest announcement updated here fairly. The students of the 10th class check their matric date sheet online. Students of class are prospecting with all helping material, solved short questions, board wise past and guess papers, assessment schemes, and multiple-choice questions, video lectures, and all others on a very excellent website of campus.pk. Students can find everything related to their studies without any trouble with just one click on www.campus.pk
10th Exam Paper Pattern For Major Subjects
| | |
| --- | --- |
| Urdu | 75 Marks, 19 MCQs, 10 Short Questions, 5 Long Questions. |
| English | 75 Marks, 19 MCQs, 10 Short Questions, 5 Long Questions. |
| Pak-Studies | 50 Marks, 19 MCQs, 10 Short Questions, 5 Long Questions. |