Updated on March, 2023
Students are notified that BISE Rawalpindi Board will be announced the official 10th Class Annual exam 2023 date sheet in March, 2023. Students are recommended to stay connected with us for latest updates regarding date sheet.
The board of intermediate and secondary education Rawalpindi is expected to announce the 10th class date sheet in the month of March, 2023. Students must not fear from failing their examinations as they must prepare for the worst even if they have worked hard. The BISE Rawalpindi board will provide students facility to register themselves online and also provide them their answer sheets. The board also provides facility to recheck papers for students who have concern.
Students of 10th class(SSC) will find all information concerning their BISE Rawalpindi board exams on this page and can easily download their date sheets as well for further usage as well. Students of 10th class must realize this is a very important time for them so they must pay full attention to their studies and let their parents hard eared cash go to waste and they have spend a lot of cash and time towards students studies and expect their children to get best marks and position for securing their future and success in their life.
Campus.pk shares with you the information about the 10th class date sheet 2023 Rawalpindi Board and RWP result for matric class students who appeared in the SSC Part 2 examinations under the Bise Rawalpindi Board of Intermediate and Secondary Education. This year, BISE Rawalpindi Board announced the Rawalpindi Board 10th Class Date Sheet 2023 on March, 2023 for the annual examination started in the month of June. The result date for class 10th BISE Rawalpindi Board is also declared by officials.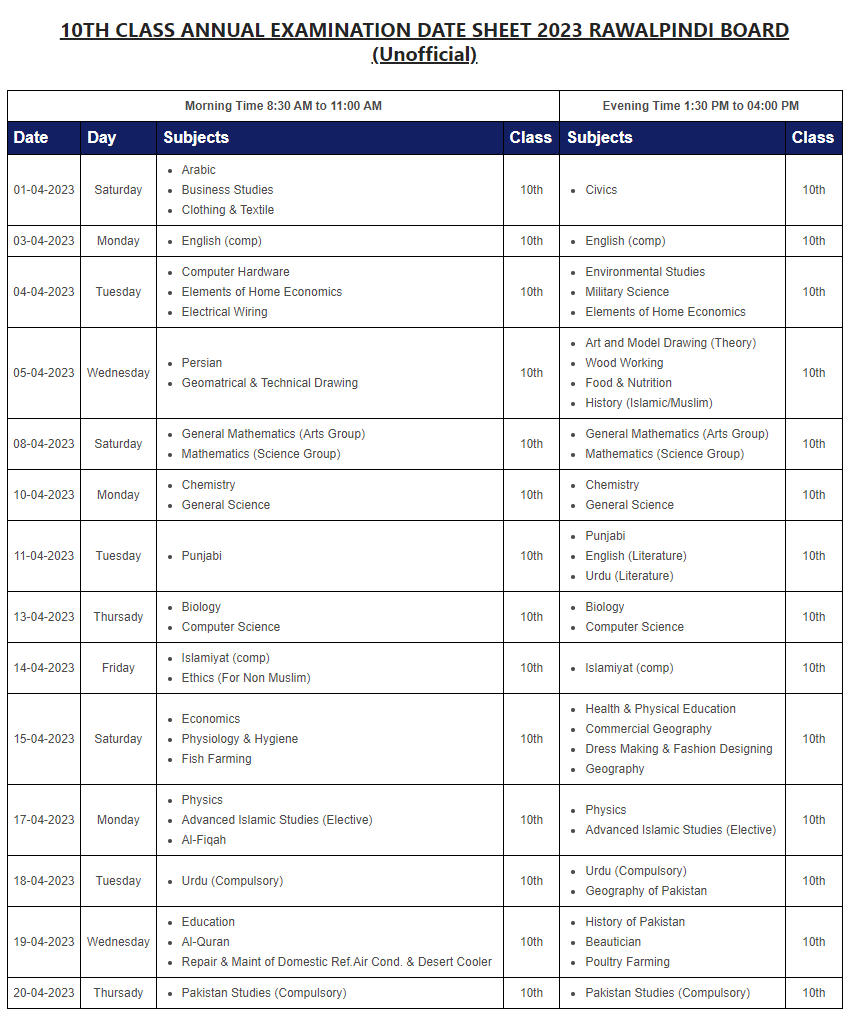 Important Information on BISE Rawalpindi 10th Date Sheet
| | |
| --- | --- |
| 10th Exam Start Date 2023 | 1st April, 2023 |
| Compulsory Subjects | 3 Subjects [Details] |
| Optional Subjects | 14 Subjects (Physics /Maths /Biology /Chemistry /Computer /General Science /Islamyat Elective /Punjabi /Education /Civics /History /Economics /Jughrafia) |
| Board Jurisdiction | Rawalpindi, Jhelum, Attock, Chakwal |
| Duration of Exams | Completes in 30 days |
| Official Board Website | www.biserawalpindi.edu.pk |
| Date Sheet Status | Announcing in the month of March, 2023 |
Rawalpindi Board 10th Class Date Sheet 2023 for All Groups Students:
Established in October 1977 and situated at Morgah near Attock Refinery, Bise Rawalpindi Board is an autonomous body functioning under the Punjab Education Department. BISE Rawalpindi board takes the examination in the Rawalpindi Division consisting of 4 Districts i.e Attock, Chakwal, Jhelum, and Rawalpindi. It is responsible to conduct Matric, Intermediate, Languages (CT. OT. PTC. D.M) and Drawing Masters Examinations and to declare date sheet for the respective board. Bise Rawalpindi Board is an authenticated body and grants affiliation to secondary and Higher Secondary institutions, both public and private. BISE Rawalpindi board conducts examinations in the months of May and Jun and results are typically declared in the month of July and August. Each year, thousands of students appear for their HSSC class board exams and based on student's exceptional academic performance, awards and scholarships are offered to toppers for continuing further study. For students who fail their board exams, Bise Rawalpindi Board provides them with several chances to appear for the supplementary examination. Campus.pk offers access to students to check their Rawalpindi Board SSC part 2 date sheet and result.
BISE Rawalpindi Matric 2023 Date Sheet Online:
BISE Rawalpindi Board Matric date sheet about a month before the commencement of exams; offering some time to students for preparation of board exams. Students do rush to find out the latest updates for the date sheet of matric class final exams 2023, so here campus.pk helps you to find out all the latest updates for the date sheet of 10th class Rawalpindi board on time on this page. Follow us for latest updates of the online date sheets and result updates.
10th Exam Paper Pattern For Major Subjects
| | |
| --- | --- |
| Urdu | 75 Marks, 19 MCQs, 10 Short Questions, 5 Long Questions. |
| English | 75 Marks, 19 MCQs, 10 Short Questions, 5 Long Questions. |
| Pak-Studies | 50 Marks, 19 MCQs, 10 Short Questions, 5 Long Questions. |