14 October, 2020
Views 69
BISE Swat Announces Result Date For Special And Supplementary Exams Of SSC & HSSC Classes
Umer Hussain, Controller of Examinations of BISE Saidu Sharif Swat, informed in the latest notification that the results of the Matric and Intermediate Special and Supply Exams will be announced on October 15, 2020. Students of the SSC and HSSC classes have been waiting for a long time for the announcement of the result. This latest notification from the board proves the policy of the board to keep students first and listen to their needs as the priority. Students will be able to get enrolled in the next classes if the board declares them to have passed the exams in the upcoming result.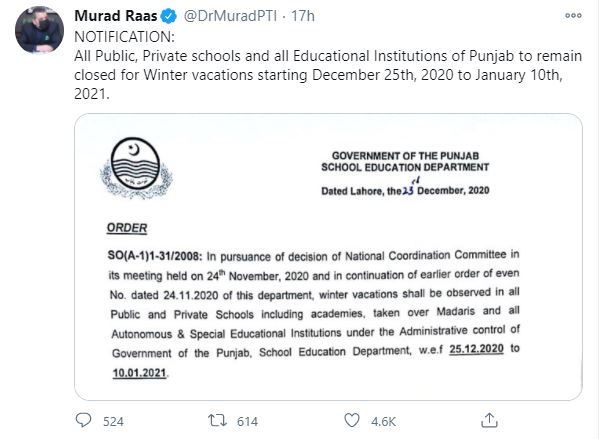 Facilities provided by BISE Swat
•
The CDK copy will be available from the Secrecy Section of the BISE Saidu Sharif Swat at 5:00 pm on paying Rs. 300/- rupees.
•
Candidates who appeared in both the Special and Supplementary exams of SSC and HSSC classes in 2020 will be able to obtain their Detailed Marks Certificate (DMC) from Facilitation centers.
•
The above-mentioned students will also be able to collect their Provisional certificate as well from the Facilitation centers.

List of Facilitation centers
BISE Saidu Sharif has established four facilitation centers for the students. These centers will make sure that the students get their DMCs with ease and on time. Here are the names and the addresses of the Facilitation centers:
1.
District Swat (Upper): Govt Centennial Model Higher Secondary School Wadudia Saidu Sharif Swat
2.
District Swat (Lower): Govt High School Matta Swat
3.
District Shangla: Govt Centennial Model Higher Secondary School Alpuri Shangla
4.
District Buner: Govt Centennial Model Higher Secondary School Daggar Buner

About BISE Swat
Board of Intermediate and Secondary Education Saidu Sharif Sawat is a public sector educational board. The duties of this board include conducting exams for Matriculation and Intermediate exams. This board is also responsible to award certificates to the students. BISE Swat is an autonomous organization that has this autonomy by the decision of the Provincial Government of Khyber Pakhtunkhwa. BISE Swat organizes many co-curricular activities in its affiliated institutions and announces scholarships for students.