05 November, 2020
Views 1617
Pakistan Education Ministers Finalize The Decision About Winter Vacations In Schools
The meeting of National Command and Operational Center presided by the federal education minister, Shafqat Mahmood in which all other educational ministers participated, it is decided that the schools across Pakistan will remain open despite the upsurge in the coronavirus cases. The decision was taken after the health ministry officials explained the situation of coronavirus in the country. So by considering the current scenario the education minister announced that currently there is no need to close the institutes. The students will attend the schools on the regular basis as per the proposed schedule.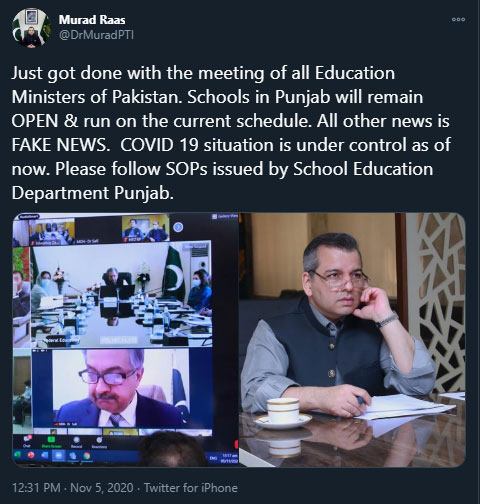 No Winter Holidays
It is also decided in the meeting that there would be no holidays for this year in Punjab. Moreover, the education ministers of all the other provinces will reconsider the situation to announce the winter vacations. It would depend upon the geography and the coronavirus situation in the province respectively. According to the sources, no declaration was made in the meeting about the annual examination of the 8th, 9th, and 10th classes. The Punjab education minister, Murad Raas announced that all the news about the closure of the schools were fake.
Schools To Remain Open
The minister made the announcement on his Twitter account and clarified that the schools in Punjab will run on the current situation. There is no need to pay heed to the rumors as the situation of the coronavirus pandemic is under control. He instructed the students to follow the SOPs issued by the School Education Department. The next meeting of provincial education ministers was planned for December 2020.
Pakistan's COVID-19 positivity rate
Pakistan recorded 4.94% COVID-19 positivity rate that is highest in the last three months. The governments have issued warnings and urging the public to follow COVID-19 SOPs. Prime Minister Imran Khan said that there would be no national lockdown so follow the preventive measures to protect from the novel coronavirus.