09 October, 2020
Views 153
PMC Clears The Concerns Regarding The MDCAT Test In Sindh
Dr. Arshad Taqi, President of Pakistan Medical Council, has told the Chairman Admission Committee in Sindh that the additional entry test requirement put in place by the Sindh Government will not apply to all the colleges. In his clarification, he reminded the Provincial Admission Committee that private colleges are not under the jurisdiction of the Sindh Government. He cleared that as the Government of Sindh wants to take an additional entrance test for admissions in Medical and Dental colleges apart from the MDCAT test, the Provincial Admission Committee will not be able to impose this decision on the private colleges that are located in Sindh.

Letter by PMC President to the Chairman of Sindh Admission Committee

In the letter sent by the President of the Pakistan Medical council to the Chairman of the Provisional Admission Committee in Sindh, he admitted the right of any provincial government in Pakistan to have the absolute authority to create the admission criteria in the Medical and Dental colleges. He also proclaimed that if the Sindh Government is willing, it can take the additional test other than the MDCAT in all public colleges of Sindh. But he also made a point by mentioning the unified policy of all authorities in Pakistan to include the 50% weightage of MDCAT marks in the final merit score for admissions in Medical and Dental colleges.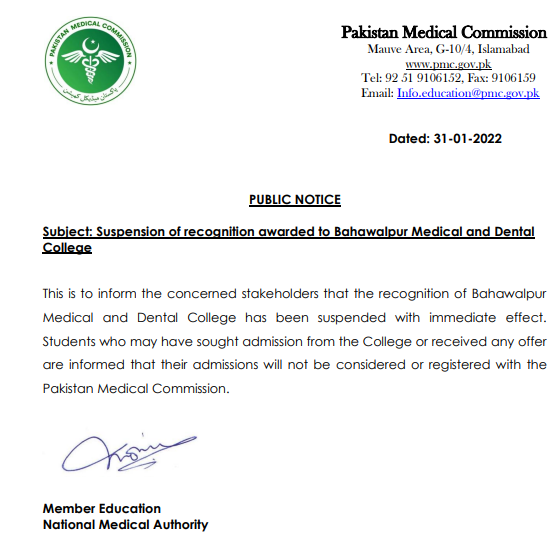 Not applicable for private colleges


The letter mentioned the lack of control of any provincial government over the Private medical colleges. The admission of medical colleges that are run by private bodies cannot be administered under the policies of Government authorities. Thus making it necessary for the private colleges of Sindh to hold an additional entrance test other than the MDCAT test is not in the power of the Sindh Government.


Relief for the Medical and Dental colleges' aspirants of Sindh


The letter read that this year MDCAT will be based on a common syllabus that is approved by all provinces. This unified syllabus means that students all over Pakistan will appear in the same MDCAT test. He also suggested the admission authority in Sindh to release a clarification regarding the present situation.