07 December, 2020
Views 43
UHS To Consider Postponement of MBBS and BDS Exams
University of health sciences
has announced to consider the postponement of MBBS and
BDS
exams. Due to the directives issued by the government after NCOC meeting, the scheduled exams in December got postponed. Earlier the UHS had declared the
revised schedule of the exams
after considering the situation of the coronavirus in the country. According to the notification, the exams of the MBBS and BDS will be held from 13th and 14th January respectively. The UHS would conduct the exams as per the prescribed COVID-19 standard operating procedures for Bachelor of Medicine, Bachelor of Surgery (MBBS), and Bachelors of Dental Surgery (BDS). It is informed that the final decision to postpone the exams has not been taken yet so the students should be prepared for the January exams.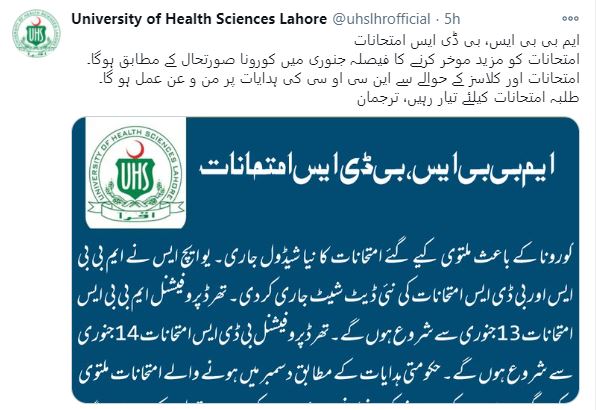 "DelayAllProffsUHS" Trends On Twitter
After the issuance of the revised schedule, the students took Twitter and protest against the decision of the University of Health Sciences. The students demanded to delay the exams due to the rapid increase in the number of coronavirus cases across the country. Most students were not satisfied after the announcement of the new date sheet announced for MBBS and BDS exams. #DelayAllProffsUHS was trending at number 1 on Twitter in Pakistan, after which the UHS make the announcement on its Twitter to review their decision to postpone the exams.
Decision of Government
It was announced by the federal education minister, Shafqat Mahmood in the last month that the MBBS and BDS exams will be conducted in the line with schedule. The minister directed to close all the educational institutes across Pakistan and moreover instructed to delay all the exams except few professional exams. He added that the safety of the students is the top priority of the government. Besides the postponement of all the exams, the
medical and dental college admission test
was held on 29th November 2020 according to the provided schedule.