Board
Exam Result
Status
Action

Bahawalpur Board

BISE Bahawalpur Board Matric Exam Result 2022

Announced on

August 31, 2022

Check Online
The Bahawalpur Board of Intermediate and Secondary Education announced the
date sheet
for the 10th class
on April 11, 2022
. The board exams began on
May 10, 2022
. The student who in search of result, the
bise bahawalpur board 10th class result 2022
are annouced in
August
as per officials.
Check campus.pk regularly for the bise bahawalpur board 10th class result.
What is Bise Bahawalpur Board?
Bahawalpur Board was separated by the Punjab Govt. in 1977 from Multan Board and became an autonomous Educational Board. A camp office of Bahawalpur Board was established in Multan on July 9th, 1977. The Bahawalpur Board held its first supplementary examination in 1978 when the Bahawalpur Board Office was shifted in a hired building in Bahawalpur. The current building of Bahawalpur Board is situated in Cheema Town. Bahawalpur Board is in charge of SSC and HSSC examinations. The public and private institutes in its jurisdiction are affiliated with BISE Bahawalpur.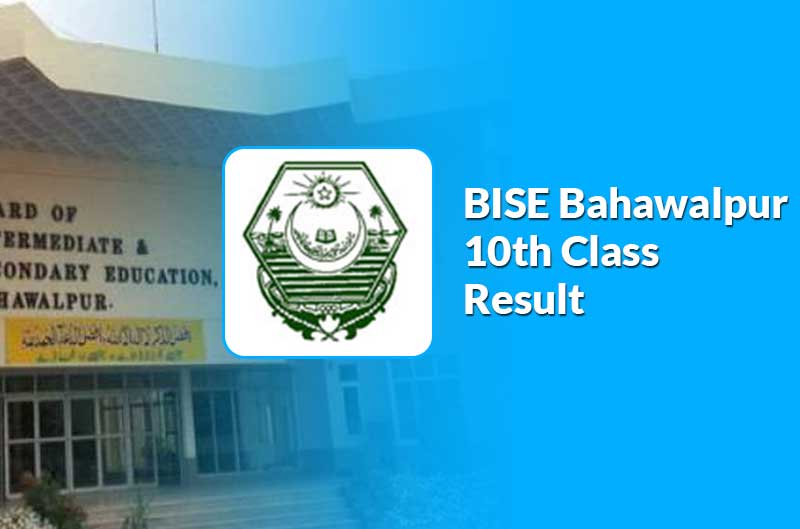 10th Class Result 2022 Bise Bahawalpur Board Facts.
Session

Annual
2022
Result Status for 10th class
Not Declared Yet
Expected Result Date
August 2022
Result Availability
Online, through SMS, or gazette
Position Holders
Announced one day before the regular results
Commencement of Exams
May 10th, 2022
Total Marks of 10th class
550
Passing marks of each paper
33%
Total number of candiate
Approximately 12 thousand
Bahawalpur Board Address
Board of Intermediate & Secondary Education Cheema Town Bahawalpur
Official Website
biserawalpindi.edu.pk
Board Chairman
Muhammad Mazhar Saeed Chairman
Contact Number
(051) 5450929
Email of Bahawalpur Board
bisebwpinfo@gmail.com
How To Check Bise Bahawalpur Board 10th Class Result 2022
If this question is knocking your mind that how you can check the bise bahawalpur board 10th class result 2022, then we inform you that the process to find the result is quite simple. You have to visit the official website of the Bahawalpur board of education to find the result. However, there is an alternative to check result by SMS is also exists:
Check Results By Names:
If you are checking result through the website then you can check the result by using your name.
Check Results By Roll Number:
The board of education also allows you to check result by roll number through the official website.
Check Results By SMS:
This is one of the most convenient ways to check result of 10th class 2022 bahawalpur board. You will get the result by sending your roll number to "800298".
10th Class Grade System Bahawalpur Board
| Percentages | Marks | Grade |
| --- | --- | --- |
| 80% and above marks | 880 or more marks | A+ |
| 70% and above but below 80% | 770 to 879 marks | A |
| 60% and above but below 70% | 660 to 769 marks | B |
| 50% and above but below 60% | 550 to 659 marks | C |
| 40% and above but below 50% | 440 to 549 marks | D |
| Below 40% to minimum pass marks | Less than 440 marks | E |
Bahawalpur board 10th class passing marks are: 33%
After 10 Class Result what should you choose in Inter?
There is some uncertainty among the students regarding their next field of study when the results of the 10th class are announced. Students are not properly informed about various fields and what would best suit them. The following list includes the different options that students can take look forward to following their successful matriculation.
Intermediate in the Faculty of Science (FSc):
The most highly preferred field after the completion of matriculation is the Faculty of Sciences. Students who have a keen interest in having a career in any of the medical professions or engineering can opt for this field.
Intermediate in Computer Science (ICS):
The scope and career of computer science has been rapidly rising throughout the world. Students can look forward to a career in computer sciences after acquiring ICS during intermediate.
Intermediate in the Faculty of Arts (FA):
The faculty of arts is ideal for students who are interested in the arts and humanities. The field is not very popular among the masses, but it still has its worth.
Intermediate in Commerce (ICOM):
Students with a business-oriented mindset can do an intermediate in commerce. It will help them to learn the subjects of business and accounting.
Frequently Asked Questions (Bahawalpur Board)
1. Has Bahawalpur Board announced the matric board results for 2022?
The Bahawalpur Board has not yet announced the matric results for the year 2022.
2. What is the expected date for the Bahawalpur Board's matric results in 2022?
The Bahawalpur board has not notified any official date for matric result 2022. However, it is expected that the results will be announced in August 2022.
3. How can I check my 10th class results from Bahawalpur Board?
You can check your 10th class results through SMS or online by providing your name or roll number.
4. Can I check my 10th class results 2022 Bahawalpur Board through SMS?
Yes, you can check your 10th class results 2022 Bahawalpur Board through SMS.
5. What is the code to check my 10th class results Bahawalpur Board through SMS?
The code to check your 10th class results for Bahawalpur Board through SMS is 800298.
6. What is the procedure to check my 10th class results through SMS?
You are required to send your roll number to the educational code provided by the board to get your 10th class results instantly.
Join our email list to get informed on priority whenever the 10th Class result is announced by Bahawalpur Board