Board
Exam Result
Status
Action

Faisalabad Board

BISE Faisalabad Board Matric Exam Result 2022

Announced on

August 31, 2022

Check Online
After the successful completion of exams, the result of the bise faisalabad board 10th class result 2022 are release on 31st August 2022. It should be noted that the Faisalabad board announced the date sheet for the 10th class board exams on April 19, 2022. Later, the exams began on May 10, 2022.
Get upto date faisalabad 10th class results keep visiting this page.
Latest Highlights of 10th Class Result Faisalabad Board 2022
Session

Annual
2022
Result Status for 10th class
Not Declared Yet
Result Date
31st August 2022
Result Availability
Online, through SMS, or gazette
Position Holders
Announced one day before the regular results
Commencement of Exams
May 10th, 2022
Total Marks of 10th class
550
Passing marks of each paper
33%
Total number of candiate
Approximately 1.3 million
Faisalabad Board Address
38000 Jhang Rd, Air Avenue City, Faisalabad, Punjab
Official Website
bisefsd.edu.pk
Board Chairman
Zafar Iqbal Sarwar
Contact Number
+92 41 251 7712
How to Check Bise Faisalabad Board 10 Result 2022?
The Board of Intermediate and Secondary Education, Faisalabad, will soon declare the 10th class results for the year 2022. The results awaiting students are hereby informed that they can check their results through multiple ways.
10th class results by Name:
The Board of Intermediate and Secondary Education, Faisalabad, will announce the result of 10th class 2022 faisalabad board. Students will be able to access their results just by entering their names instantly on the website.
10th class Results by Roll Number:
One of the most effective methods to get your
10th class results
is by roll number. You can simply enter the roll number on the website provided to you by the board and get your results.
10th class Results by SMS:
Every student doesn't have an access to internet every now and then. This is why the board has also included SMS service to facilitate a number of students. You can easily send your roll number to the code "800240" provided by the Faisalabad Board and get your results on your mobile phone.
What is Faisalabad Board?
The Board of Intermediate and Secondary Education, Faisalabad, was founded in 1988. The board is held responsible for the supervision of four districts: Faisalabad, Chiniot, Toba Tek Singh, and Jhang. Every year, the Faisalabad Board conducts matriculation and intermediate exams with full responsibility. Many of Candiate apply for Matric exams and faisalabad board collect their information and make exams from here.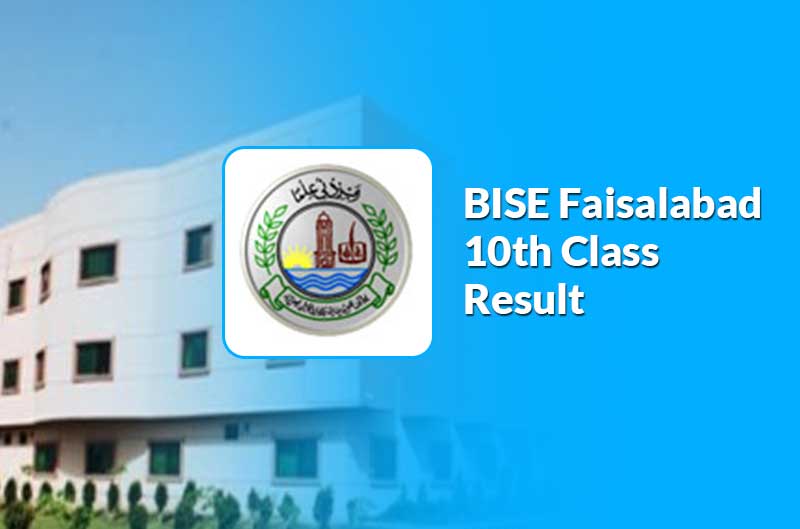 10th Class Grade System Faisalabad Board
| Percentages | Marks | Grade |
| --- | --- | --- |
| 80% and above marks | 880 or more marks | A+ |
| 70% and above but below 80% | 770 to 879 marks | A |
| 60% and above but below 70% | 660 to 769 marks | B |
| 50% and above but below 60% | 550 to 659 marks | C |
| 40% and above but below 50% | 440 to 549 marks | D |
| Below 40% to minimum pass marks | Less than 440 marks | E |
bise faisalabad board 10th class result 2022 passing marks are: 33%
What to do after matric class result.
After the Board of Intermediate and Secondary Education, Faisalabad, announces the 10th class results in 2022, students will look forward to the further study options. There are now a number of fields that can be opted for post matric. You can always make a choice among the different fields depending upon your interests and the merit criteria of the particular field. The different study options that you can look forward to after 10th class results are mentioned below.
Faculty of Sciences:
When it comes to the study options after matric, the field of science is highly preferred among students. It is further divided into the two most competitive fields: engineering and medicine. The merit criteria for both the fields is the highest and admissions are granted on a merit basis.
Intermediate in Computer Sciences:
The world is rapidly moving towards technology, and students who have a keen interest in it can opt for the field of Computer Sciences. It is one of the emerging fields of the time and it wouldn't be wrong to say that the future is of technology. The field further includes diverse career opportunities.
Intermediate in Commerce:
A student who has business oriented mind and has interests in the subjects of Accounting and Statistics can opt for Intermediate in Commerce.
Faculty of Arts:
One should always choose a field that fascinates them the most. The Faculty of Arts is not a highly preferred field, but the field has its own perks. Students can look forward to multiple opportunities after completing a simple FA.
Frequently Asked Questions (Faisalabad Board)
1. When will the Faisalabad Board announce the matric results 2022?
The official date for the announcement of matric results in 2022 has not been by the Faisalabad Board.
2. How to Check Faisalabad Board 10th Class Results 2022?
The 10th class results Faisalabad Board can be checked online through name and roll number. Candidates can also access their results through SMS or with the help of a gazette.
3. Can I check my 10th class result of Faisalabad board through SMS?
Yes, by sending your roll number to the code provided by the Faisalabad board you can get your 10th class result 2022.
4. What is the code to check Faisalabad Board results 2022 through SMS?
The code for Faisalabad Board to check your 10th class results 2022 through SMS is 800240.
5. What is the most effective way to check the matric class results 2022?
The most effective way to check your matric class results 2022 is through your roll number.
Join our email list to get informed on priority whenever the 10th Class result is announced by Faisalabad Board