Board
Exam Result
Status
Action

Lahore Board

BISE Lahore Board Matric Exam Result 2022

Announced on

August 31, 2022

Check Online
According to the BISE Lahore, the annual exams commenced on May 10th, 2022. The date sheet was announced on 22 April, 2022 . The bise lahore board 10th class result 2022 will be declare in the month of August 2022. All students who gave the exams and waiting for 10th class result. Students wait is going to over very soon.
You also get all the latest information online about the 10th class result lahore board on this website easily. All the students must stay connected with us to get information about your SCC 2022 result.
10th Class Result 2022 Bise Lahore Board Highlights.
Session

Annual
2022
Result Status for 10th class
Not Declared Yet
Expected Result Date
August 2022
Result Availability
Online, through SMS, or gazette
Position Holders
Announced one day before the regular result
Commencement of Exams
May 10th, 2022
Total Marks of 10th class
550
Passing marks of each paper
33%
Total number of candiate
Approximately 2 million
Lahore Board Address
86 Mozang Rd. Block B Jubilee Town, Lahore. Punjab 54000 (location)
Official Website
http://www.biselahore.com/
Board Chairman
Prof. Riaz Ahmed Hashmi
Contact Number
+92 42 99200192-197
How To Check Bise Lahore Board 10th Class Result 2022
Lahore board of education will announce the 10th class final result only on its official web portal. Students of the 10th class may have the idea that how they checked the result in the previous class, the 9th class. For now, the same process will run to check the result. However, to give a reminder to students here we have discussed all the ways by following which students can easily get bise lahore 10th class result 2022
Check Result By Name:
Result of 10th class 2022 lahore board students can check result by name while browsing the Lahore board official website.
Check Result By Roll Number:
Students can also have another option to check result by roll numbers.
Check Result By SMS:
BISE Lahore also facilities students to check result by SMS. This is a viable opportunity for students who cannot get internet access. You are just required to send your roll number to "800240" and you will get a reply with the 10th Class result 2022 Lahore board.
What is Bise Lahore Board?
Lahore board is popular and well set up the educational board in Pakistan. Lahore board registers both regular and private students. Lahore board has been structured in the year 1954 and since then it's directing the exams in Lahore and its linked areas. The first-ever examination was held in the year 1955. Board of Intermediate and Secondary Education Lahore is well-known as the oldest and biggest board in Punjab areas. Lahore board is the characteristic of examination in our country. It is considered as the massive education system in Pakistan. About 2 million students examined every year. Lahore board directs the matriculation and Intermediate level exams.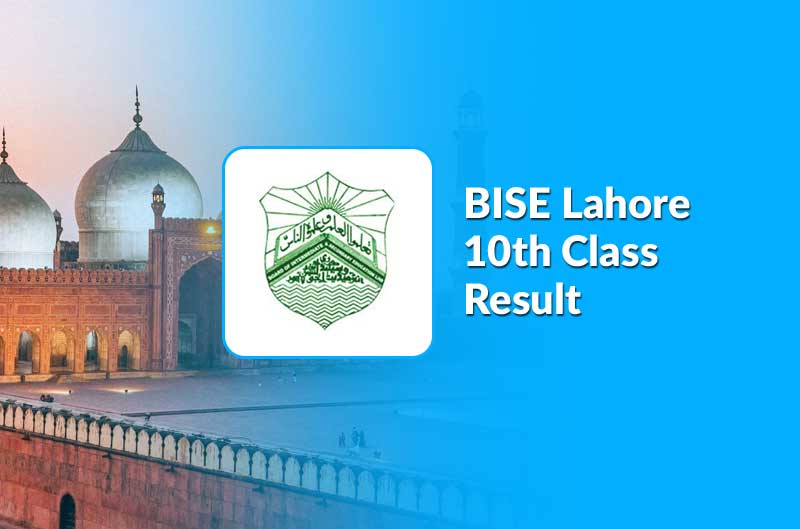 Latest Updates of 10th Class Result 2022 Bise Lahore Board Online
The 10th class exams for the year 2022 commenced on May 10th, 2022. According to the schedule the bise lahore board 10th class result 2022 will be declared in August 2022. However, the Board usually takes 3 months to compile the results. All students keep checking the campus.pk for the latest updates about 10th class result.
BISE LAHORE BOARD 2022 10th Class POSITION HOLDERS
The Lahore Board of Intermediate and Secondary Education will soon announce 10th class result for the year 2022. One day before the regular result, the board declares the top three position holders of the 10th class of 2022. The position holders are announced by the board to acknowledge the commitment of students towards their education.
10th Class Grade System Lahore Board
| Percentages | Marks | Grade |
| --- | --- | --- |
| 80% and above marks | 880 or more marks | A+ |
| 70% and above but below 80% | 770 to 879 marks | A |
| 60% and above but below 70% | 660 to 769 marks | B |
| 50% and above but below 60% | 550 to 659 marks | C |
| 40% and above but below 50% | 440 to 549 marks | D |
| Below 40% to minimum pass marks | Less than 440 marks | E |
Lahore board 10th class passing marks are: 33%
Frequently Asked Questions (Lahore Board)
1. When will the Lahore Board declare the 10th class result in 2022?
The Lahore Board has not yet declared any official date for the announcement of 10th class result in 2022.
2. How can I check my Lahore Board matric result?
After the Lahore board declares the matric result 2022, candidates can check their result in multiple ways: by name, by roll number, by SMS, or by gazette.
3. Can I check my matric result Lahore Board through SMS?
Yes, you can check your matric result 2022 Lahore Board through SMS.
4. How to recheck 10th class papers for 2022 Lahore Board?
Students who would like to recheck their Lahore Board 10th class papers after the result can apply for rechecking by visiting the official website of the Lahore Board.
5. What happens if a student gets supply in the 10th class result Lahore board 2022?
If a student gets supply in their 10th class result from the Lahore Board, they can appear for the supply exams after forty days of the result.
6. How long will it take for the Lahore board to announce the SSC Part-II result in 2022?
It usually takes three months for the Lahore Board to compile the SSC Part-II result 2022 of all candidates.
Join our email list to get informed on priority whenever the 10th Class result is announced by Lahore Board