Board
Exam Result
Status
Action

Sahiwal Board

BISE Sahiwal Board Matric Exam Result 2022

Announced on

August 31, 2022

Check Online
The annual board date sheet for the 10th class Sahiwal Board was declared on April 18, 2022. According to the schedule, the exams began on May 10, 2022. The results of the bise sahiwal board 10th class result 2022 are expected in August. Students are advised to stay tuned to the website to get the latest updates regarding their 10th class result.
Facts Of 10th Class Result 2022 Bise Sahiwal Board.
Session

Annual
2022
Result Status for 10th class
Not Declared Yet
Expected Result Date
August 2022
Result Availability
Online, through SMS, or gazette
Position Holders
Announced one day before the regular results
Commencement of Exams
May 10th, 2022
Total Marks of 10th class
550
Passing marks of each paper
33%
Total number of candiate
Approximately 22 thousand
Sahiwal Board Address
Govt. Graduate College, Farid Gunj Sahiwal, Sahiwal District, Punjab 57000
Official Website
http://www.biselahore.com/
Board Chairman
Prof. Riaz Ahmed Hashmi
Contact Number
(040) 9200516)
Email of Sahiwal Board
info@bisesahiwal.edu.pk
How To Check 10th Class Result 2022 Sahiwal Board.
We do not only come with the 10th class result announcement updates. However, we offer students possible ideas that how they can check the BISE Sahiwal Board 10th Class 2022 Result. The general idea we are sharing with you is that the Sahiwal board of education will publish the 10th class final result only on the authorized web portal. By exploring this authorized web portal you can check result in the following ways:
Check Result By Names:
You will be provided an area where adding your names the result will be shown.
Check Result By Roll Numbers:
In place of adding names, you can also enter the roll number to check your result of 10th class 2022 sahiwal board.
Check Result By SMS:
Students can also check result without browsing the web portal. For this purpose, you have to send your 10th class roll number to "800292" and you will get a reply with your 10th class BISE Sahiwal 2022 result details.
What is Sahiwal Board?
The board of intermediate and secondary education, Sahiwal is a newly established board of Punjab founded on June 15, 2015, by the Higher education Department of Punjab. Previously, it comes in the territory of BISE Multan. BISE Sahiwal is an autonomous body with powers to make rules. Board is responsible to conduct an examination of Matric and intermediate. Duties of the board other than declaring bise sahiwal board 10th class result 2022 also include the issuance of NOC, provide result card, provide data of candidate to government and to provide a certificate to the candidate, etc. Arrangement of co-curricular activities in its jurisdiction is also the responsibility of BISE Sahiwal.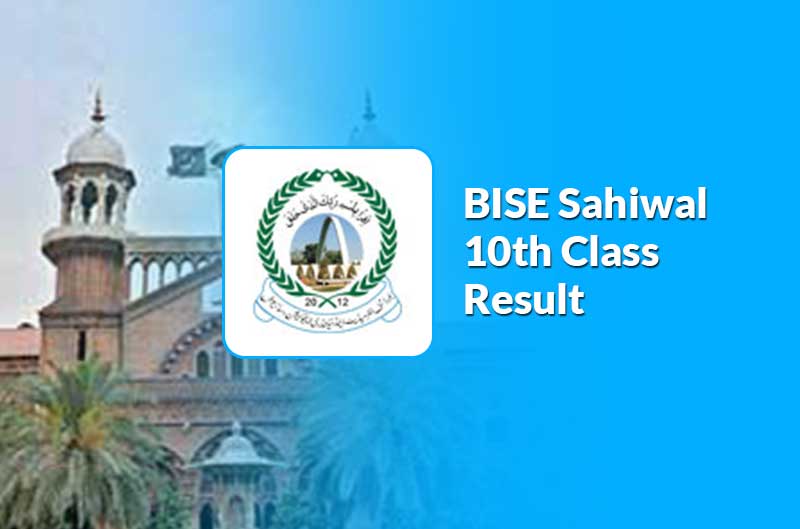 10th Class Grade System Sahiwal Board
| Percentages | Marks | Grade |
| --- | --- | --- |
| 80% and above marks | 880 or more marks | A+ |
| 70% and above but below 80% | 770 to 879 marks | A |
| 60% and above but below 70% | 660 to 769 marks | B |
| 50% and above but below 60% | 550 to 659 marks | C |
| 40% and above but below 50% | 440 to 549 marks | D |
| Below 40% to minimum pass marks | Less than 440 marks | E |
Sahiwal board 10th class passing marks are: 33%
After 10th Class Result what should you do?
After the successful completion of matriculation, students look forward to different study options. There are a variety of study options after matric, with which students can ace their careers. The different study opportunities that students can avail of after matric are mentioned below.
Faculty of Sciences:
If a student is interested in medicine or engineering, they can pursue science subjects in their intermediate studies. It is a widely chosen field among students.
Intermediate in Computer Sciences
The world is moving towards technology, due to which the field of computer sciences is being preferred highly. If technology fascinates
Faculty of Arts:
The Faculty of Arts is not highly preferred among students. The merit criteria of the field is also less than the other fields.
Intermediate in Commerce
Students who would like to make a career in the fields of accounting and finance can look forward to studying commerce after matric.
Frequently Asked Questions (Sahiwal Board)
1. How can I check my 10th class results Sahiwal Board?
You can get your 10th class results Sahiwal Board through name, roll number, and SMS.
2. How can I check my matric results Sahiwal Board through SMS?
One of the effective methods to check your matric results 2022 is through SMS. You have to send your roll number to the code provided by the Sahiwal board to get your results.
3. What is the official date for the 10th class results 2022 Sahiwal Board?
The Sahiwal board has not notified any official date for the 10th class results 2022.
4. Can I improve my marks after the bise sahiwal board 10th class result 2022 are announced?
Yes, students who are not satisfied with their 10th class result marks can apply for an improvement exam after the result.
Join our email list to get informed on priority whenever the 10th Class result is announced by Sahiwal Board