Board
Exam Result
Status
Action

Sargodha Board

BISE Sargodha Board Matric Exam Result 2022

Announced on

August 31, 2022

Check Online
The Sargodha Board of Intermediate and Secondary Education issued the date sheet for the 10th class board exams on April 18, 2022, and the exams began on May 10, 2022. The bise sargodha board 10th class result 2022 are expected in August as per schedule by the officials.
10th class students are advised to keep visiting this page on campus.pk to get all the latest updates on the 10th class results.
Information about the 10th Class Result Sargodha Board 2022
Session

Annual
2022
Result Status for 10th class
Not Declared Yet
Expected Result Date
August 2022
Result Availability
Online, through SMS, or gazette
Position Holders
Announced one day before the regular results
Commencement of Exams
May 10th, 2022
Total Marks of 10th class
550
Passing marks of each paper
33%
Total number of candiate
Approximately 1.1 million
Sargodha Board Address
Near 49-Tail

،

Defense View Housing Society, Sargodha, Punjab 40100
Official Website
bisesargodha.edu.pk
Board Chairman
Dr. Kausar Raees
Contact Number
(048) 3250041
How To Check Bise Sargodha Board 10th Class Result 2022
Sometimes students get worried about checking result. For matric students, this is not a new thing to check result. Students have already used the methods of checking results in the 10th class. For now, you will go through the same process to check the 10th class result bise sargodha board. The only source, the Sargodha board of education provides, to check result is to check result on the official website of the Sargodha board of education. Follow any of the following ways to check result:
Check By Roll Number:
You are just required to explore the official website and add your roll number to check the sargodha board 10th class result 2022.
Check By Names:
You can also check the result of 10th class 2022 sargodha board adding your names to the provided area.
Check By SMS:
This is the best and the easiest way to check result if you have no internet availability. Just send your roll number to "800290" and check your result.
Established and Duties of Sargodha Board
Sargodha Board was established in 1968 when the Lahore board was split into two parts and the Sargodha board came into existence. Early it controlled the Western Pakistan Sargodha and Multan but now its jurisdiction includes, Sargodha District, Khushab District, Mianwali District, and Bhakkar District
If you have any queries, please, leave a comment below. We will provide you assistance related to your queries. Wish you all the luck and May you succeed at all the stages of life. Good Luck with the result in advance!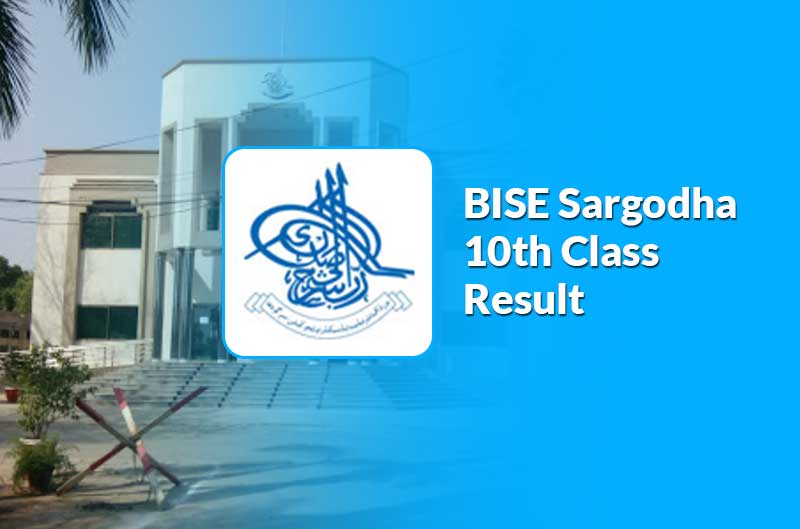 GET Latest Updates Of 10th Class Result Bise Sargodha Board 2022:
SSC result 2022 Sargodha Board will be published at the same time when all other boards will publish their results around in august 2022 under BISE Sargodha.
The Sargodha Board exams started from May 10th, 2022 to May 26th 2022. The result will be announced on the official website of BISE Sargodha.
What Is The Expected Dates For Declaration Of Result?
The expected date for bise sargodha board 10th class result 2022 is release 19 August 2022. Which is then further announced by the official notice of Government Of Pakistan.

After SSC Part 2 Result what should you do?
if technology fascinates you and you have a fliar for numbers,then taking Science after 10th would be a wise option.you can opt for Physics,Chemistry and Maths. If you want to make a mark for yourself in the medical field ,you can opt Chemistry,Maths and Biology.Career options for commerce students include those in the accounting, auditing, finance, and banking sectors as well as Government service opportunities like I.R.S., I.A.S., I.F.S., etc.
Science – Most Preferred. Every parent want their child to pursue Science as their stream of study after 10th
Commerce – Second most preferred.
Arts/Humanities – Least Preferred but off-beat and exciting. ...
Stream independent courses/studies.
Frequently Asked Questions (Sargodha Board)
1. What is the official date for the matric results of 2022 Sargodha Board?
The Sargodha Board has not notified any official date for the matric results 2022.
2. How can I check my 10th class results for 2022 Sargodha Board?
You can check your Sargodha Board 10th class results 2022 online by name or roll number. You can also access your results through SMS.
3. Can I check my matric results for 2022 Sargodha Board by name?
Yes, you can check your matric results 2022 on Sargodha Board just by entering your name after the board declares the results.
4. What is the code to check my Sargodha Board 10th class results through SMS?
The code to check the 10th class results through SMS is 800292.
Join our email list to get informed on priority whenever the 10th Class result is announced by Sargodha Board