Board
Exam Result
Status
Action

Gujranwala Board

BISE Gujranwala Board Matric Exam Result 2022

Announced on

August 31, 2022

Check Online
The Gujranwala board declared the date sheet for the 10th class board exams on April 8, 2022, and the exams began on May 10, 2022. The Board has not yet announced any official date for the bise gujranwala board 10th class result 2022. However, students are informed that the are expected in August 2022. Keep visitting this page and get updates on matric results.
Important Highlights on 10th Class Result 2022 Gujranwala Board
Session

Annual
2022
Result Status for 10th class
Not Declared Yet
Expected Result Date
August 2022
Result Availability
Online, through SMS, or gazette
Position Holders
Announced one day before the regular results
Commencement of Exams
May 10th, 2022
Total Marks of 10th class
550
Passing marks of each paper
33%
Total number of candiate
Approximately 1.6 million
Gujranwala Board Address
Sialkot Bypass, Faisal Town, Lohianwala, Gujranwala, Punjab (location)
Official Website
bisegrw.edu.pk
Board Chairman
Dr. Tariq Mehmood Qazi
Contact Number
(055) 9200750
Email address
chairmanstaffbisegrw@gmail.com
How To Check Bise Gujranwala Board 10th Class Result 2022
Are you worried about checking the 10th class BISE Gujranwala result 2022? Well, we inform you that your worries are no more because here we come with the complete solutions that how you can check result. We would like to share a general idea that the result will be accessible in the same way as you followed in the 9th class. However, for your ease we are going to discuss the possible ways to check result easily:
Check Result By Roll Number:
In this way, you will check the result of 10th class 2022 gujranwala board by putting your roll numbers into the given search bar on the official website.
Check Result By Names:
This method allows students to check result by putting their name details into the given search area.
Check Result By SMS:
In this way, students can check resutl by using their mobile phones. They are just required to send their roll numbers to "800299". They will receive a message with details of the bise gujranwala board 10th class result 2022.
What is Bise Gujranwala Board?
Board of Intermediate and Secondary Education Gujranwala conducts the exams in the Gujranwala division. It was formed in the year 1976. Every year this board manages the examination of Primary, Matric and Intermediate exams. The board provides a better education system in its district areas. BISE Gujranwala board includes 6 districts i.e. Gujranwala district, Gujarat district, Mandi Bahauddin district, Hafizabad District, Narowal district, and Sialkot district.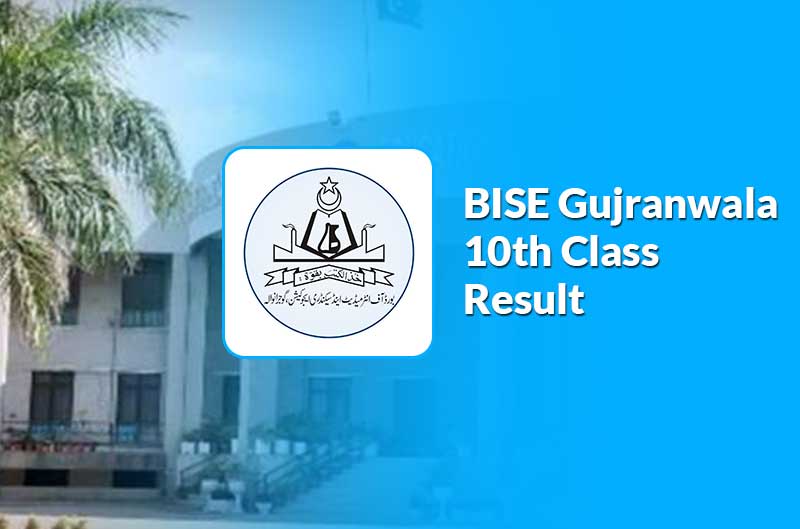 10th Class Grade System Gujrajwala Board
| Percentages | Marks | Grade |
| --- | --- | --- |
| 80% and above marks | 880 or more marks | A+ |
| 70% and above but below 80% | 770 to 879 marks | A |
| 60% and above but below 70% | 660 to 769 marks | B |
| 50% and above but below 60% | 550 to 659 marks | C |
| 40% and above but below 50% | 440 to 549 marks | D |
| Below 40% to minimum pass marks | Less than 440 marks | E |
Gujrajwala board 10th class passing marks are: 33%
After Gujranwala Board Result 2022 10th Class What Should You Do?
if technology fascinates you and you have a fliar for numbers,then taking Science after 10th would be a wise option.you can opt for Physics,Chemistry and Maths. If you want to make a mark for yourself in the medical field ,you can opt Chemistry,Maths and Biology.Career options for commerce students include those in the accounting, auditing, finance, and banking sectors as well as Government service opportunities like I.R.S., I.A.S., I.F.S., etc.
Science – Most Preferred. Every parent want their child to pursue Science as their stream of study after 10th
Commerce – Second most preferred.
Arts/Humanities – Least Preferred but off-beat and exciting.
Stream independent courses/studies.
Frequently Asked Questions (Gujranwala Board)
1. Has the 10th class result gujranwala board 2022?
Gujranwala Board has not announced any official date for the 10th class results 2022.
2. How can I check my Gujranwala Board results through my roll number?
To check your Gujranwala matric results 2022, you can simply enter your roll number on the official website after the board has declared the results.
3. How to improve marks after the Gujranwala board 10th class results 2022?
The students who are not satisfied after the Gujranwala board 10th class results 2022 can apply for the improvement exams.
4. When will the Gujranwala Board announce the position holders of the 10th class results in 2022?
The Gujranwala Board has not notified any official date for the matric results 2022. However, the board announces the position holders one day before the official results.
5. How to check the matric results 2022 Gujranwala board through SMS?
You can access your 10th class results 2022 through SMS, by sending your roll number to the code provided by your respective board.
Join our email list to get informed on priority whenever the 10th Class result is announced by Gujranwala Board