The Bise Lahore Board was established in 1954. The Board is considered to be the most famous Board in Punjab. There are a large number of students who are affiliated with the Lahore Board. The Board has the authority to conduct the annual & supplementary exams of class 11. Students of inter part 1 are going to appear in the annual exams from Lahore Board. Those who are in search of an FA part 1 exam date are informed that the exams will start on 18 June 2022. The date sheet will be provided to students before one month of annual exams and the 1st year result 2022 lahore board will be announced after three months. Students will be notified when the Board declares the result date.
You will get all the updates from our website campus. Pk.
How To Check Lahore Board 11th Class Result 2022
We do not only invite the 11th class students to get the Lahore board result updates, but students can also get the idea that how they can check 11th class result 2022 lahore board. Here we share a general idea with students that how they can check Lahore board result for the 11th class. Just follow the below-given ideas to check result safely:
Check Result By Roll Number: 11th class students will find a specific section to check the result on the official website. They can check the result by entering the roll number on that specific section.
Check Result By Name: You can also check the lahore board inter part 1 result 2022 by adding your name to the given area.
Check Result By SMS: 11th class students who cannot get access to the internet can check result by SMS. Just send your 11th class roll number to "80029" and you will get a reply with the lahore board 11th class 2022 result.
So to get more updates stay connected with the official website of bise lahore and keep visting.
www.biselahore.com
Phone: +92 42 99200192-197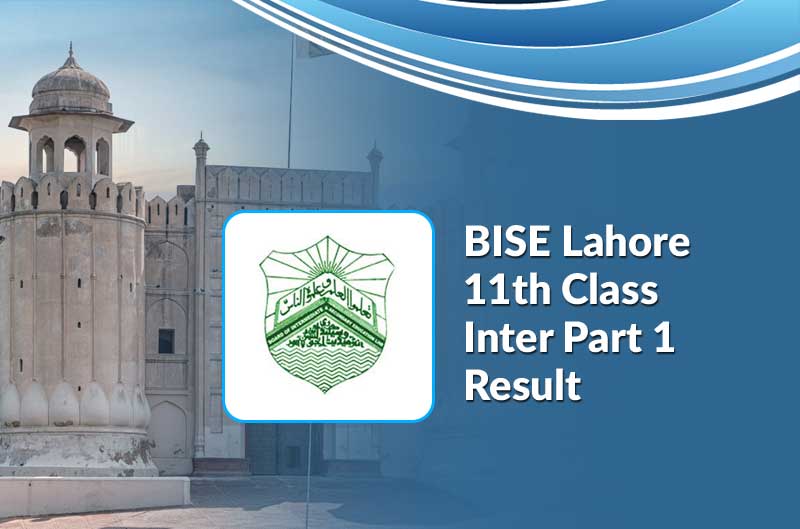 Information on Inter Part 1 Result 2022
Read out the given information on the 11th class result.
The inter result has yet to be declared by the Lahore Board.
Lahore Board has declared the exam date for inter part 1.
The exams will start on 18 June 2022.
Students in the 11 class can choose a group to appear in the exams, including (Arts, Science, and Humanities).
The total marks in inter are 550.
Each paper will take 3 hours to complete.
The islamiat paper timings will be 2 hours.
Each paper has 33 percent passing marks.
On the same day, the results of all groups will be announced including ICS part 1, FSc part 1, and F.A part 1.
Lahore Board declares the result in September 2022 as planned.
Students of ICS part 1 can choose a different combination to appear in exams from (math, statistics, economics, physics)
Some Quick Facts on 11th Class Result of Bise Lahore Board 2022
| | |
| --- | --- |
| Board | Lahore |
| Class | 11th |
| Official Website | biselahore.com |
| Board Chairman | Prof. Riaz Ahmed Hashmi |
| Bise Lahore Contact Number | +92 42 99200192-197/ +92 42 99200113 |
| Exam date for Class 11 | 18 June 2022 |
| Lahore Board Address | 86 Mozang Rd, Block B Jubilee Town, Lahore, Punjab 54000 |
| Result Status | Not declared yet |
| Year | 2022 |
| Total marks in HSSC result from part 1 & 2. | 1100 |
1st Year Result 2022 Lahore Board:
Every year, it comes to see that students of part II classes call first for examination and part one students call for examination at the last. That is the reason, the students of inter part I can get bise lahore 11th class result 2022 at later than that of Intermediate Part II students. but this year the students of boh classes have no papers.At the intermediate level, the study or education system has devised into specific categories. Students are allowed to choose the best category according to their taste and choice. Students are provided with F. Sc pre-medical studies, F. Sc pre-engineering studies, ICS studies, and FA studies. All these subjects are different from each other and have their own importance in the world. Every year hundreds of students get enrollment in these different categories at the intermediate level.
BISE HSSC Part 1 Result 2022 Lahore Board:
The intermediate level is actually considered as the gateway towards the higher education levels. Students chose the subjects at the intermediate level and get the basic level of education in the chosen subjects. Then for the same subject students get enrollment for higher education in the next levels. So, this is the stage to choose your right career path. Students have the spirits to join medical fields choose FSC pre-medical studies, students have the taste to join the engineering departments are provided with FSC pre-engineering studies, students zealous about computer studies have the choice of ICS studies and the students who look for arts and literature studies have the option to choose FA study program.
BISE Lahore Inter Part 1 Result 2022 Updated:
FSC PRE Medical and pre-engineering subjects are teaching throughout Pakistan. Punjab board especially the Lahore board offers great value to these study programs. This is the reason every year hundreds of students choose FSC study programs. FSC pre-medical and pre-engineering are actually studies about life and calculations respectively. Almost all the aspects of life at a basic level are discussed under the category of pre-medical and all the aspects of calculations/measurements discuss in pre-engineering.
Board of intermediate and secondary education every year declares fsc part 1 result 2022 bise Lahore and a result of other classes with 100% satisfaction. Board of Intermediate and Secondary Education BISE Lahore was established in 1954 and right from that time it is consistently working for the welfare of the education system throughout the city. It has seen that the board of education declares the result with complete satisfaction and bise lahore 1st year result 2022 will also come to see with 100% satisfaction. Students are to inform that for any further query or update about intermediate result 2022 Lahore board including fa part 1 result 2022 and others keep regularly visiting us.
Join our email list to get informed on priority whenever the Class result is announced by