Board
Exam Result
Status
Action

Lahore Board

BISE Lahore Board 11th Class Exams Result 2022

Announced On

November 17, 2022

Check Online
Students of intermediate part 1 have appeared in the annual exams from Lahore Board. The exams started on 18th June 2022. The official date sheet was announced on 4th May 2022. The 1st year result 2022 Lahore Board will be announced on 17th November 2022. Students should keep visiting this page for the 11th class result 2022 lahore board.
You will get all the updates from our website campus.pk
General information about BISE Lahore Board
The Board of Intermediate and Secondary Education (BISE) Lahore Board was founded in 1954. It is the most popular board in Punjab and many of the students are affiliated with this board. BISE Lahore Board is located in 86 Mozang Road, Block B Jubilee Town Lahore. The Board conducts SSC and HSSE examinations of each class every year. Kasur, Sheikhupura, Okara, and Nan Kana Sahib also come under the authority of the Lahore Board. Students can use this email:
secretarybiselahore@gmail.com
to contact the Board directly. The main aim of Bise Lahore Board is to give students all the information regarding exam/ result dates, date sheet etc.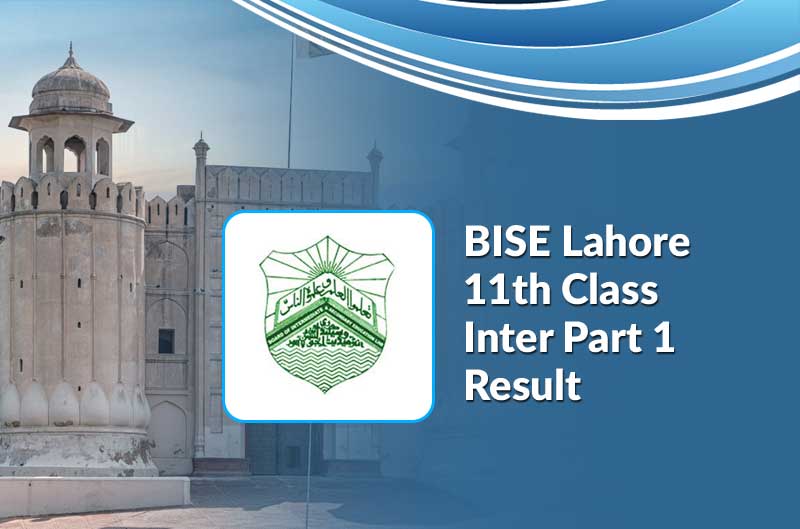 Some Quick Facts on 11th Class Result of Bise Lahore Board 2022
Session

Annual
2022
11th Class Result 2022 Lahore Board
Not Declared
Announce Date of 11th Class Result
17th November 2022
Result Availability
Online, through SMS, or gazette
Position Holders
Announced one day before the regular results
Commencement of Exams
June 18th, 2022
Total Marks of 11th class
550
Passing marks of each paper
33%
Total number of candiate
Approximately 150353
Lahore Board Address
86 Mozang Rd. Block B Jubilee Town, Lahore. Punjab 54000
Official Website
http://www.biselahore.com/
Board Chairman
Prof. Riaz Ahmed Hashmi
Contact Number
+92 42 99200192-197/ +92 42 99200113
Email address

info@biselahore.com
How To Check 1st Year Result 2022 Lahore Board
We do not only invite the 11th class students to get the Lahore board result updates, but students can also get the idea that how they can check 1st year result 2022 lahore board. Here we share a general idea with students that how they can check Lahore board result for the 11th class. Just follow the below-given ideas to check result safely:
By Roll Number:
11th class students will find a specific section to check the result on the official website. They can check the result by entering the roll number on that specific section.
By Name:
You can also check the lahore board inter part 1 result 2022 by adding your name to the given area.
By SMS:
11th class students who cannot get access to the internet can check result by SMS. Just send your 11th class roll number to "80029" and you will get a reply with the lahore board 11th class 2022 result.
Information on BISE Lahore 11th Class Result 2022
Read out the given information on the 11th class result.
The inter result has yet to be declared by the Lahore Board.
Lahore Board has declared the exam date for inter part 1.
The exams will start on 18 June 2022.
Students in the 11 class can choose a group to appear in the exams, including (Arts, Science, and Humanities).
The total marks in inter are 550.
Each paper will take 3 hours to complete.
The islamiat paper timings will be 2 hours.
Each paper has 33 percent passing marks.
On the same day, the results of all groups will be announced including ICS part 1, FSc part 1, and F.A part 1.
Lahore Board declares the result in November 2022 as planned.
Students of ICS part 1 can choose a different combination to appear in exams from (math, statistics, economics, physics)
Rechecking and Marks improvement Process
Students of 11th class (first year) who are not satisfied with their results can apply for rechecking of the paper. All the students must have to apply for the rechecking of paper before the last date. The interested applicant is required to get application form, read it thoroughly and fill it with exact facts and figures. The candidate should fill the application form by his/her own handwriting. Incomplete application form will not be submitted in any case.
The student will be able to get information about his/her marks after rechecking within seven days. Also, they will have to fill the bank form. It is important to make sure that the application form should reach to the respective department within 15 days after the announcement of the result.
If a candidate thinks that he/she didn't perform well in any subject can appear in the paper again and improve their marks. This rule applies on all subjects. Re-appearing in papers will give you more chance to improve your marks and percentage. If in case the students get less marks in the improvement paper (the paper he/she appeared again) then in this case their previous marks obtained will be considered.
Statistics of BISE Lahore Board 1st year Results
The table below shows the total number students who appeared in the exam, the total number of females and the number of males that appeared in the exam, the students who passed it and the students who failed it and also the students who topped in the exam.
Years
Appeared
Passed
Percentage
2021
155287
154077
99.22%
2020
164906
163969
99.43%
2019
170104
90510
53.21%
2018
162876
90526
55.58%
11th Class Result 2022 Date and Time
The 1st year result 2022 lahore board will be declared on 17th November 2022 at sharp 10:00 a.m.
Differences between FA, FSc, ICS.
The intermediate level is actually considered as the gateway towards the higher education levels. Students choose the subjects at the intermediate level and get the basic level of education in the choosen subjects. Then for the same subject students get enrollment for higher education in the next levels. So, this is the stage to choose your right career path. Students have the spirits to join medical fields choose FSC pre-medical studies, students have the taste to join the engineering departments are provided with FSC pre-engineering studies, students zealous about computer studies have the choice of ICS studies and the students who look for arts and literature studies have the option to choose FA study program.
FAQs About 1st Year Result 2022 Lahore Board:
1. Is the 11th class result date declared by Lahore Board?
No confirmed date of 11th class result has been announced by Lahore Board yet, it is predicted that the result will be declared on November 17th, 2022 at 10:10 am.
2. How can I check my result of inter part 1 of Lahore Board on Campus.pk?
You can also check your result of inter part-1 of Lahore Board on Campus.pk. Type the website www.campus.pk on Google or other search engine. When the website is opened, go down the page. Select the 11th class and Lahore Board, enter your roll number and get your result.
3. What is the SMS code to get result of inter part 1 of Lahore Board?
The SMS code to get result of inter part 1 of Lahore Board is 80029. Type your roll number and send it to SMS code. You will get result within a few seconds.
4. How to apply for re-checking of paper after 11th class result of Lahore Board?
To apply for re-checking of paper after 11th class result of Lahore Board, go to the Lahore Board's official website www.biselahore.com , enter your roll number and get the result. When the result is opened, there is also option of "apply re-checking", click on it and choose the desired number of subjects for re-checking. Once applied, download the re-checking form and submit your bank challan in the relevant bank and wait for re-checking date and time.
5. How to check your 11th class result of Lahore Board by roll number?
First, go the official website of Lahore Board www.biselahore.com. Select the option "online result", type your roll number, choose part 1 and then click on View Result. You will get your marks sheet.
Join our email list to get informed on priority whenever the 11th Class result is announced by Lahore Board