According to the latest updates of the
2nd year result 2022 DG Khan Board
are expected to be declared on
20 October
. It should be noticed that the exams of Dera Ghazi Khan Board of the 2nd year were held back in
18th June 2022
according to the
date sheet
announced on
30th May 2022
. The position holders will be announced one day before the regular results.
Quick Facts on 12 Class Result 2022 DG Khan Board
Session

Annual
2022
Result Status for 12th class
Not Declared Yet
Expected Result Date
20 October 2022
Result Availability
Online, through SMS, or gazette
Position Holders
Announced one day before the regular results
Commencement of Exams
June 18th, 2022
Total Marks of 12th class
550
Passing marks of each paper
33%
Total number of candiate
Approximately 67528
DG Khan Board Address
Board Rd, D G Khan, Dera Ghazi Khan, Punjab
Official Website
bisedgkhan.edu.pk
Board Chairman
DR.KISHWAR NAHEED RANA
Contact Number
0331 7347940
Email address

info@bisedgkhan.edu.pk
How To Check 2nd Year Result 2022 DG Khan Board
Students sometimes may get disturbed that how to check result? Students who are thinking that how they can get access to the bise dg khan 12th class result 2022 are advised that do not to be worried and follow the given advice to check their 12th class result safely. We also request FA/FSC students to share this helpful information with other students and classmates to make them know that when the result is going to announce and how they can check FA/FSc result 2022 dg khan board:
Check Result By Name:
Students have to explore the official website of the DG Khan board of education. They will find a search bar by adding their name to which the detailed result will show.
Check Result By Roll Number:
Search the bise dg khan website, go on select from header section result and statics give the options select HSSC Result click on hssc part 2 result and Instead of putting your name, you can also check the result by adding your roll number.
Check Result By SMS:
If you will have no access to the official website through any issue then you can check result by SMS. Use your mobile phone and send your roll number to "800295". The result will be sent to 12th class students through a reply.
WHAT IS DG KHAN BOARD?
The Board of Intermediate and Secondary Education, Dera Ghazi Board was established in 1989. The Dera Ghazi Khan Board falls under the Punjab board and has three further districts working under its authority: Muzaffargarh, Layyah, and Rajanpur. The Board is responsible to conduct the annual intermediate and matriculation examination every year. After the successful conduction of exams, the board compile and finalizes the result.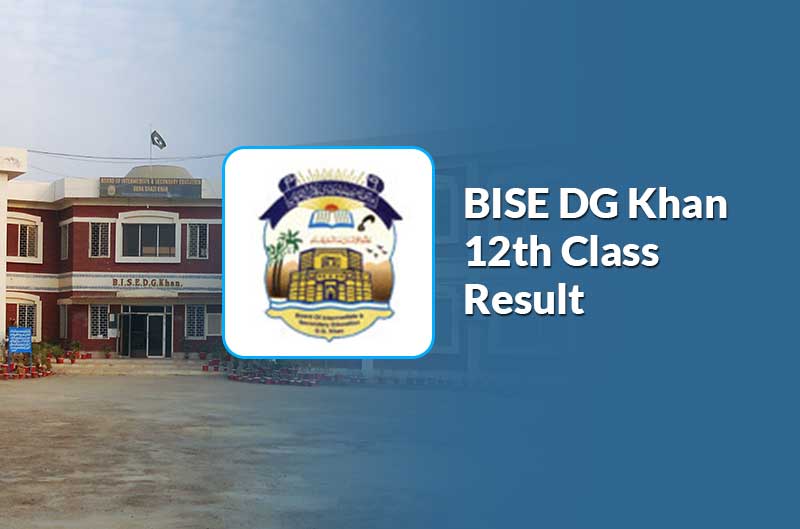 Key Facts on 12th Class Result 2022 DG Khan Board
Key facts on the 12 Class Result 2022 DG Khan Board are mentioned below for the information of students.
The annual result for the 2nd year has yet to be announced by the Dera Ghazi Khan Board.
The exams will be held in June 2022.
Students of bise dg khan intermediate result part 2 will also have to appear in the practical papers.
There are a total of 6 papers in 12 class.
3 papers are compulsory while the other 3 are elective.
The timings of the paper will be 3 hours.
English, Urdu, and Pak- Studies are compulsory papers in 12 class.
Candidates can make a combination of subjects of their own choice to appear in the examination.
The roll number slips will be provided before one week of exams.
Students of all groups including FA part 2, FSc part 2, ICS part 2, I.COM part 2 will get their results on the same date.
Toppers of 12th Class dg khan 2022.
The Dera Ghazi Khan Board has successfully concluded the intermediate exams for the year 2022. The 12th result of DG Khan Board 2022 have not been declared yet. However, the expected date for the 12th class board exam of DG Khan Board is 20 October, 2022. The DG Khan Board will declare the toppers of 12th class for the session 2022 one day before the regular result.
| Rank | Toppers Name | Secured Marks |
| --- | --- | --- |
| 1st | Available Soon | Available Soon |
| 2nd | Available Soon | Available Soon |
| 3rd | Available Soon | Available Soon |
Last Years DG Khan Board 12th Class Results:
Years
Appeared
Passed
Percentage
2021
61812
61067
98.79%
2020
54684
48610
88.89%
2019
57302
53106
92.68%
2018
55557
51504
92.70%
What should I do after Bise DG Khan HSSC Result 2022?
The intermediate level is the most prestigious one considered and this is because it offers students the way to choose their field or career. Students are provided with FSC pre-medical, FSC pre-engineering, ICS, ICOM, and FA study programs. Students with pre-medical study groups may have the chance to start their professional careers in the medical field. Numerous engineering fields are waiting for those who have chosen the pre-engineering study group, computer science is a vast field and is opening door to them who have studied ICS at the intermediate level. ICOM students direct towards the commerce field and FA students are provided with history, literature, and socialism related study programs. All these programs have their own importance. We give best wishes to all those students who are ready to receive their bise dg khan inter result 2022.
Medical: Students who have completed intermediate in medical studies are encouraged to hunt for a medical degree that suits their interests.
Engineering: Another highly preferred degree after medical is engineer. Students with pre-engineer as a pre-requisite can apply for any of the engineering degree.
Computer Sciences: Computer Sciences is getting high prevalence in the recent years.
BISE DG Khan 12th Class Result (FAQs)
1. Which SMS Code is used to get the result of 12th class of Dera Ghazi Khan Board?
To get result of 12th class of Dera Ghazi Khan Board, SMS code used is "800295".
2. How to apply for re-checking of paper after intermediate part-2 result of Dera Ghazi Khan Board?
Many students who do not find their results satisfactory, they go for re-checking of paper. To do re-checking, a candidate has to apply for re-checking and pay fee of Rs. 1300 per subject. Only elective subjects are liable for re-checking. For re-checking of paper, enter your roll number, get your result and click on "apply re-checking".
3. Has Dera Ghazi Khan Board announced the date of 12th class result?
The exact of 12th class result has not been declared by Dera Ghazi Khan Board yet, however, according the latest news, it is predicted that the result will be announced on October 4, 2022 at 10:10 am.
4. How many ways are there to check inter part 2 result of Dera Ghazi Khan Board?
There are three ways to check inter part 2 result of Dera Ghazi Khan Board. They are as follows:
•
BISE Dera Ghazi Khan official website
5. How to check inter part 2 result of Dera Ghazi Khan Board by using website?
To check inter part 2 result of Dera Ghazi Khan Board, go to DG Khan Board's official website and get your result by entering your roll number.
Join our email list to get informed on priority whenever the Class result is announced by