Board
Exam Result
Status
Action

Faisalabad Board

BISE Faisalabad Board Inter Exam Result 2022

Announced

20th October 2022

Check Online
The Bise Faisalabad Board has yet to announce the faisalabad hssc part 2 result. Students of 12 class who have appeared in the annual examination session of 2022 are informed that the 2nd year result 2022 faisalabad board will be announced in October 2022. We will let you know if the Board made any changes in the schedule. However, it is to be noted that the exams for the 2nd year were conducted from 18th June 2022. The date sheet was provided on May 31, 2022.
Keep visiting us in terms of getting the latest updates.
Highlights of Bise Faisalabad Board 12 Class Result 2022
Session

Annual
2022
Bise Faisalabad Board 12 Class Result 2022
Not Declared Yet
Expected Result Date
October 2022
Result Availability
Online, through SMS, or gazette
Position Holders
Announced one day before the regular results
Commencement of Exams
June 18th, 2022
Total Marks of 12th class
550
Passing marks of each paper
33%
Total number of candiate
Approximately 112547
Faisalabad Board Address
38000 Jhang Rd, Air Avenue City, Faisalabad, Punjab
Official Website
bisefsd.edu.pk
Board Chairman
Zafar Iqbal Sarwar
Contact Number
+92 41 251 7712
Email address

info@bisefsd.edu.pk
Bise Faisalabad Board:
Board of intermediate and secondary education, BISE Faisalabad is one of the educational boards planned by the government of Punjab. It was established in 1989. Every year we see the board conducts the annual examination with 100% perfection and declares the result with complete transparency. Both these features are the best ways to evaluate the values of the education system.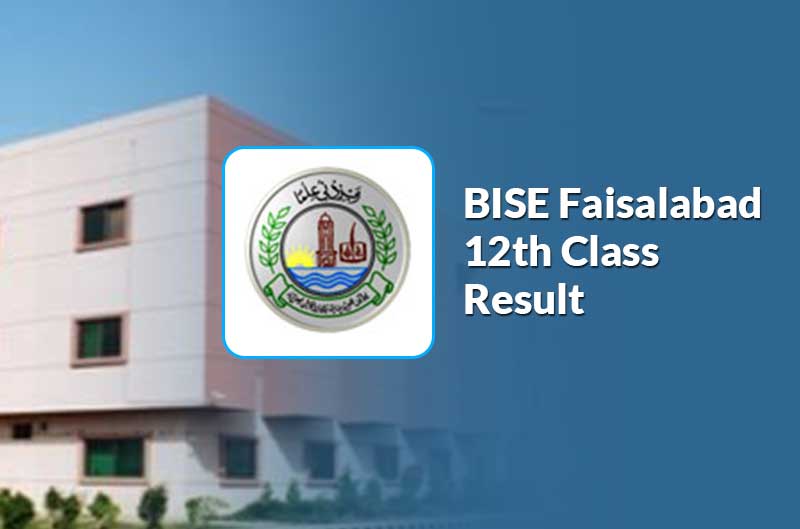 How To Check 12th Class Result 2022 Faisalabad Board
Students are offered the general idea that how they can check 2nd year result 2022 faisalabad board. Students can either check result by the Faisalabad board official website or can check result by SMS. However, if you find any difficulty in checking result then you can contact the respective educational institutes or you can also contact the board of education directly. However, the following are the easiest and safe ways to check result:
Check Result By Name:
You will find a section on the official Faisalabad board website to check result by name. Simply add your name and check result.
Check Result By Roll Number:
Besides name, you can also check result of FA/FSc result 2022 faisalabad board by roll number.
Check Result By SMS:
Those students who will not be able to access the official website or will be failed to have internet availability can check result by mobile phone. Students will be requiem to send their roll number to "800240" and you will get a reply with a detailed result.
Key Facts on Bise Faisalabad HSSC Result 2022
Read out the key facts on the 12th class Result and Exams which are mentioned below.
The Bise Faisalabad Board has declared the 12 class exam date.
The exams will be conducted in June 2022 by the Board.
The annual result for the 2nd year has yet to be declared.
Students will appear in the practical exams after written papers.
The names of Position holders of 12 class will be declared before one day of result announcement by the Faisalabad Board.
Students who received 1st, 2nd, and 3rd positions will be rewarded with prizes from the Faisalabad Board.
English, Urdu, and Pak studies are the compulsory subjects in 12 class.
In intermediate part 2, the total marks for compulsory subjects (English, Urdu) are 100 whereas the total marks for Pak studies are 50.
Students of the Morning session will appear for the exams at 8. o'clock. The paper will start at 8. 30 a.m. in the morning.
The total paper timings will be 3 hours.
The Faisalabad Board will provide the roll number slip of the 12 class within one week of the exams.
12 class date sheets will be given to students before one month of annual exams.
The result of FA part 2, FSc part 2, ICS part 2, I.COM part 2 will be declared on the same date.
Update about 2nd Year Result 2022 Faisalabad Board:
All the students of intermediate level appeared for their annual examination in the month of July. The examination period ran for almost two months and both of the students including 11th class students and 12th class students completed their examination during this period. Almost four months have passed and students are getting their result after passing this long duration. Now the 12 class result declared in the month of October.
Students, sometimes, raise the question of why too much time is required to publish the bise faisalabad intermediate part 2 result 2022? Students are to inform that there were thousands of students appeared for the examination and for arranging the result of thousands of candidates 03 months is not a long duration.
Passing Percentage of 12 Class Students.
In the 12 class result, the passing percentage in each subject are 33 %. Students who will receive 33 percent or more than that, will be able to pass the subject. Otherwise, those who will get less than 33 % marks, will be considered to fail.
Rechecking Process of 12 Class Faisalabad Board 2022
After the annual examination, each student desires to get the highest marks to achieve success. When the 2nd year result 2022 faisalabad board is announced, the majority of students get low marks. Although their estimations are different. Those students can recheck their papers if they want. For the rechecking process, you must have to download the form by visiting the official website. Then you have to fill in the required details and submit 1000 rupees for each paper in the bank. If your marks will be increased, you will receive a mail having your result of that specific paper. After that, you can get the new result card directly from the Board office.
Toppers of 12th Class Result 2022 Faisalabad Board.
The 12 class toppers will be declared before the regular result announcement. Students who will receive 1st, 2nd, and 3rd positions will get prizes and medals from the Faisalabad Board. The Board of Intermediate & Secondary Education Bise Faisalabad Board declares 3 toppers. The names of top students will be available on our website soon.
| Rank | Toppers Name | Secured Marks |
| --- | --- | --- |
| 1st | Available Soon | Available Soon |
| 2nd | Available Soon | Available Soon |
| 3rd | Available Soon | Available Soon |
Statistics of Years Faisalabad Board 12th Class Results:
Years
Appeared
Passed
Percentage
2021
12642
10060
79.58%
2020
104001
90556
87.07%
2019
97528
64852
66.50%
2018
87873
57309
65.22%
Frequently Asked Questions
1. Is the 12 class result date declared by the Faisalabad Board?
Exact date of 12th class result has not been announced yet by the Faisalabad Board, however, according to the latest news, it is predicted that the 12th class result will be declared on October 4, 2022 at 10:10 am.
2. How many ways are there to check fa result 2022 faisalabad board?
There are three ways to check inter part-2 result of Faisalabad Board. They are as follows:
•
BISE Faisalabad official website
3. How to get BISE Faisalabad inter part-2 result by name?
To get BISE Faisalabad Inter part-2 result by name, first, download the result gazette from the link mentioned above. Then open the gazette in any PDF viewer and press Ctrl F to any name in the gazette. Finally, get roll number from corresponding name and check result details by entering roll number.
4. How to check bise faisalabad inter result 2022 by using website?
To check BISE Faisalabad Inter part-2 result by using website, go to the Faisalabad Board's official website and check your result by entering your roll number.
5. How to apply for re-checking of paper after bise faisalabad intermediate result part 2?
To apply for re-checking of elective subjects, go the BISE Faisalabad website, enter your roll number and check your result. As soon as result is opened, see for the option "apply re-checking" and click it. Choose your desired subjects which you want to re-check.
NOTE: Fee for single subject is Rs.1300.
6. What is the SMS code of the Faisalabad Board to verify the Intermediate part 2 result?
The SMS code of the Faisalabad Board to verify the Inter part-2 result is "800240"
Join our email list to get informed on priority whenever the 12th Class result is announced by Faisalabad Board