Board
Exam Result
Status
Action

Multan Board

BISE Multan Board Inter Exams Result 2022

Announced

October 20, 2022

Check Online
The
2nd year result 2022 multan board
will be announced expected on
October 20, 2022
. Students are informed that the exams were conducted by the Board from
18th June 2022
. However, the Board provided the
date sheet
to students on
2nd June 2022
. It is to be noted that all the updates regarding your
12th class result 2022
will be available here soon.
Get the latest updates from this page.
12th Class Result 2022 Multan Board Highlights.
Session

Annual
2022
Result Status for 12th class
Not Declared Yet
Expected Result Date
October 2022
Result Availability
Online, through SMS, or gazette
Position Holders
Announced one day before the regular results
Commencement of Exams
June 18th, 2022
Total Marks of 12th class
550
Passing marks of each paper
33%
Total number of candiate
Approximately 81,621
Multan Board Address
Near high court colony Gol bagh, Gulgasht Colony, Multan, Punjab 60700
Official Website
web.bisemultan.edu.pk
Board Chairman
Hafiz Muhammad Qasim
Contact Number
(061) 9210125
Email address

support@bisemultan.edu.pk
Different Ways to Check 2nd Year Result 2022 Multan Board
Check Result By Name:
Students will find a section to check result by name on the official website. Just add your name and get your FA/FSc result 2022 multan board.
Check Result By Roll Number:
12th class students will also have the option to check result by roll number through the official website.
Check Result By SMS:
Students who will be able to explore the official website or to arrange the internet availability can check result by SMS. For this purpose, students have to send their 12th class roll number to "800293".
Bise Multan Board:
In the 1968 board of intermediate and secondary education, BISE Multan was established. There was the only reason behind the proposal of this board of education is to lead a quality education system in the specified areas. It covers the areas including Multan, Khanewal, Vehari, and Lodhran, etc. every year numerous students appear under this board from these areas. It has seen the board declares the clear result every year. Hopefully, 12th class result 2022 multan board will also come to see with 100% clarity.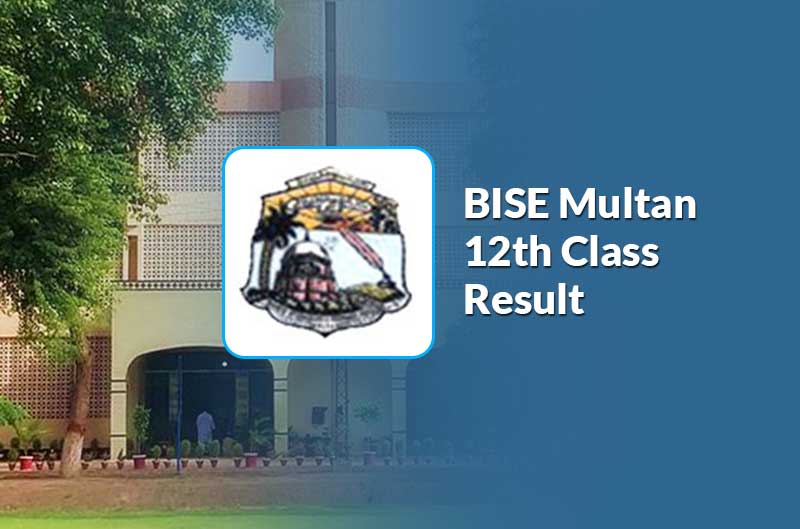 Latest Updates for 2nd Year Result 2022 Multan Board.
According to the most recent updates, the Bise Multan Board will make the result public expected in 20 October 2022. The date is announced by the Board. Students are informed that the page will be updated when the final decision will be made. We will let you know if there are any changes in the schedule.
Key Facts on Bise Multan 12th Class Result 2022
Some of the key facts on 12th class result and exams are as follows:
The 12th class result bise multan board 2022 has not declared the exam date.
The exams will be held in June 2022.
Students in the 2nd year will be given the date sheet before one month of exams.
The Roll Number slips will be provided within one week.
The practical exams will be conducted for 12 class students.
Urdu, English, and Pak studies are the compulsory subjects in 12 class.
Pak studies will carry 50 marks whereas the total marks in Urdu and English are 100.
The position holder's name will be declared by the Board before one day of the result.
Students of all groups FA part 2, FSc part 2, ICS part 2, I.COM part 2 will be able to check their results on the same date.
The morning session paper will start at 8.30 am whereas the evening session paper will start at 1.30 p.m.
The paper timings of Islamiat will be different.
Toppers of 12th Class Multan Board 2022.
The multan board toppers will be announced by the Multan Board one day of the result announcement. Students will get the names of position holders/toppers from our website soon. Those candidates who will receive the highest marks will be given prizes on the result day by the Board.
| Rank | Toppers Name | Secured Marks |
| --- | --- | --- |
| 1st | Available Soon | Available Soon |
| 2nd | Available Soon | Available Soon |
| 3rd | Available Soon | Available Soon |
Previous Years Statistics of Multan Board 12th Class Results:
Years
Appeared
Passed
Percentage
2021
167936
165924
98.80%
2020
81027
69851
86.21%
2019
74491
46220
62.05%
2018
68081
40767
59.88%
Choose The Right Career After 2nd Year:
Bise multan intermediate result are considered as the major point of education. It offers the next levels of education journey to the students who take this level of education seriously and make potential efforts in completing this level with good achievements. This is also the stage in which students choose their right career. Students are divided into specified classes at this stage i.e. science classes, including engineering, medical and computer studies, and art or humanity studies. Students can choose the best category just according to their taste and the category for which they want to make some contributions in the future.
FAQs Of 12th Class Result 2022 Multan Board:
1. Which are the ways to check the bise multan hssc result 2022?
The hssc result of Multan Board can be checked in three ways. They are:
II.
Multan Board official website
2. How to check bise multan inter result 2022 via SMS code?
To check inter part-2 result of Multan Board via SMS code, send your roll number to 800293 and get your result.
3. How to re-check fsc result 2022 multan board?
Many students who do not find their results satisfactory, they opt for re-checking of paper. To do re-checking, one has to apply for re-checking and pay fee of Rs. 1300 per subject. Only elective subjects are liable for re-checking. For re-checking of paper, enter your roll number, get your result and click on "apply re-checking".
4. How to check result of inter part-2 of Multan Board on Campus.pk?
To get fa/fsc result 2022 multan board on Campus.pk, click on the respective website. When website is opened, look for the inter part-2 result, enter your roll number and get result.
5. How many subjects can be improved after inter part-2 result?
If some candidates are willing to improve subjects, they have to follow some rules but they can improve as many as subjects they want to improve.
Join our email list to get informed on priority whenever the 12th Class result is announced by Multan Board