Board
Exam Result
Status
Action

Sahiwal Board

BISE Sahiwal Board Inter Exam Result 2022

Announced

October 20, 2022

Check Online
The annual 2nd year exams for the year 2022 were held on June 18th, 2022, as per the date sheet declared on May 24th, 2022. However, the result of the 2nd year result 2022 sahiwal board are expected on October 20, 2022. The board will announce the position holders one day before the regular result. Students are advised to stay tuned to get the latest updates on the 12th class result in 2022.
Students are advised to keep visiting our website Campus.pk to get the latest news on the result.
Quick Information on 2nd Year Result 2022 Sahiwal Board
Session

Annual
2022
Bise Sahiwal 12th Class Result 2022
Not Declared Yet
Expected Result Date
20 October 2022
Result Availability
Online, through SMS, or gazette
Position Holders
Announced one day before the regular results
Commencement of Exams
June 18th, 2022
Total Marks of 12th class
550
Passing marks of each paper
33%
Total number of candiate
Approximately 50353
Sahiwal Board Address
Govt. Graduate College, Farid Gunj Sahiwal, Sahiwal District, Punjab 57000
Official Website
bisesahiwal.edu.pk
Board Chairman
Hafiz Muhammad Shafiq
Contact Number
(040) 9200516)
Email address
info@bisesahiwal.edu.pk
What is Sahiwal board?
The Board of Intermediate and Secondary Education, Sahiwal was formed in 2012. Since its inception, the board has been in charge of conducting matriculation and intermediate examinations. The Sahiwal Board includes three districts under its supervision: Okara District, Sahiwal District, and Vehari District. After the successful completion of examinations, the Sahiwal Board usually takes three months to compile the results.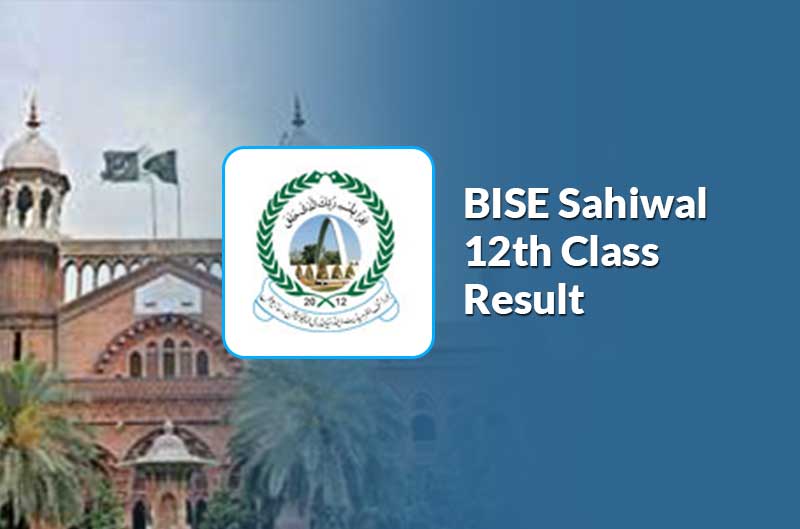 How To Check 12th Class Result 2022 Sahiwal Board
We know that at this stage some students are also worried that how they can check result. If you are also worrying that how you will check the 12th class result 2022 sahiwal board then we advise you to follow the below-mentioned methods to check the result safely. We also advise 2nd year students to share this helpful or updated news with their friends and classmates:
Check Result By Names:
Find the official website of the Sahiwal board of education and put your names to the given address bar. Your result will show instantly.
Check Result By Roll Number:
The second option to check result is to add your roll number to the given search bar.
Check Result By SMS:
If you will not be able to find the official website or if there will be an issue with the internet availability then students can check result by SMS. Just send your roll number through your mobile phone to "800292". The result will be sent through a reply.
Key Facts on Bise Sahiwal 12th Class Result 2022
Some of the key facts on the 12 class result are mentioned here.
The exams for the 12 class are going to be held in June 2022.
The result will be expected announced in 20 October 2022 as planned.
Practical papers will be conducted in a few days after the written exams.
Students will be given the roll number slips within one week before exams.
English, Urdu, and Pak studies are the compulsory subjects in each group of 2nd year including FA part 2, FSc part 2, ICS part 2, I.COM part 2.
Students of ICS part 2 can choose a subject of their own choice.
The total paper timings will be 3 hours.
Pak studies paper timings will be 2 hours.
The Bise Sahiwal Board will declare the names of position holders/toppers before one day of the result announcement.
Only three position holders will be declared by the Board and they will be rewarded with prizes from the Board.
12 Class Result Announcement Date and Time
The Board of Intermediate and Secondary Education, Sahiwal, has not declared the 12th class result for the 2022 session. However, it is expected that the bise sahiwal hssc result 2022 will be announced on October 20 in the morning at 11 a.m.
Latest Updates for 2nd Year Result 2022 Sahiwal board
On June 18, 2022, the Sahiwal Board held its annual intermediate exams. The exams were held in accordance with the schedule announced on May 24, 2022. The board generally takes three months to compile and declare the result. On October 20, the
2nd year result
for the session of 2022 are expected. Students are urged to regularly check the website for the most recent information.
Sahiwal Board 12th Class Result 2022 Toppers
| Rank | Toppers Name | Secured Marks |
| --- | --- | --- |
| 1st | Available Soon | Available Soon |
| 2nd | Available Soon | Available Soon |
| 3rd | Available Soon | Available Soon |
Statistics Of Sahiwal Board 12th Class Results:
Years
Appeared
Passed
Percentage
2021
69920
69078
98.79%
2020
99062
81906
82.68%
2019
98846
29075
74.85%
2018
60216
52831
87.73%
2nd Year Result 2022 BISE Sahiwal Board Online:
Actually, summer is the common time for the annual examination of intermediate students. Every year students appear at the same time. However, the difference in the actual examination date comes to see every year. The intermediate class completes in two sections. Each section of students appears annually for examination. Two year time period requires to complete an intermediate degree. The examination process of intermediate completes in almost two months. 12th class students appear first for examination and boards of education call 11th class students at the last.
What should I do after 2nd year result?
After the Sahiwal Board announces the annual bise sahiwal intermediate result 2022, students are encouraged to look forward to their desired universities and enrol themselves in the particular field of study. After the successful completion of their intermediate studies, there are a number of field opportunities which students can opt for.
Medical: Students who have completed Pre-Medical can apply for different medical fields.
Engineering: Pre-Engineering students can apply for the various engineering opportunities in different public and private universities.
Computer Sciences: After completing Intermediate in computer Sciences, students can continue CS at bachelor's level. It is one of the emerging degree accepted worldwide.
Business Administration: Candidates can adopt for a degree in Business Administration.
It will help them seek the skills of digital marketing as well.
Frequently Asked Questions
1. Has the 2nd year result 2022 sahiwal board announced the result date?
The Sahiwal Board has not declared the exact date of 12th class result, however, according to the latest prediction it will be announced on October 20, 2022 at 10:10 am.
2. What is the SMS code of the bise sahiwal inter result 2022?
The SMS code of the Sahiwal Board to get the result of 12th class is "800292".
3. What is the procedure for re-checking of paper after 12th class result of the Sahiwal Board?
Some students do not find their results satisfactory. They prefer to apply for re-checking of paper. To apply for re-checking, enter your roll number and get your result. When result opens there is also option of "apply re-checking", click on this option and choose required number of subjects for re-checking. Fee for re-checking is 1300 per subject.
4. How to improve marks after 12th class result of the Sahiwal Board?
For improvement in the marks of 12th class, the students can download improvement of marks and submit to the Sahiwal Bise office or online through www.sahiwalbise.edu.pk. The candidates who want to improve their results will also submit admission form along with Performa. Improvement fee is Rs. 1700 per candidate.
5. Which are the three ways to check fa/fsc result 2022 sahiwal board?
The fa/fsc result of Sahiwal Board can be checked in three ways. These ways are as follows:
•
BISE Sahiwal official website
Join our email list to get informed on priority whenever the 12th Class result is announced by Sahiwal Board