Sahiwal Board Confirms Inter Part 2 Date
After much delay, we now have a confirmed date of Inter part 2 result by Sahiwal Board of Intermediate and secondary education. The result will be announced on 22 September at 5 pm on the official website of BISE Sahiwal.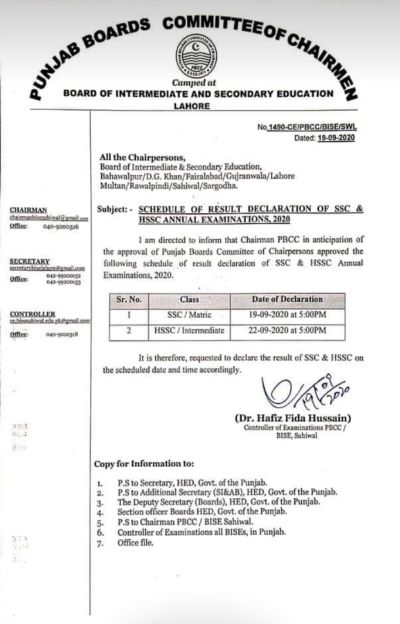 This year had been a different story for everyone especially the students. There had been mass cancellation of everything and exams were no exception. 2nd year exams were cancelled due to lockdown and students were forced to stay at home. However, to safeguard the time and career of the students, it was decided by the government that students would get promoted to their next study levels without exams. Moreover, 3% grace marks will also be assigned to each student. The reason behind the grace marks is that typically students get more marks in their 2nd-year exams when compared with their 1st-year exams. BISE Sahiwal has also followed the same pattern as per advice from the Education Ministry.
According to the latest announcement by the board of intermediate and secondary education BISE Sahiwal announced the final date of 12th class result 2021 Sahiwal Board very soon in which all the students of HSSC part 2 FA FSC ICOM ICS will find their 2nd year result 2021 Sahiwal Board. Inter result season is now on the head and everyone is looking for a result. Students, no doubt, were showing great impatience with the signs of anxiety on their faces. We hope that this latest announcement may disappear the signs of wordiness from their faces.
2nd Year Result 2021 BISE Sahiwal Board Online:

In the month of May and June, intermediate students appeared for an annual examination but this year 2021 students due o the harsh circumstances of the country. Due to the pandemic condition of COVID-19 Lockdown is seem throughout the world almost so, that's why students were suggested to stay home stay safe, And there was no paper of intermediate and matric board level.
Actually, summer is the common time for the annual examination of intermediate students. Every year students appear at the same time. However, the difference in the actual examination date comes to see every year. The intermediate class completes in two sections. Each section of students appears annually for examination. Two year time period requires to complete an intermediate degree. The examination process of intermediate completes in almost two months. 12th class students appear first for examination and boards of education call 11th class students at the last.
The intermediate 2nd Year 2021:
For all those students, who are going to get their 2nd year result 2021 Sahiwal board, we offer best wishes for their good result and bright future. Actually, an intermediate level of education is considered as the platform which starts your journey towards your actual study career. This is because at this point students select one category and make potential implements to obtain success in this category to make a good career in this category in the future. So, be ready for the intake of your future.
Result Of 12th Class 2021 Sahiwal Board :
The result date of 12 Class will be announced by Sahiwal Board very soon. For the best future of the students, the Government of Pakistan decided to add extra 3% marks in each student's marks as they obtained in 11 grade. Moreover, this decision going to be beneficial for students.
BISE Sahiwal 2021:
In Punjab, the education system and values are promoting day after day and these are all due to the educational bodies running throughout Punjab. Punjab's government took better steps for the well-being of the education system and proposed almost 10 educational boards and BISE Sahiwal is one of them. All these were arranged at a different time but there was only a single reason behind their arrangement and it is to promote the values of education.
So stay tuned with the official website
www.bisesahiwal.com
040-9200516/19 040-4272122.
Email: chairmanbisesahiwal@gmail.com.
Join our email list to get informed on priority whenever the 12th Class result is announced by Sahiwal Board