Updated on March, 2023
The Board of Intermediate and Secondary Education (BISE) Bahawalpur has informed that the date sheet for the 9th Class Annual Examinations of 2023 will be announced in March and the exams will start in the month of April, 2023. Students are advised to keep visit this page on daily basis for latest updates.
The board of intermediate and secondary education Bahawalpur is known to be one of the best educational boards of south Punjab regions. The board ensures that the highest possible educational standards are maintained and followed. The BISE Bahawalpur board is currently finalizing the final draft of 9th class(SSC) 2023 date sheet and is expected to release it in the month of march.
The BISE Bahawalpur board came into being in the year 1998. The board has jurisdiction in Rahim Yar Khan district, Bahawalnagar District and Bahawalpur District. The board main purpose is to ensure that intermediate (HSSC) and matriculation (SSC) examinations are carried out in the most efficient manner while maintaining transparency and implementing rules and procedures in accordance with international examination standards. The board also has functions of provision NOC(No objection certificates, correction of examination papers, rechecking of student's answer paper, issuance of student result cards, providing passing students their educational certification, providing students duplicate result cards, providing HSSC students and SSC students scholarships, among others.
9th class date sheet 2023 Bahawalpur board will be announced by the Board of Intermediate and Secondary Education BISE Bahawalpur in March, 2023 from which all the students of matric part 1 Bahawalpur board science or arts groups will find their SSC Part 1 date sheet Online. BISE Bahawalpur Board conducts the exams every year ANNUAL and SUPPLEMENTARY of Matric Part 1, Matric Part 2 Combined, Inter Part 1, Inter Part 2 Combined, . BISE Bahawalpur Board will be announced the 9th Class Date Sheet 2023 in March, 2023. The examination of matric part 1 will start in the month of April. Those students who are going to appear in the 9th class board examination have only one month according to the date sheet.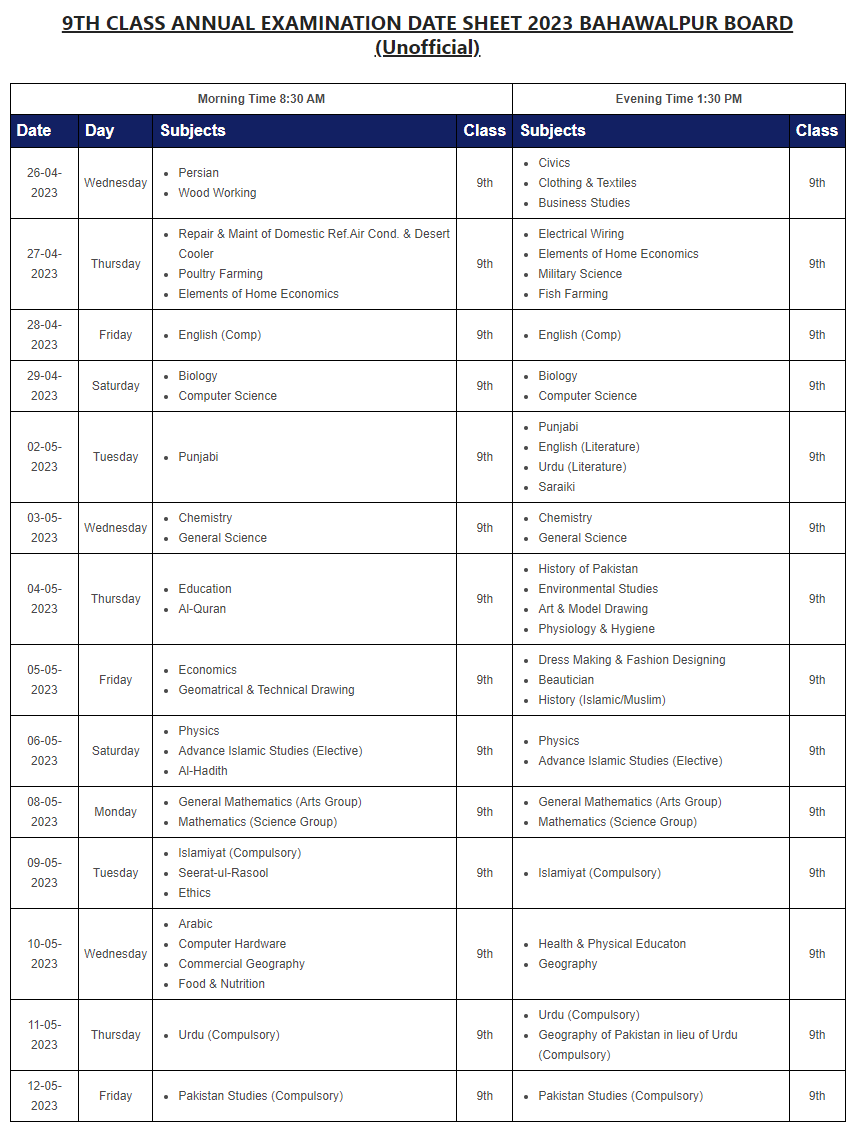 Important Information on BISE Bahawalpur 9th Date Sheet
| | |
| --- | --- |
| 9th Exam Start Date 2023 | 26 April, 2023 |
| Compulsory Subjects | 3 Subjects [Details] |
| Optional Subjects | 14 Subjects (Physics /Maths /Biology /Chemistry /Computer /General Science /Islamyat Elective /Punjabi /Education /Civics /History /Economics /Jughrafia) |
| Board Jurisdiction | Bahawalpur District, Bahawalnagar District, Rahim Yar Khan District |
| Duration of Exams | Completes in 30 days |
| Official Board Website | www.bisebwp.edu.pk |
| Date Sheet Status | Expected Announcing in the month of March, 2023 |
You can get your date sheet of 2023 of 9th class BISE Bahawalpur board at campus.pk. our new website has been developed the showcase our strengths and to reflect our new brand as" an Educational E-learning School". It has been designed to approach the study material easily. Students highly use this site to easily download their respective board annual date sheet. It is not just a new design but also an understanding of the needs and expectations of the visitors. Campus.pk has a clear and clean design and has a wide navigation system to help you find your way around easily.
2023 Schedule of Exams of SSC part-1:
The board of intermediate and secondary education BISE Bahawalpur board will be announced the date sheet of 9th and 10th class 2023. The students who were in search of the date sheet of 9th class Bahawalpur board will get the date sheet from the official website. Exams of the 9th class of BISE Bahawalpur board expectedly will start in April, 2023 and will end in May, 2023.
Get the Latest Update about Announcement of 9th Class Date Sheet Bahawalpur Board:
From the date sheet to results of matriculation of BISE Bahawalpur board you can get the latest updates about Roll Number slip, matric date sheet and the announcement of results. Just stay in touch with us and keep on visiting the website for more information on the date sheet of all boards. You can also turn on the notification to receive the latest updates on your desktop screen.
Content Other than date sheet available on Campus.pk
Our website has introduced a whole new range of content to the students. We have boosted our content at campus.pk by adding board wise past papers of previous years, video lectures, online test systems, board wise date sheet-like 9th class date sheet 2023 Bahawalpur board, Long and short questions tests which are fantastic opportunities for the students in order to go through the procedure of examinations.
9th Exam Paper Pattern For Major Subjects
| | |
| --- | --- |
| Urdu | 75 Marks, 19 MCQs, 10 Short Questions, 5 Long Questions. |
| English | 75 Marks, 19 MCQs, 10 Short Questions, 5 Long Questions. |
| Islamiyat | 50 Marks, 19 MCQs, 10 Short Questions, 5 Long Questions. |