09 November, 2020
Views 867
Admissions Open in B.Sc. Engineering Self-Finance Programs At UET Peshawar
UET Peshawar is accepting applications for B.Sc. Engineering Programs in the self-finance category. The last date to apply for these programs is November 15, 2020. The admissions on general/open-merit have closed. But the university has opened a non-subsidized scheme to help the students who couldn't apply earlier. The self-finance programs have the same syllabus as the regular programs. The only difference is in the fee structure of the Self-support program. According to the latest advertisement, the students who have already applied but didn't appear in interviews will be considered as fresh applicants. No admission priority will be given to such students.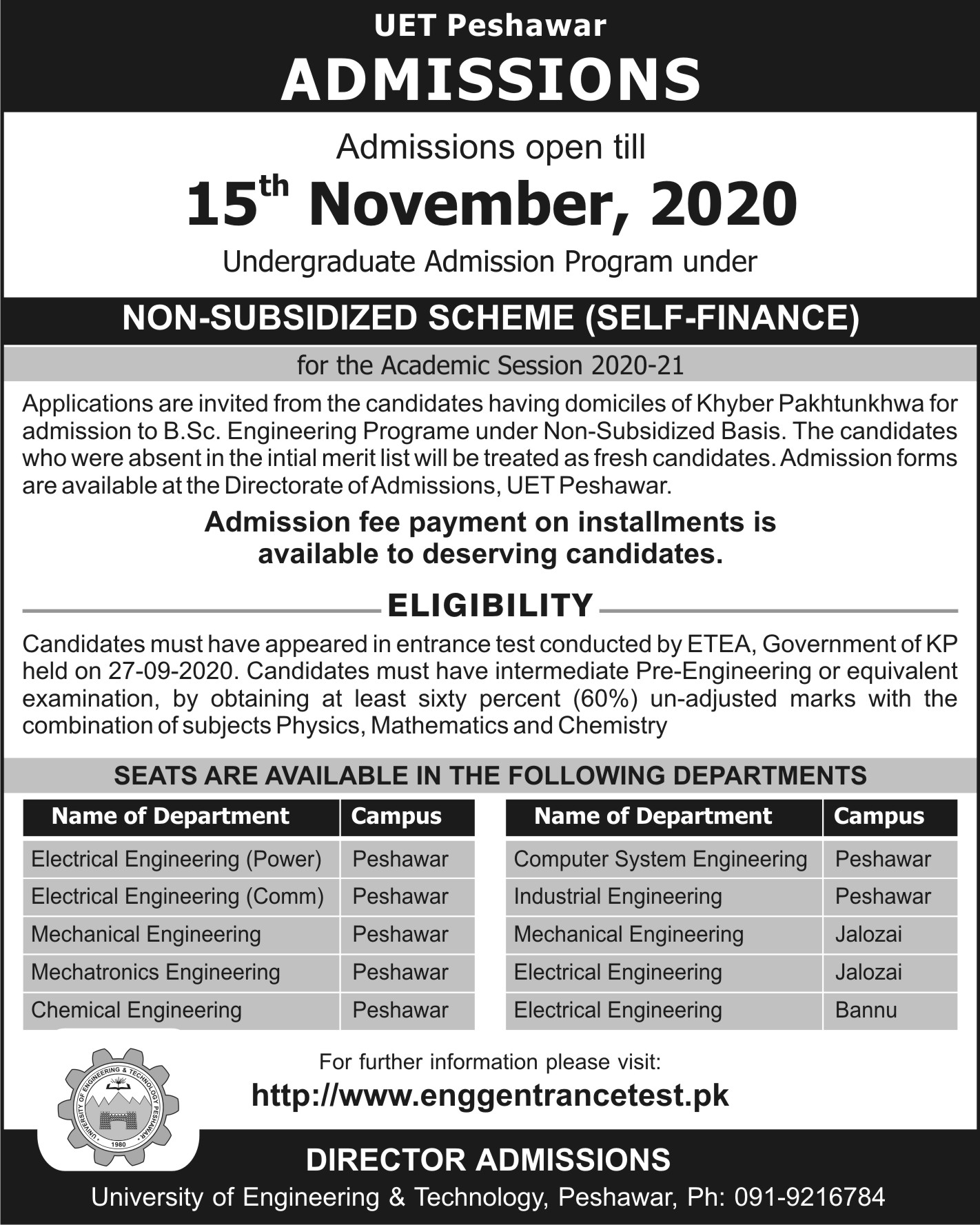 Admission Criteria
The admission criteria for the self-support program is as follows:
•
Only those students can apply for admission who have domicile issued by the KPK government.
•
All candidates must have appeared in the ETEA test held by the KPK government held on 27 September 2020.
•
60% of marks in F.Sc results are mandatory for all applicants.
•
Only those students who have passed their exams of Physics, Mathematics, and Chemistry are eligible to apply.
Programs Offered In UET Peshawar Self-Support 2020 Admissions
Following programs are offered in Peshawar Campus:
1.
Electrical Engineering (Power)
2.
Electrical Engineering (Communication)
3.
Mechanical Engineering
4.
Mechatronics Engineering
6.
Computer Systems Engineering
7.
Industrial Engineering
Two programs are offered in the Jalozai Campus of UET Peshawar
1.
Mechanical Engineering
2.
Electrical Engineering
The Electrical Engineering Program is also offered at the Bannu Campus.
Admissions In UET Peshawar On Self-Finance Basis
UET Peshawar is one of the most famous engineering universities in Pakistan. Thousands of students who passed out of this university have proven their expertise in both national and international institutions. The merit score required to get enrolled at the University of Engineering and Technology of Peshawar is very high. That's why only selective students get enrolled in the university out of thousands of applicants. UET Peshawar's policy of providing quality education to all students has helped students by allowing them to get admissions in Self-support programs. All the self-support programs are accredited with both the Higher Education Commission and Pakistan Engineering Council.