08 October, 2020
Views 66
BISE Lahore Announces Date Sheet For Intermediate Special Examination 2020
The Board of Intermediate and Secondary Education Lahore has published the date sheet for the 2020 special Intermediate exams. BISE Lahore had previously notified the students that the exams will start from October 10, 2020. Due to the saga of COVID-19 in 2020, all educational boards of Pakistan were forced to cancel the Intermediate Part-II exams. But on September 22, 2020, BISE Lahore and other boards of Punjab declared the results for all Intermediate Part-II students by the Promotion Policy. Not all of the promoted students were satisfied with their result issued by BISE Lahore as they wanted to appear in the exams themselves. BISE Lahore announced that such students will be allowed to appear in the Special Intermediate Part-II 2020 exams. Apart from the students who wanted to appear in the intermediate special exams, those students who failed in more than 40% of subjects can also take these exams.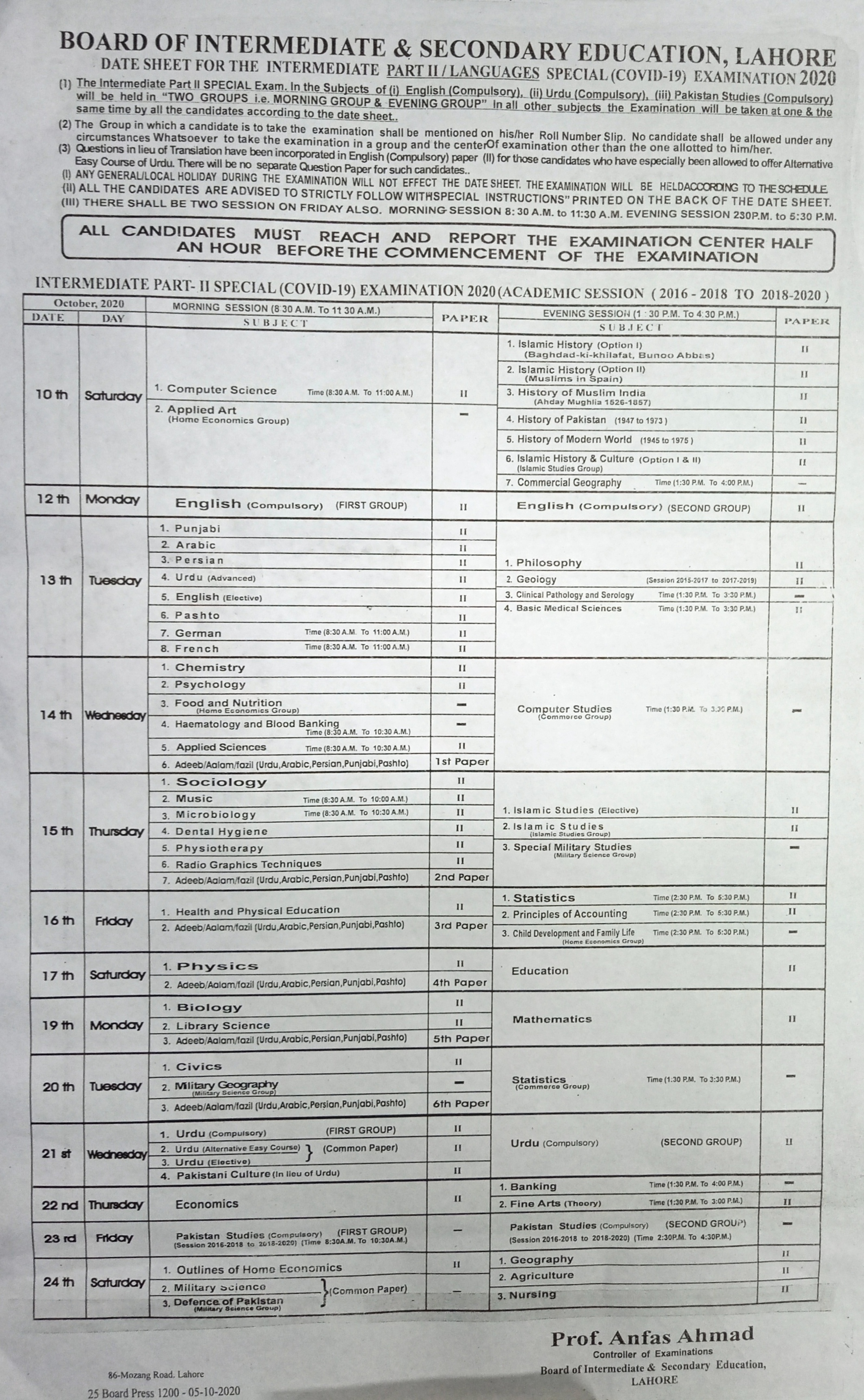 Regulations of Intermediate Special Exams 2020
•
The papers of English, Urdu, and Pakistan Studies will be conducted in Morning and Evening groups.
•
Papers of all other subjects apart from these 3 subjects will be taken in one group and at the same time.
•
The student's group of exam will be mentioned on the new roll no slip of intermediate special exam 2020.
•
No students can appear in a different group to attempt his or her paper.
•
Students who are studying the special easy Urdu course will not be issued a different question paper of English exam as the special questions for them are combined in the Intermediate Part-II English exam.
•
No Public holiday will disturb the schedule of the exams. Papers will be taken according to the dates mentioned on the date sheet and roll no slips.
•
All students are required to follow the guidelines that are printed on the Date Sheet. These guidelines will be present in every exam center.
•
Papers will be taken in two groups on Friday as well. The timings of the Morning session will 8:30 am to 11:30 am and 2:30 pm to 5:30 pm on Friday.