06 November, 2020
Views 2220
CSS 2020 Results Announced By Federal Public Service Commission
FPSC has announced the results of the CSS 2020 exams. According to the official declaration, 2.03% of the candidates who appeared in the test passed the written examination. A total of 39,630 candidates applied for the test. But 18,553 students, almost half of the candidates who applied, appeared in the exam. Out of these 18,553 students, only 376 were able to pass the written exam. The students who have passed the exam will be invited by FPSC for medical examination, physiological assessment, and the viva exam.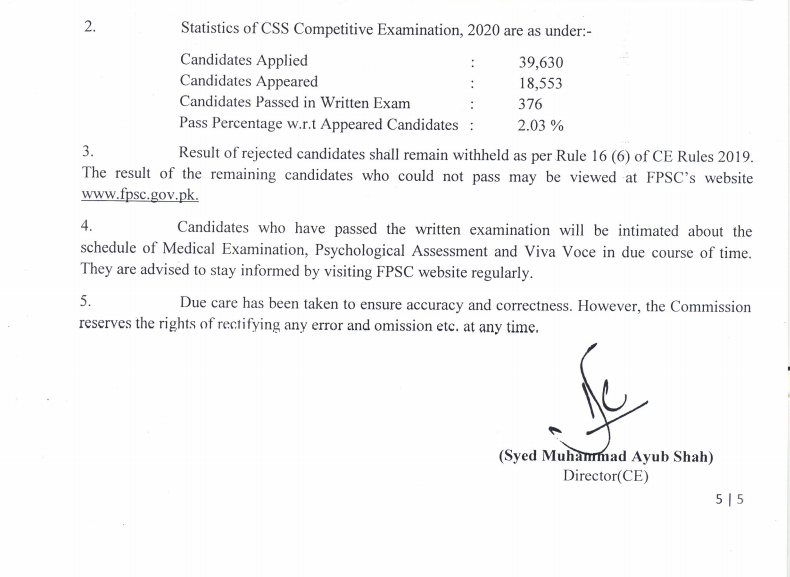 Importance Of CSS Exams
Central Superior Service or CSS is the authority in Pakistan that maintains the bureaucratic body of the country. The Prime Minister of Pakistan has the power to control the process and all regulations of this body according to the law of the country. CSS arranges competitive exams each year to select able-minded persons who'll run the matters of the country. CSS exams are considered to be the most competitive exams. Only a handful of thousands of students who appear in the exam can succeed. After a student passes the written examination, they have to appear in further medical, psychological, and viva exams. All in all, the CSS exams have proven to be a great help to choose the right persons for all the important matters of the country.
CSS Exams Eligibility Criteria
Here are the requirements that must be fulfilled to appear in the CSS exams:
•
The candidate's age must be between 21 years to 30 years.
•
2 years of age relaxation will be given to the candidates of scheduled casts, recognized tribes, AJK/GB residents, disabled, and government employees.
•
Candidates who have obtained at least a C grade in their Bachelor's degree.
•
Those who have obtained a D grade in their Bachelor's degree but hold a higher grade in their Master's degree will be eligible to apply.
•
The candidate must be a citizen of Pakistan.
•
The residents of the State of Jammu and Kashmir are also eligible to apply for CSS exams.
•
Every candidate applying for CSS exams must have their domicile issued by their relevant province.