21 October, 2020
Views 2574
Government Of Punjab Ensures That Schools Will Not Close
Schools Education Punjab department and Education Minister of Punjab Murad Raas have clarified that the schools will not be closed from 25 October 2020. This notification is in response to the news that is being circulated on social media. A fake news image on social media claims that the schools will be closing once again in the province of Punjab. There have been fake proclamation about locking down schools from unauthorized authorities in the past as well. But the government bodies have been denying such news. The government as of now has no plans to close the schools once again.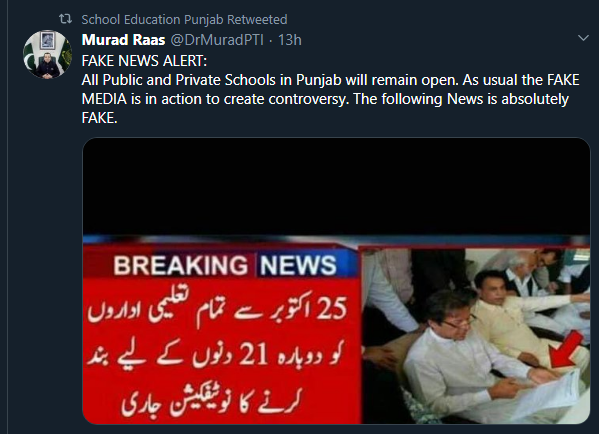 First October 15, Now October 25?
Ever since the Government of Pakistan imposed a country-wide lockdown, much fake news has been making rounds on social media. The government in March made it compulsory for all schools to stop teaching on campus. But there was fake news of all sorts when the schools were closed. People spread hoaxes about the announcement of results, reopening of schools, and the cancellation of exams. But the government has been telling the masses to only follow the official sources and don't believe in fake news. When schools were reopened on 15 September, there was fake news that the government will close the schools once again on 15 October 2020. The government denied this fake news and the schools remained open. Now, as October is approaching its end, some fake news is on the rise that the schools will be closing down on 25 October.
Responsibility Of Schools And Parents
The government indeed has no plans to close down the schools once again all over the country. But the government has also made it very clear that those schools that don't follow the COVID-19 guidelines will be closing down. So it is up to the parents and the school administrators to follow the SOPs that have been put forward by the Federal government. If schools and parents don't encourage the kids to follow the COVID guidelines, the conditions will get worse and the virus will spread all over the country.