17 November, 2020
Views 1290
Governor Punjab Permits Medical Students Another Supplementary Examination
Governor Punjab Chaudhry Mohammad Sarwar has allowed the medical students another supplementary examination due to the spread of the coronavirus. Being chancellor of medical universities he took this decision to facilitate the medical students so that they can avail another chance to appear in the supply exams. Many students faced problems with the exams and approached the governor Punjab to resolve the issue. After this decision, he issued instructions to the vice-chancellors of all the medical colleges and universities to provide an additional chance to the students so that they can pass the exams. Due to the COVID-19, the academic and the examinational activities got disturbed and many students remain unable to clear the exams.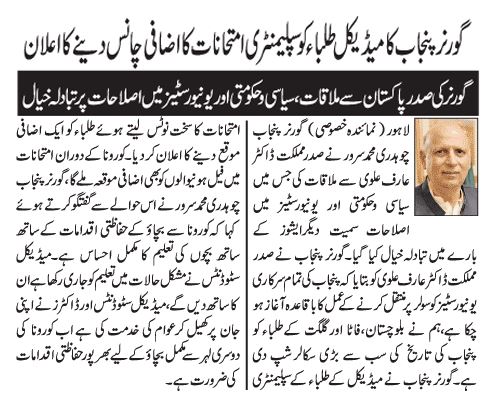 Supply Exams For Medical Students
Now on the directions of the governor Punjab, the medical and dental colleges across the province will arrange the supplementary exams for the students who failed in the exams. He said that the government is doing best to assist the students in the time of the crisis. It is our duty to listen and solve the difficulties encountered by the students. The governor added that besides the safety of the students we are also concerned about their education. We assure the medical students to stand by them in difficult situations and support them. The coronavirus had affected the various sectors of life in including education. However the medical students have continued their education in such a crucial time so in order to prevent the educational loss, the additional chance will be provided to the medical students.
Follow Precautionary Measures
Punjab Governor said medical students and doctors are assets of the nation that serves the people by risking their lives. So we must aid them by all possible means. He also urged the public need to follow the SOPs to fight against the second wave of the coronavirus.