24 October, 2020
Views 1288
Governor Punjab Proclaims Huge Scholarships For Balochistan, GB and FATA
In the latest proclamation by the Governor of Punjab Chaudhary Mohammad Sarwar, he announced that Punjab will provide scholarships for the brilliant students of Balochistan, Gilgit Baltistan and FATA students. This scholarship is aimed to provide the students of underprivileged areas to get quality education in premier institutions of higher education in Pakistan. The latest scholarship announced by the Governor of Punjab is for the span of 4 years. Governor showed his concerns about the financial condition of the remote areas of Pakistan on Friday at the Governor's House.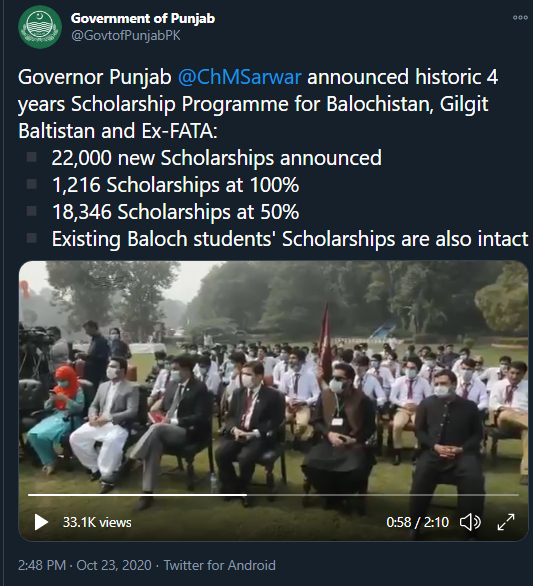 Details Of The Scholarship Program
In the latest scholarship scheme of the Governor of Punjab, a total of 22000 scholarships will be awarded to the students. According to the details provided by the Governor, a total of 18346 students will secure half-funded scholarships. While 1216 students will be awarded a fully-funded scholarship. The motive behind providing this scholarship is to make sure that those students who cannot pay their fees will not be expelled from the universities with this financial aid. The reason why many students of these areas can no longer support their educational journey is that no major institution of higher education in Pakistan is receiving grant for the students of Balochistan, KPK and FATA. But in this scholarship program, in the first phase, the universities will be provided 20 million rupees in the first phase.
Impact Of This Scholarship
Areas of Balochistan, AJK and FATA are rich in natural resources, but the students hailing from these places have little access to higher education. The students who come from these areas suffer greatly when they come to prestigious universities. Their financial condition prohibits them to maintain their studies. It is therefore the responsibility of the government to make sure that students of these regions also obtain quality education. The latest scholarship program of Governor Punjab is geared towards helping the students who come from the developing areas. Students who avail these scholarships will be able to support their families and help in the improvement of education in Pakistan in the coming years.