25 November, 2020
Views 1301
HEC Notifies To Not Recognize 2 Year BA/BSc Degrees Issued After December 2018
The Higher Education Commission of Pakistan has notified to not recognize 2 Year BA/BSc degrees. The HEC officials said that despite the decision of cancellation of 2-year degree programs some universities and institutes are still offering these programs and enrolling the candidates in the different graduation disciplines. Now the HEC has issued the notification and addressed to Vice-Chancellors of all public as well as private sector universities to immediately stop the two-year programs. It is warned by the concerned authorities that HEC would not recognize the enrollment of a student in two-year programs issued after December 31, 2018. The main reason to abolish the two-year degree programs is to provide the students with a broad-based education and necessary skills so that they can grab the opportunities provided to them in their professional life.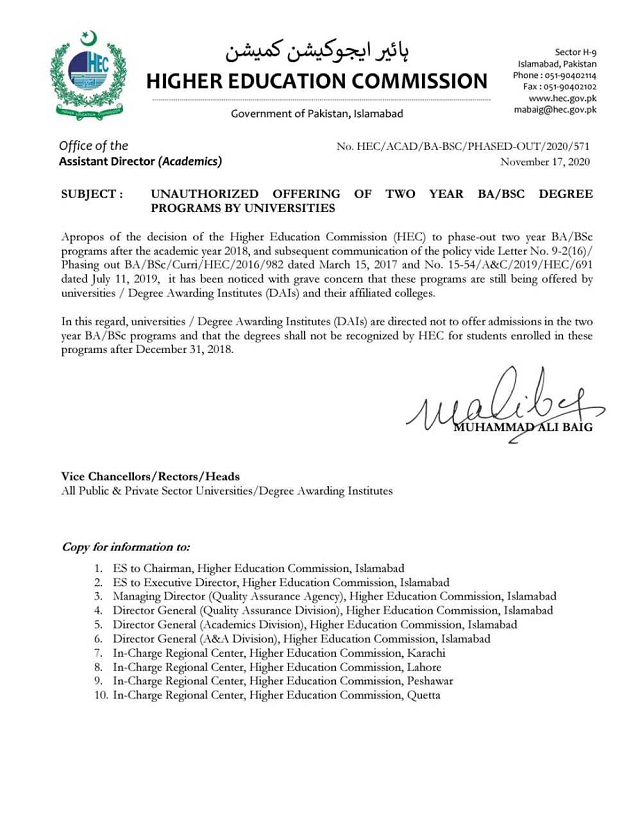 Abolishment of Two Year Degree Programs
It is directed to all the universities to start the enrollment of the students in the associate degree programs for the next academic year. The public and the private sector universities will not offer the MA/MSc programs from the upcoming year. The decision of the HEC has raised concerns among the students who appear as the private candidates in the annual examination of graduation and masters. As per the instructions the students who were enrolled and registered in graduation (BA/BSc) degree programs on or before 31st December, 2018, were permitted until 31st December, 2020, for the completion of the program and receive the degree according to the HEC rules.
Associate Degree Program
The candidates who remain unable to complete the courses till the mentioned date will be awarded an associate degree after the completion of the requirements of the academic program as stated by the university. The students are informed to get admission in the associate degree program rather than the two-year BA and BSc degree program as this these will be not accepted as the academic degrees by the higher education commission of Pakistan.