15 October, 2020
Views 3515
KPK Government Cancels ETEA Medical Entrance Test 2020
Department of Higher education, archives and library of Khyber Pakhtunkhwa has decided to cancel the ETEA medical entrance test of 2020. This decision has been taken after the approval from the Chief Minister of Khyber Pakhtunkhwa. ETEA has been conducting the Medical entrance test for admission in the Khyber Medical University and its allied colleges. Students of Khyber Pakhtunkhwa had to appear in the test to get admission in the medical colleges. The test was announced to be conducted on the October 18, 2020. But the Government of Khyber Pakhtunkhwa has now decided to cancel the test and end its mandatory status.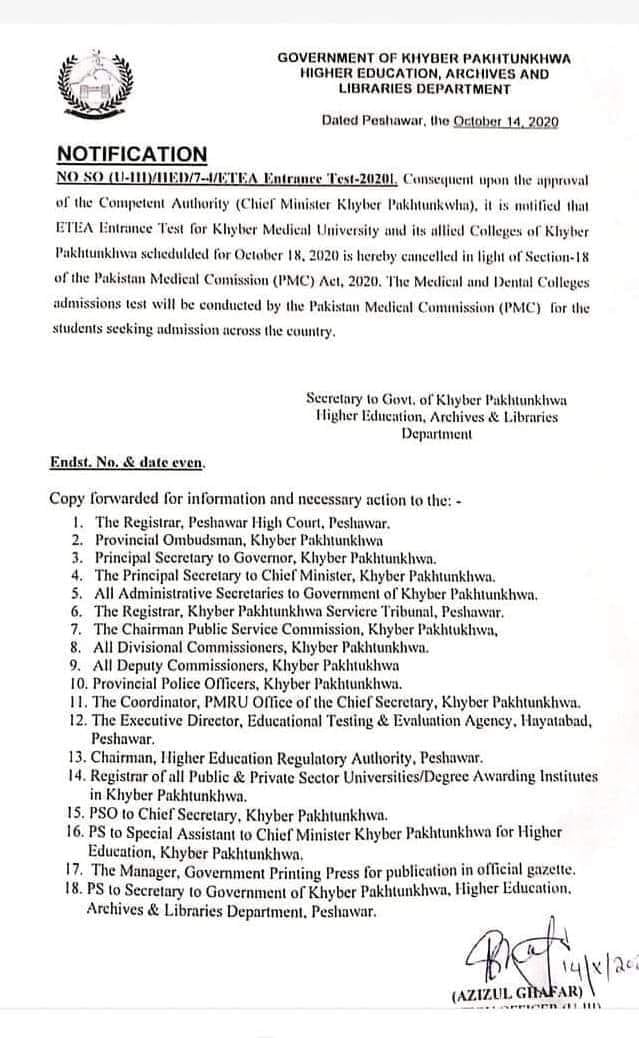 What test will be taken now?
As the students of Khyber Pakhtunkhwa have previously been taking the ETEA test for admission in Medical and dental colleges, what will be the entrance criteria for the aspirants of medical and dental colleges in 2020? The government has answered this question by declaring the PMC MDCAT test to be the default test for the 2020 admissions. PMC has been given the authority to conduct the National MDCAT all across Pakistan for the admission in Medical and Dental colleges. The unified entrance test will make it easier for the students to get admitted in Medical and Dental colleges. Earlier, the students were required to appear in more than one tests which disturbed their concentration and their performance.

What students will do now?
If you are an aspirant of medical and dental colleges of Khyber Pakhtunkhwa, the great news for you is that you are now required to only appear in the single MDCAT test conducted by PMC. This MDCAT test will be taken in the 2nd week of November. The PMC has declared that the syllabus will be the same for all students across the country. There will be no question outside the given syllabus. The minimum marks a student will have to obtain to become eligible for admission in medical and dental colleges is 60%. A single entrance test conducted by the premier medical council of Pakistan will make it easier for students to prepare and attempt the entrance exam.