23 October, 2020
Views 1651
MDCAT 2020 Registration: All Guidelines Announced By PMC
PMC has stared MDCAT registration 2020 process on October 22, 2020 and has issued complete guidelines that students can follow to register for MDCAT 2020 with great ease. Candidates were facing issues to register for MDCAT 2020. After the situation created by COVID-19 in Pakistan, many students were worried about whether the entrance test for medical tests will be taken or not. But now, PMC has not only started the online registration portal but also has made it easier for the students to register. The last date for registration is November 02, 2020.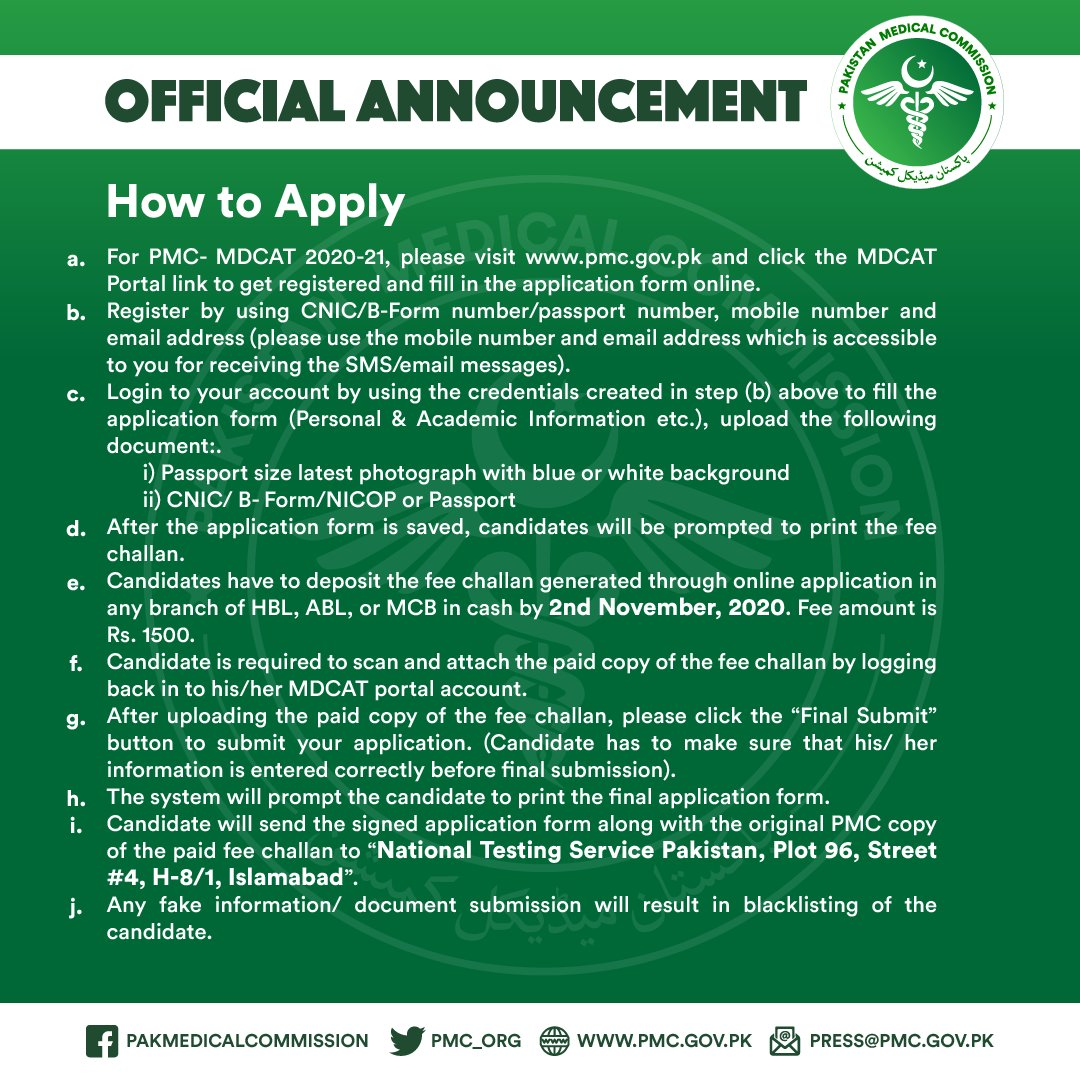 MDCAT 2020 Registration Process
1.
Students will have to first apply online for the MDCAT 2020 test and get registered via online portal.
2.
All candidates will have to apply using any document issued by NADRA. The allowed documents are an ID card, B-Form or a Passport.
3.
No candidate will be allowed to apply for the test until they prove their registration as a citizen of Pakistan.
4.
Students will have to provide their active phone number and Email address.
5.
Students will be responsible for any loss in communication if they don't provide their active contact information.
6.
The candidates applying for MDCAT 2020 will have to duly fill out their personal and educational details.
7.
All candidates are required to provide their passport size photograph (with white/blue background) and a copy of their CNIC/B-Form/Passport.
8.
Students will print out their challan form and will pay 1500 rupees in any branch of HBL, ABL, and MCB by November 02, 2020.
9.
Candidates will provide their scanned copy of paid fee challan on the online portal.
10.
After checking their details, the students will press the "Final Submit" button and will be able to print their application form.
11.
Students will send their signed printed application and paid fee challan to the PMC office.

Some Important Details For MDCAT 2020 Registration
Students will only be allowed to pay the registration fee for PMC. Fee paid to any other author will not be accepted by PMC for MDCAT 2020 registration. Students who provide fake information for registration will be blacklisted from appearing in the MDCAT 2020.