26 October, 2020
Views 2219
MDCAT Result 2020 has been announced by NUMS
National University of Medical Sciences has now opened the portal for students to download the NUMS Medical Entrance Test result. Students who took the MDCAT 2020 test from NUMS can now find their results from the Official result portal by providing their Roll Number or Deposit/Candidate ID. After entering their given Roll Number or the Deposit/Candidate ID, students will have to enter a set of specific words to get their result card of NUMS MDCAT 2020. The MDCAT 2020 conducted by NUMS was in order to scan candidates who want to get admissions in Medical and Dental colleges affiliated with NUMS and the army colleges as well.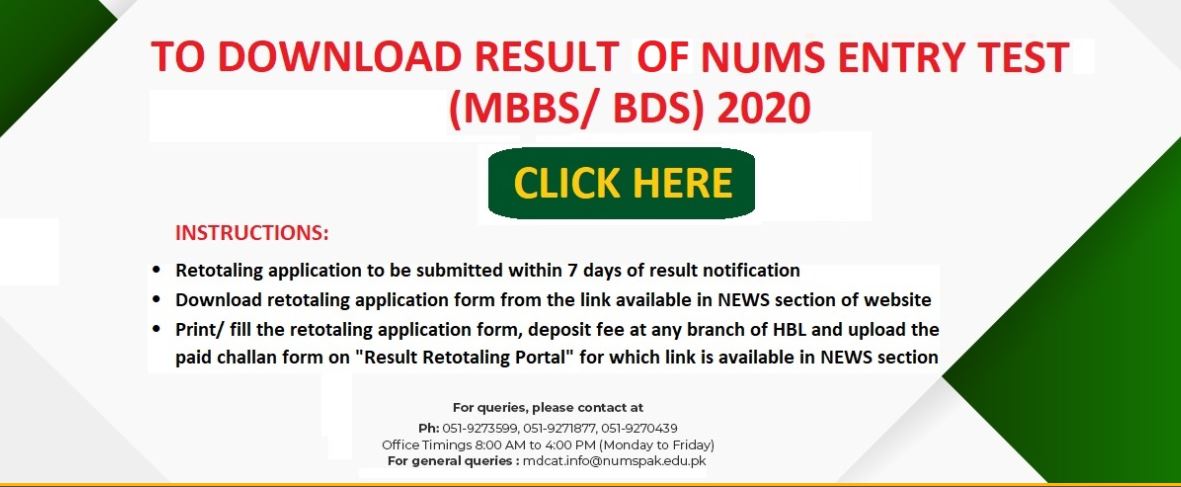 Details of NUMS MDCAT 2020
NUMS conducted the MDCAT 2020 this year on October 11, 2020. After arranging the test, NUMS made the answer key available for students so they could easily estimate their result. But now, the university has announced detailed result sheet that has complete details of marks on it. However, after the announcement of the final results, NUMS facilitates students by allowing them to apply for rechecking. According to NUMS, the "Revaluation Process" allows students to ask for rechecking/re-totaling of their results.
Revaluation of MDCAT 2020
The process to apply for revaluation of MDCAT 2020 by NUMS is relatively easy. Students are required to apply within 7 days after the publication of result. NUMS has restricted students to apply for the revaluation after the given date. The form for revaluation is available on the NUMS website. By getting the form the website, the students will have to fill it and submit a fee of Rs.1000/- in any HBL branch. Afterwards, the students will upload the scanned image of the challan form on the revaluation portal of NUMS. The revaluation application will only be processed after paying the fee.
Another MDCAT To Be Taken
Students who have appeared in NUMS MDCAT 2020 are not yet eligible for admissions in Medical and Dental colleges of Pakistan as they will first have to appear in the National MDCAT test that will be held on November 15, 2020. Securing at least 60% marks in this test will be mandatory for all students.