02 November, 2020
Views 1603
Murad Raas Says, Schools To Remain Open Across Punjab Province
Coronavirus cases have been surging in the country for the past few weeks. By considering the situation it was expected that once again the national lockdown will be imposed to curb the spread of the coronavirus pandemic. This has also raised concerns among the students that either the schools will be closed once again or not? Previously the institutes across Pakistan remain closed for at least six months due to the COVID-19. After the lockdown enforcement, the institutes were reopened on 15th September. Currently, the news about the closure of the schools has been circulating as the second wave of the pandemic has hit the country.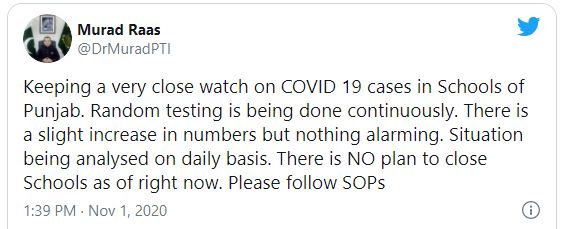 Monitoring the COVID-19 Situation
The Punjab Education Minister, Murad Raas has announced that the schools in Punjab will remain open despite a slight increase in the cases of coronavirus. He mentioned that the government of Punjab is keeping a closed eye on the situation of the pandemic in the schools in the province of Punjab. To ensure the safety of the students random testing was also done in the schools to detect the affected students. As per the information received there is only a few cases have been observed so there is nothing to worry about.
Online Portal To Check SOPs Implementation
The minister also said that situation is being analyzed in all the schools and till now no decision has been made to close the schools. The students are recommended to follow the SOPs properly in order to protect them. The Punjab government has also set up an online portal to ensure the proper implementation of SOPs in the schools. All the heads of the schools are directed to submit the information of the students through the online portal.
Second Wave of Coronavirus
Due to the second wave of coronavirus the national command and control center has made it mandatory to wear the mask. The lockdown has been imposed in the various areas to counter the virus resurgence. But despite this, the no announcement to close the schools and the universities has been made by the government officials.