23 November, 2020
Views 1228
National Medical and Dental Academic Board Approves MDCAT Syllabus
The
MDCAT
common syllabus has been approved by the National Medical and Dental Academic Board (NMDAB). The meeting of NDAMB was organized on 21st November to decide the academic standards of medical education devised by PMC. According to the sources, the board analyzed and reviewed the syllabus of each province as well as the federal board. The board members compared the topics and declared that the syllabus announced by Pakistan medical commission for the MDCAT earlier have all the topics from the syllabus of the intermediate. So the board has pronounced to agree upon the MDCAT syllabus provided by PMC.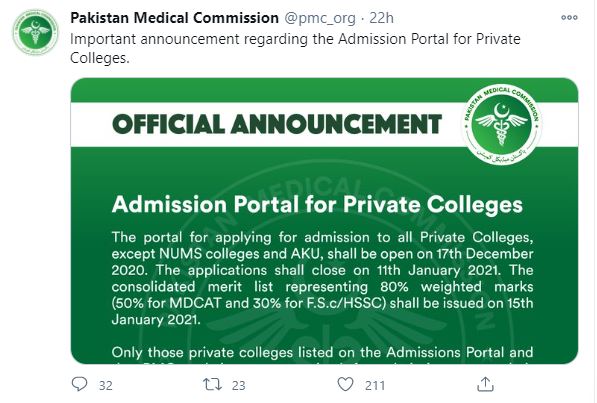 MDCAT Syllabus
NMDAB assessed the weightage of the MDCAT subjects and agreed that this year the same pattern would be followed to avoid the confusion among the students. The MDCAT would be comprise 200 multiple choice questions included 60 question from chemistry, 20 question from English, 40 questions from Physics and 80 questions from Biology.


Order From Sindh High Court
Previously PMC was criticized for not complying with the orders of Sindh High Court as the commission announced the final date of the MDCAT without finalizing the syllabus of the medical entrance exam. The court also issued the notice to the Pakistan medical commission on the pronouncement of the medical and dental admission test date. A two-member bench including Justice Muhammad Ali Mazhar and Justice Arshad Hussain Khan has directed the PMC to provide the clarification over the issuance of the test date.


Commencement of Exam
The PMC has confirmed the date of the MDCAT that will be held on 29th November, 2020 at the national level. The test centers will be formed in all the major cities of Pakistan including Azad Kashmir and Gilgit-Baltistan. Almost more than once lac students have been registered to appear in the MDCAT. The test is conducted very year in which the applicants compete to secure the seat in the medical and the dental college as per the merit announced by the concerned authorities.