07 October, 2020
Views 190
NUMS Announces The Date For NUMS Entry Test 2020
According to the latest notification published at the official NUMS website, NUMS has announced that the NUMS MDCAT test 2020 will be conducted on October 11, 2020. This latest notification is in the continuation of the notification that came from the 1st Council meeting of PMC on October 3, 2020. Students who appear in this test and pass it will be able to take admission in various Public sector and Private sector medical and dental colleges across the country. This is great news for the students who have waited for a long time to get admission to their desired colleges.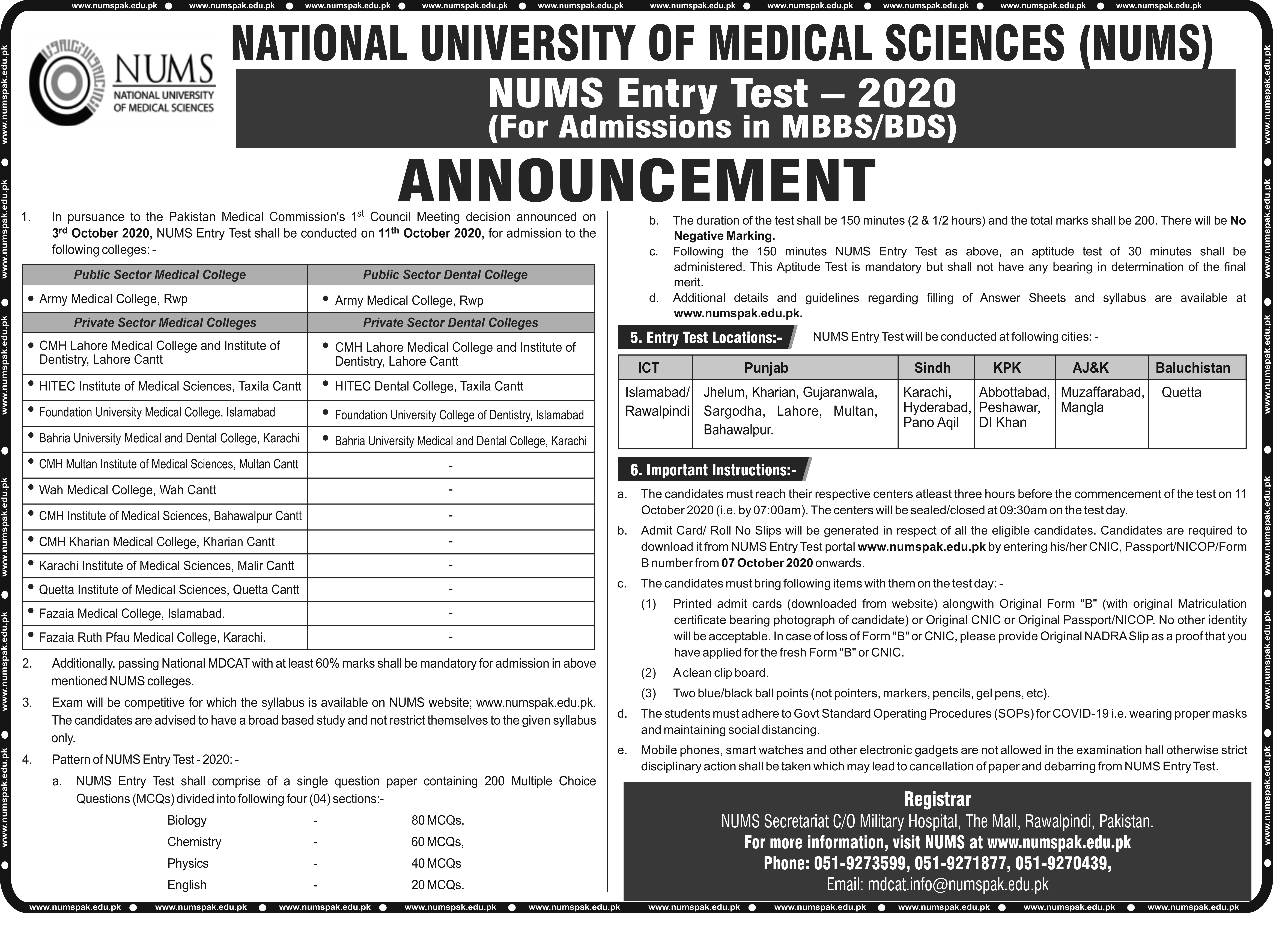 Important info for the NUMS 2020 test candidates
1.
Passing the NUMS MDCAT 2020 exam with
at least 60% marks
is necessary for all students who want to get enrolled in various public and private dental colleges.
2.
This NUMS Entry Test is a competitive exam. Students are advised to prepare for the exam according to the syllabus provided at the NUMS website.
3.
Students are advised not to limit themselves to the provided syllabus.
4.
There will be a total of 200 MCQs in the NUMS entrance exam of 2020. MCQs are further divided into 4 sections.
5.
Students will be required to attempt 80 MCQs of Biology, 60 MCQs of Chemistry, 40 MCQs of Physics, and 20 MCQs of English.
6.
The total marks are 200 for the NUMS entry test 2020.
7.
There is no scheme of Negative Marking in the test.
8.
Students will have 150 minutes to solve the 200 MCQs.
9.
A 30 minutes aptitude test will be mandatory for the students to attempt, but it will not be included in the determination of the final merit score of the students.
Exam day guidelines
•
The test will start at 10 am but the centers will be closed at 9:30 am and the students will have to arrive at 7 am.
•
Students have to bring their Roll No Slips on the exam day which they can avail from the NUMS website from October 7.
•
Students are allowed only to bring a clean clipboard with 2 black/blue ballpoint pens.
•
Candidates have to abide by the
COVID-19 guidelines
enforced by the Government on the exam day.
•
Students are not allowed to bring any smart devices in the exam center.