16 December, 2020
Views 1322
Pakistan Medical Commission Declares MDCAT 2020 Result
Pakistan medical commission has announced the result of the national MDCAT 2020. After several delays, the exam was held on 29th November for the candidates whereas the special MDCAT exam was conducted on 13th December for the coronavirus positive students. Earlier the Sindh high court had directed the PMC to announce the result of both MDCAT tests at the same time due to which the result of the national MDCAT got delayed.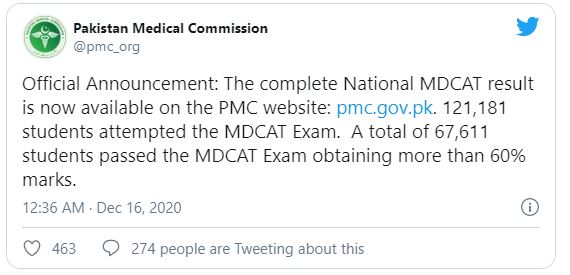 MDCAT Result 2020
Now the PMC officials have finally declared the result of the MDCAT candidates that take the MDCAT exam on 29th November and 13th December respectively. As per the announcement made on the PMC twitter, 121,181 students attempted MDCAT, and 125,000 were registered. Among these, 67,611 candidates passed as they have secured more than 60% marks. The candidates are informed to check the
MDCAT result 2020
through the roll number issued to them after the registration
Protest Campaign On MDCAT
After the conduction of the MDCAT test, many students were not satisfied and said that besides the announcement of the MDCAT syllabus many questions in the paper were out of the syllabus and an appeal was also submitted to the Sindh high court that challenged the
legality of MDCAT 2020
. For this, the students are demanding justice and clearly stated the medical entry test unfair. The candidates had announced to use the tag #SaveOurfuture on Twitter to protest against the PMC to seek justice as it directly influences the career choice of the students.