09 November, 2020
Views 1182
PBCC To Extend The 11th Class Registration Date
11th Class students can now apply for 11th Class registration till November 17, 2020. According to the notification issued by all boards on September 22, 2020, all students were to apply for registration till November 09, 2020, without paying any extra late fee. But now, the Punjab Boards Committee of Chairmen has allowed students to apply till November 17, 2020, without paying any extra fee. According to the latest notification, the last date to apply with an extra fee of Rs. 500/- is December 02, 2020.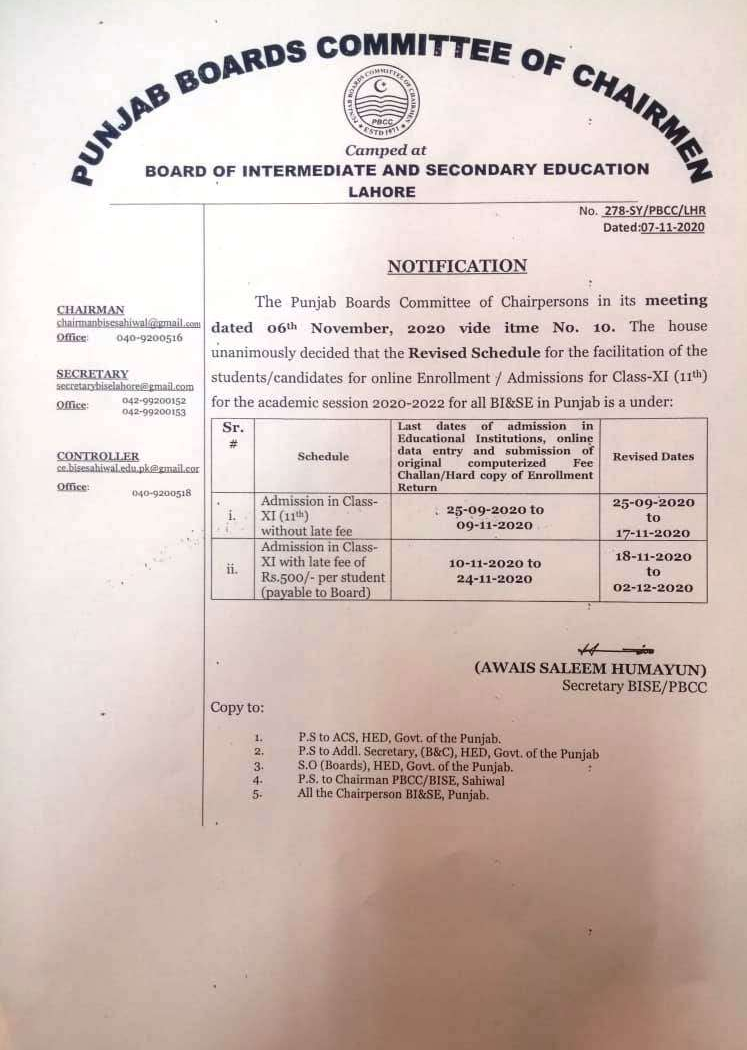 11th Class Registration Fee
Boards all over Punjab charge fee for 11th Class Enrollment. Here are the details of the fees:
1.
800 Rupees for Registration
2.
395 Rupees for Processing
3.
100 Rupees for Sports Events
4.
500 Rupees for Late students
Punjab Boards Committee of Chairmen
The Punjab Boards Committee of Chairmen is a council of all chairmen of Boards of Intermediate and Secondary Education across Punjab. PBCC ensures that all boards are in coordination to hold matriculation and intermediate exams. The committee also ensures that the dates of examinations, results, and registration are announced to give maximum ease to students. PBCC has played a great role this year by formulating a joint policy of matriculation and intermediate results. The committee is camped at the Board of Intermediate and Secondary Education Lahore, an important board in Punjab.
ALP For Class XI
The COVID-19 spread earlier this year forced the government to impose a country-wide lockdown in March 2020. All educational activities across the country stopped due to the virus. But in May and June, many educational institutions adopted the online teaching system. The majority of the students across the country were not able to attend the classes because of no access to the internet and smart devices. It was difficult for students to attempt the papers created from full in their annual exams of class 11 in 2021. To aid the students, the boards of Punjab have decided to reduce the syllabus of class 11 for the 2020 exams. The condensed syllabus is named "Accelerated Learning Program". Students will only prepare this syllabus and the paper will be prepared from this new syllabus.