07 October, 2020
Views 157
PEC Announces The Need-Based Merit Scholarships Scheme For Fall 2020 Engineering Students
Pakistan engineering council has announced that they are giving 500 scholarships to the needy engineering students of fall 2020 who comply with the merit criteria. In the latest notification, the PEC disclosed that the scholarship program aims to provide an opportunity for the students who need financial support. The PEC scholarship 2020 is majorly for the students who come from the underdeveloped areas of Pakistan. The scholarship will enable the students to continue their studies as proud students who have managed to secure admission in the prestigious engineering programs of the public universities of Pakistan.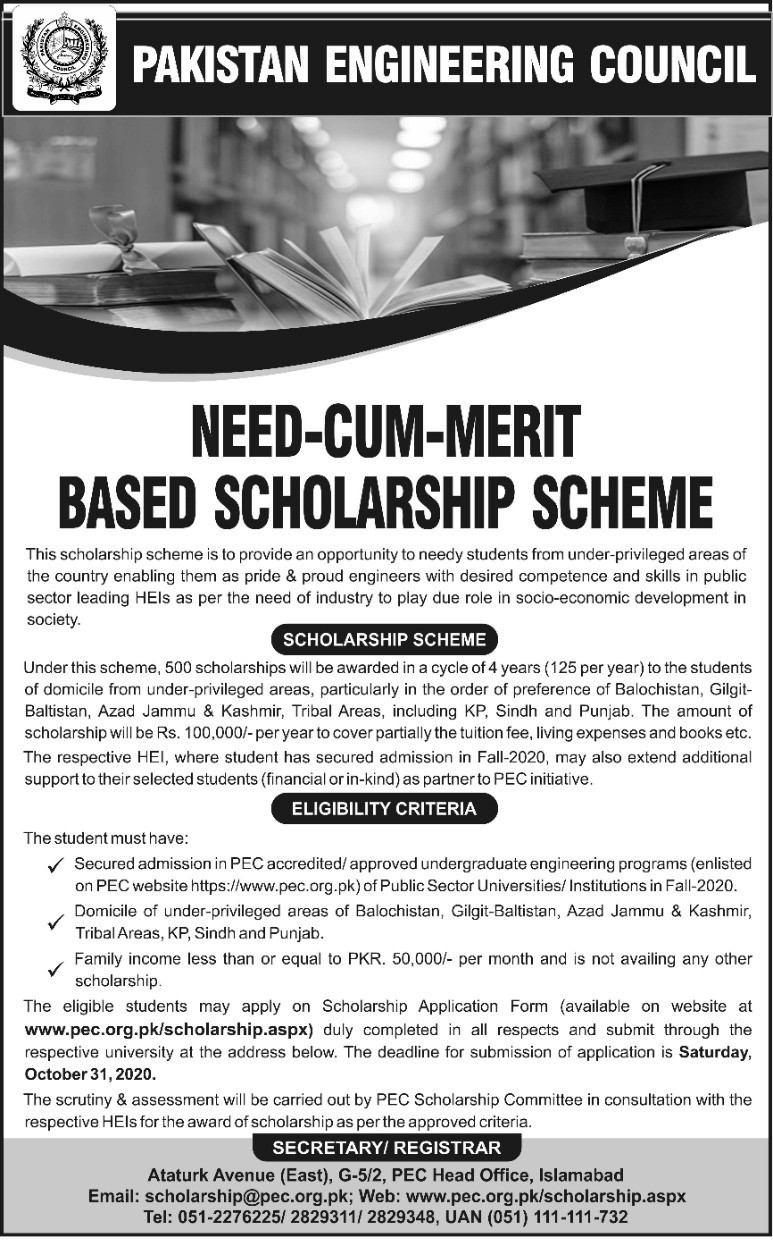 The PEC undergraduate scholarship for session 2020
PEC has announced that the council plans to give out 125 scholarships per year to give a total of 500 scholarships in 4 years. The students who have the domicile in the underprivileged areas are encouraged to apply for the scholarship program. The scholarship is provided to the students on a preference basis. The preference will be given in the order of Balochistan, GB, and AJK, Tribal areas of Pakistan, KP, Sindh, and Punjab. The students will receive 1 lac Pakistani rupees per year. According to the PEC 2020 scholarship notification, this amount can make partially enable the students to pay their tuition fees, buy books, and support their living expenses.
Eligibility criteria for PEC 2020 undergraduate scholarship
PEC 2020 scholarship is a need-based merit scholarship. Only the students who comply with the following criteria can receive this scholarship:
• Students who have secured admission in any engineering program offered in the Public universities at the Bachelor's level in the fall 2020 session.
• Candidates who hold the domicile for the under-privileged areas of Balochistan, Gilgit Baltistan, Azad Jammu and Kashmir, Tribal areas, Khyber Pakhtunkhwa, Sindh, and Punjab.
• Students who are not receiving any other scholarship.
• Students who come from families that don't have an income of more than Rs. 50,000/- per month.
Applying to this program by PEC is very easy. Students who satisfy the above-mentioned conditions can download the PEC scholarship application form 2020 and send it to the PEC Head office. The last date to submit the forms is October 31, 2020.