19 November, 2020
Views 1454
PMC Announces Date of National MDCAT 2020
The wait has been over as the Pakistan Medical Commission has announced the final date of national
MDCAT
2020. The test will be conducted on 29th November and the students that had registered themselves till 6th November on the online PMC registration portal will be allowed to sit in the exams. The announcement is made on the twitter account of PMC and officials have informed the students to prepare for the test and the date is approaching. The roll number slips had been issued to the registered students. It is mandatory for the candidates to bring the admit cards at the day of the test to enter into the examination hall.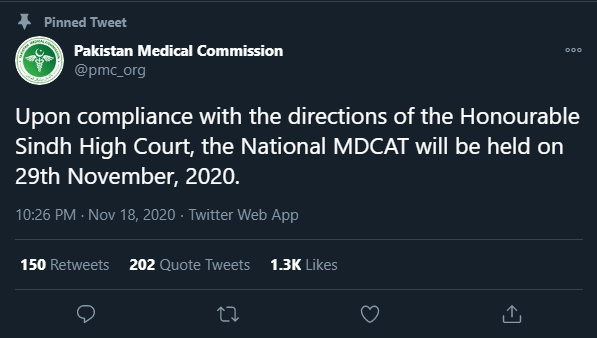 Decision of Sindh High Court

Previously the Sindh high court had cancelled the MDCAT over the debate of the syllabus of medical entrance exam. The court directed the PMC to devise the academic board and examination authority so that the syllabus of the test can be finalized. Furthermore it was also highlighted that the academic board of the national dental and the medical college had not been created as per the Pakistan Medical Commission Act 2020. So due to this situation the entrance exams cannot be commenced.


National MDCAT 2020
This year the MDCAT will be commenced at the national level and PMC has appointed the National University of Medical Sciences to conduct the test. Pakistan medical commission had also announced the new syllabus for the students of MDCAT that created the uncertainty and confusion among the students. Due to this decision the students took the social media platform to protest and the SHC also took the notice. Later the test was postponed as the SHC declared the decision of PMC unreasonable. But now the new date has been pronounced and the test will be commenced across Pakistan to determine the eligibility of the candidates to take admission in medical and dental colleges.