24 October, 2020
Views 1376
PMC Clarifies Concerns Over MDCAT 2020 Syllabus
This year national MDCAT will be conducted by the Pakistan Medical Commission. Various announcements have been made regarding the MDCAT that raised concerns among the students. A few days back the PMC announced the syllabus for the MDCAT that contained many additional topics that were not part of the syllabus previously. This decision left the students in shock and they become furious by this declaration at the last minute. It is evident that only a few days have been left in the commencement of MDCAT and it is not possible for the candidates to accept the changes at such a crucial time. To overcome this situation, the Pakistan medical commission has clarified the concerns over MDCAT 2020 Syllabus.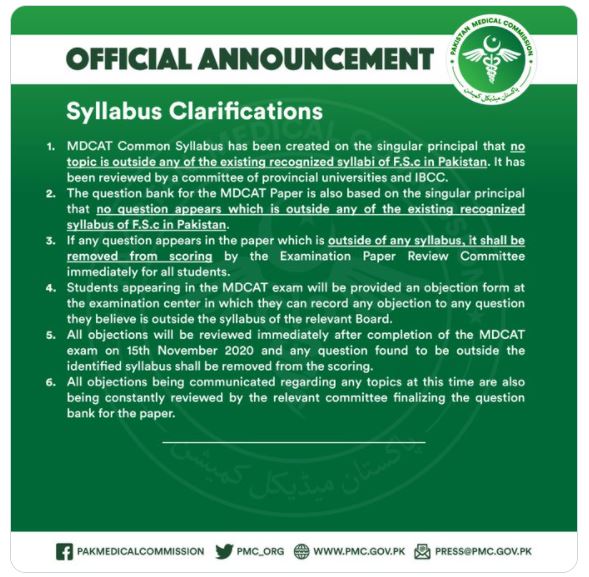 Review of MDCAT Syllabus
The MDCAT syllabus has been reviewed by the committee of provincial universities and IBCC. It is informed to the students that authorities ensure that no extra topic is added outside of the FSc syllabus. Furthermore, no question will appear in the MDCAT which is not included in the recognized syllabus of FSc in Pakistan. If any question appears in the paper outside the syllabus then it will be not included in the scoring by the examination paper review committee.
Recordation of Objections
To record the objection of the students the objection form will be provided to the students in the examination centers by PMC. In this way, the students will be able to record the objections related to any question that they believe is outside of the syllabus of their respective board. After the completion of MDCAT, all the objections will be reviewed by the concerned officials. The students can also communicate with the relevant committee to record the objection at this time regarding any topic so that it can be considered before finalizing the question bank for the paper
MDCAT 2020
The registration of MDCAT has been started so the students are advised to submit the application form by 2nd November. The National MDCAT will be conducted on 15th November across Pakistan.