10 November, 2020
Views 36
PMC Extends The Submission Date Of MDCAT Fee Challan
The Pakistan Medical Commission has announced to extend the submission of the MDCAT fee challan. PMC gave the final call to the MDCAT applicants to submit the fee challan by 11th November 2020. The authorities declared that they have noticed that many students who registered to appear in the MDCAT were unable to submit the fee challan on time due to some reasons. So the PMC officials have decided to provide another chance to the students so that they can deposit their fees. PMC took Twitter to make this announcement for the candidates.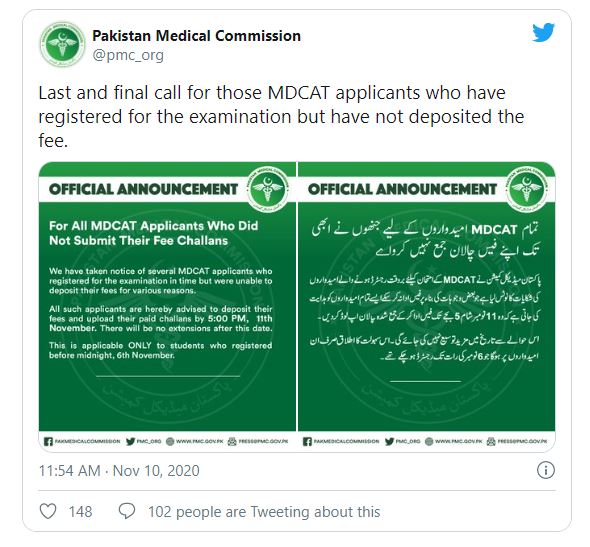 Extension in MDCAT Fee Submission
The Pakistan medical commission directs MDCAT applicants to deposit the fee challan and upload it on the PMC online portal by 5:00 pm till 11th November. It also warned to the students that after this no extension will be granted to them in any circumstances. PMC clarifies that this is applicable only to applicants who registered before 6th November. While the students that did not register themselves for the national MDCAT will not be able to sit in the exams. The test is scheduled for November 15 and National University of Medical Sciences will administer the medical entrance exam.
"DelayMDCAT" Trends on Twitter
PMC had announced the change in the syllabus for the Medical and Dental College Admission Test (MDCAT) 2020. The students took social media to record their protest against this decision. Earlier the PMC had said that no extra topic would be asked in the exam that was outside of the MDCAT existing syllabus. The students added that many extra topics had been included by PMC before the commencement of the test and it is very difficult for them to prepare such topics in a short span of time. "DelayMDCAT" is also trending on Twitter and the students are asking the PMC to delay the MDCAT for one or two weeks. According to the sources more than one lac students have been registered to take the national MDCAT 2020.