05 November, 2020
Views 1216
PMC Helps Students Who Entered Incorrect Information In MDCAT Form
Pakistan Medical Commission has opened a helpline and an email channel to assist the students who have entered incorrect information in their MDCAT forms. Earlier when PMC opened the registration portal for PMC MDCAT 2020, applicants were told to double-check before submitting their registration for the MDCAT test. It was made clear from the PMC that students will be responsible for the incorrect information they enter for registration. But some students faced troubles signing up for the registration and they mistakenly put wrong credentials. Now, PMC has decided to address all such issues and opened a helpline for all such students.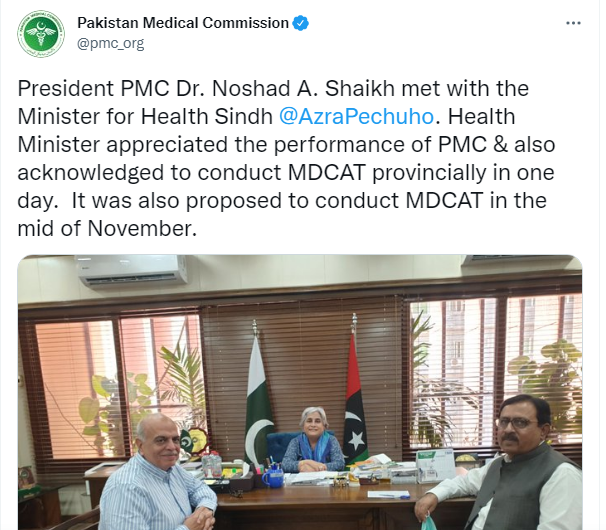 This year, things were difficult for medical and dental colleges' aspirants all over Pakistan. Country-wide lockdown stopped educational bodies to conduct tests. But the government announced after the lockdown ended that a unitary MDCAT will be taken this year. This MDCAT test will be according to a single syllabus that will be the same for all candidates appearing in the test. MDCAT organized by PMC will end the previous concerns about the selection process of the Medical and Dental colleges of Pakistan. Students will prepare the same syllabus, appear in the same test, and will be selected for colleges based on the result they get in MDCAT.
MDCAT 2020 Registration Process
Here are the guidelines that students must follow while applying for MDCAT 2020:
•
Students will get registered for the test via the online portal.
•
Students will be eligible to apply if they have CNIC/B-form/passport.
•
Students will give their active phone numbers and email address.
•
Students will have to provide all of their educational details on the admission form.
•
All candidates will provide their recent passport size photograph with either blue or white background.
•
All students will have to submit a fee of Rs. 1500/- by printing their fee challan received from the online portal.
•
Students will upload the scanned copy of the paid fee challan on the online registration portal.
•
Clicking the "Final Submit" button will complete the online registration process.
•
Students will then print out the registration form, sign it, and send it to the PMC office.