11 November, 2020
Views 1323
PMC Issues Roll No Slips For MDCAT 2020 Applicants
Pakistan Medical Commission has opened the online portal for MDCAT 2020 applicants to download their roll no slips. The MDCAT 2020 roll no slips will enable the students to appear in the entrance test. According to the policies of PMC, no student will be allowed to enter the exam center without their roll no slip. All candidates are required to download their roll no slip and print it before the exam day. MDCAT test 2020, the entrance test for medical and dental colleges of Pakistan will be held on 15 November 2020.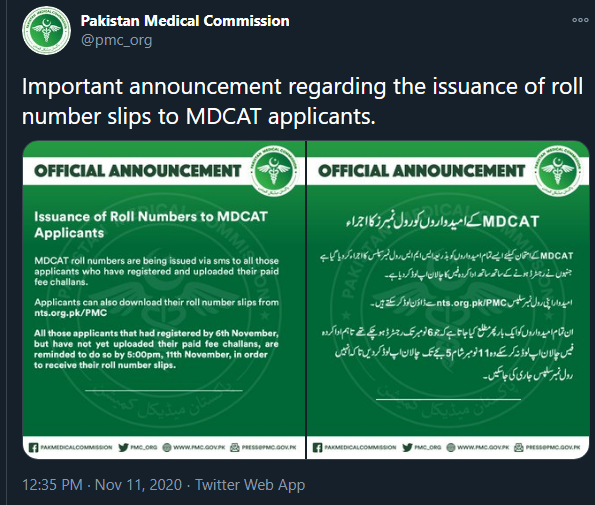 Downloading MDCAT 2020 Roll No Slip
Pakistan Medical Council has made it easier for students to get their MDCAT 2020 roll no slip. Keeping in view the circumstance of COVID-19 in Pakistan, PMC will not send the roll number slips to the students at their given address. Instead, students will be able to download their roll no slip on their mobiles or computers and print it themselves. The verification from PMC roll no slip of MDCAT 2020 will not be required. Students can download the slip and can print it to appear in the exams. Here's the process for downloading your MDCAT 2020 roll no slip:
Visit the online registration portal of MDCAT 2020.
Enter your CNIC/B-form/Passport number.
Enter the password you created while registering for MDCAT 2020.
Click on "Search" to access your MDCAT 2020 roll no slip.
Press "Ctrl" and "P" keys at the same time on your computer/laptop.
Choose the destination as "Save As PDF" and download the slip.
You can print the downloaded roll no slip for appearing in the exam.
Prominence Of MDCAT 2020
The lockdown in the country because of COVID-19 stopped the educational organizations to fulfill their duties. Students were unclear about whether MDCAT 2020 will be taken or not. But now the PMC is all set to conduct the entrance test for medical and dental colleges. A special thing about the test this year is that students all over Pakistan will appear in this single test for admissions in all medical and dental colleges of the country. The syllabus for the test will be the same for all candidates.