09 November, 2020
Views 1522
PMC Makes An Important Announcement For MDCAT Applicants
Pakistan Medical Commission has made an urgent announcement for the MDCAT applicants. The students are informed about the fee-related proclamation that the applicants who have not uploaded their fee challan on the online registration portal can upload the challans by 5:00 PM 9th November 2020. Till now many students have been registered for the national MDCAT but did not submit their fee challan.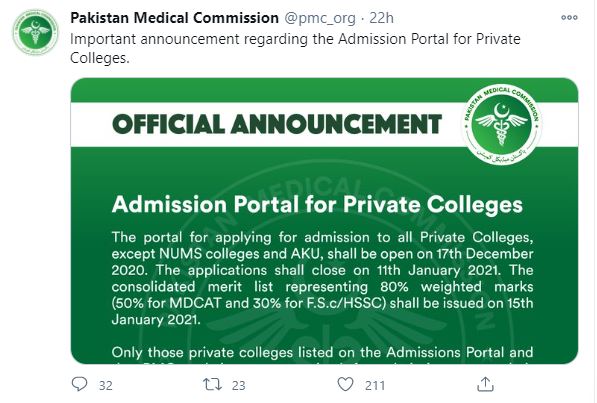 Extension in Challan Submission
To facilitate the applicants the PMC has taken this decision and provided the students with another opportunity by extending the deadline for the submission of the challan form. It is pertinent to mention here that the students that have already fulfilled the requirements of the registration are only eligible to avail this extension. So it is advised to the candidates that without wasting any time upload the challan form on the portal so that they can appear in the medical entrance exam. The registration portal has been closed and the MDCAT will be conducted on 15th November 2020 across Pakistan. We wish good luck to all the aspiring doctors and dentists who have applied for the Medical and Dental College Admission Test 2020.
Lahore High Court Dismisses Student's Petition
The Lahore High Court had dismissed the student's plea regarding the UHS MDCAT syllabus 2020. The student pleaded the court to conduct the Medical and Dental College Admission Test according to the syllabus of the University of Health Sciences that was issued previously. The Sindh government had also shown concerns over the change of the National MDCAT syllabus at the last minute. This year PMC will commence the entrance exam for the medical and dental colleges after the abolition of PMDC. The authority had also made several changes in the syllabus of the MDCAT without providing any additional time to the students to prepare for the test.