08 December, 2020
Views 210
PMC Makes Important Announcement About Admission Portal For Private Medical Colleges
Pakistan medical commission has made an important announcement about the admission portal for the private medical colleges. The
medical and dental college admission test
was commenced on 29th November by PMC across Pakistan. The test centers were formed in the major cities including Gilgit-Baltistan and Azad Kashmir. After the abolition of PMDC, as per the instructions of the Pakistan medical commission the NUMS was appointed as the examination authority of MDCAT.
Admission in Private Colleges
The Pakistan Medical Commission has announced that admission portal to all private medical will be open from 17th December 2020 except the National University of Medical Sciences (NUMS) and Agha Khan University Hospital (AKUH). The students have to submit the application forms until 11th January 2021.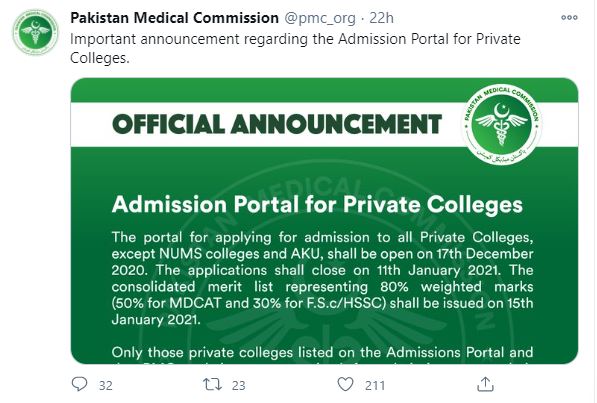 Merit For Admission
The merit list for the admission in the private medical colleges showing the weightage of marks of medical and dental college admission test and intermediate will be issued on 15th January 2021. It is informed to the candidates that they can apply only to those colleges that will be listed on the admission portal. The medical colleges that will offer admission to the students without recognition with PMC have to face the legal action taken against them. Furthermore, the colleges where admissions are closed cannot apply to be registered with PMC.
Private Medical and Dental College Fees
PMC has directed all the private medical and dental colleges to upload the fixed fees to be charged from students for the upcoming session 2021. The announced fees will remain fixed throughout the entire degree program of 5 years MBBS and 4 years BDS. The students are informed that they do not need to pay any additional fees to the college. The fixed mandatory fees include tuition fees and the other charges are mandatory to be paid. PMC has issued the notification to all the private colleges to update the fee structure until 10th December 2020.