16 December, 2020
Views 1032
PMC To Declare Updated National MDCAT Result 2020
Pakistan medical commission took its Twitter and announced that the authorities will provide the updated MDCAT test 2020 as some errors had been found in the earlier declared result. The PMC officials have directed the MDCAT candidates that the revised result of the medical entrance exam is to be announced shortly after again compiling the result. According to the sources, due to complaints made by the students, the PMC decided to reissue the result in order to clarify the confusion. Earlier the PMC had announced the
result of the MDCAT tests
held on 29th November 2020 and 13th December 2020. In the previously announced result, some students were incorrectly marked absent. So to overcome this issue the result is being reconciled and it will be soon provided to the candidates.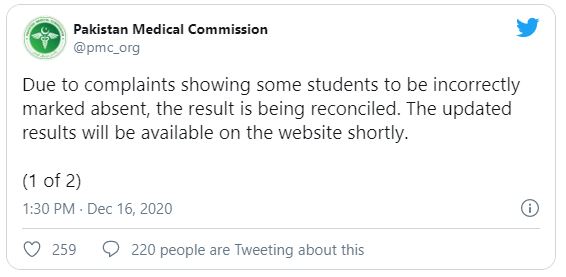 Revised MDCAT Result 2020
As per the announcement of PMC, 121,181 students appeared in the entrance exam whereas only 67,611 students passed according to the passing criteria provided by the concentered authorities. It is furthermore informed to the candidates that to check the errors and the discrepancy the regulator body has said to made the system offline so that the errors occurred in the computer-generated result can be removed. The body also assured the candidates that as soon as the error has been checked the result will be uploaded for the MDCAT aspirants.