19 October, 2020
Views 73
PMC To Open MDCAT 2020 Registration In The Next Week
Pakistan Medical Commission has announced today that the MDCAT 2020 registration will start in the next week. Earlier the PMC revealed that the MDCAT 2020 test date will be November 15, 2020. Due to the spread of fake news, it has been difficult for the students to get the official news from the verified sources. But the PMC has stressed that the further details about registration will be published soon via official sources. PMC added that to make it easier for the students to get all the details, the guidelines of admission will be published on all relevant media outlets.

MDCAT 2020 Syllabus
Before this year, the syllabus of the medical entrance test was different in provinces. But in 2020, PMC has been given the authority to conduct a single MDCAT test for entrance in medical and dental colleges all over Pakistan. A unified entrance test for medical and dental colleges in Pakistan will make it easy for all the students to prepare for the test. PMC has been in contact with the provincial universities regarding a single syllabus for the MDCAT test 2020. PMC announced today that a national conference with IBCC, NUMS, and provincial universities as its members has decided on a common syllabus. This finalized syllabus will apply to all the education boards of Pakistan. PMC also ensured that no question will be out of the scope of this common syllabus. However, for more details, students will have to wait until the next week.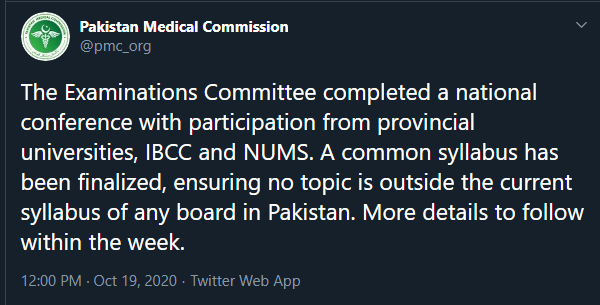 Important Guidelines
Students will be able to register for the MDCAT test 2020 starting from the next week. All students who want to register for the MDCAT 2020 test will have to submit a fee of 1500 rupees. However, keep in mind that passing this test is mandatory for all the students who want to take admission in the medical and dental colleges of both the public and private sector. The cycle of admission in medical and dental colleges all over Pakistan will start in November after the announcement of the MDCAT 2020 result. The merit will be calculated on 50% marks in MDCAT and 50% marks in F.Sc exams.