06 November, 2020
Views 1151
PPSC Advertises 25 Posts In Punjab Special Education Department
25 new jobs have been announced in the Special Education department of Punjab by Punjab Public Service Commission. The PPSC special education advertisement 2020 has disclosed that all of these jobs are offered on the BS-17 pay scale. 10 posts out of 25 are provided on a quota basis according to the policy of the government to help marginalized people. These posts are available for special persons, minorities, and women quota. PPSC special education test date 2020 is yet to be announced by the Punjab Public Service Commission. Candidates can apply for these posts by 20 November 2020 through the online portal.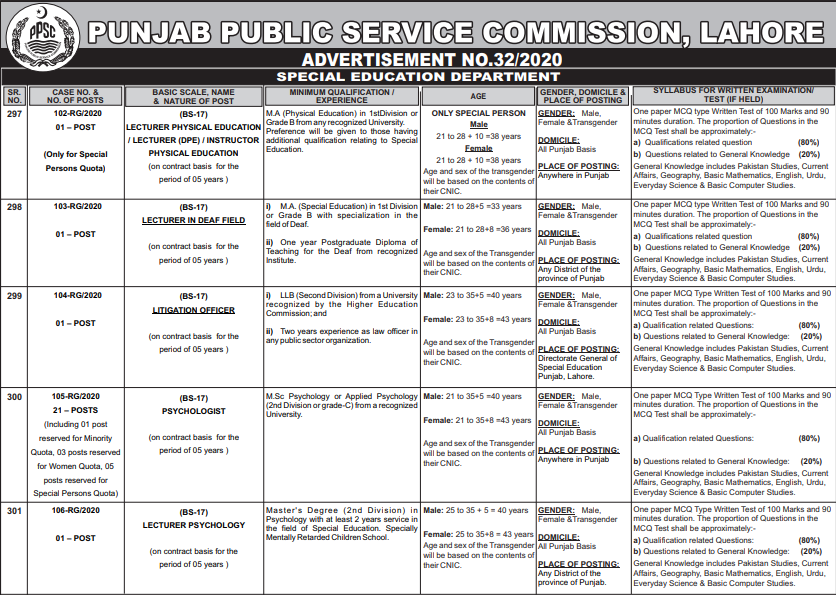 Eligibility Requirement For PPSC Special Education Jobs
Age Requirement
Male, female and transgender candidates applying for Special Persons Quota Jobs must be under 38 years of age.
The age limit for the Lecturer of Deaf Students is 33 years for males and 36 years for female candidates.
Males up to 40 years and females up to 43 years are eligible to apply for all the other PPSC Special Education Jobs.
Qualification Criteria
MA Physical Education passed with 1st division and relevant qualification is required for Physical Education teaching job.
MA Physical Education passed with 1st division and postgraduate diploma of teaching deaf students is required for deaf teacher posts.
The requirement for Litigation Officer is LLB with 2nd division and 2 years' experience in a public institution.
Candidates applying for the post of Psychologist must have completed MA Psychology or MA Applied Psychology with 2nd division.
MA Psychology (2nd division) and 2 years' experience of teaching mentally retarded students are preferred for the Psychology lecturer post.
Syllabus of PPSC Special Education Job Test
The decision of taking the test for PPSC Special Education 2020 jobs depends on the decision of the PPSC. The test may or may not be conducted as per the announcement. However, the syllabus of the test will contain 80% questions from related qualifications and 20% questions from general knowledge. The test will be of a total of 100 marks and candidates will have to attempt the test within 90 minutes.