10 November, 2020
Views 96
PSDF To Provide Coursera Online Courses For Free
Punjab Skills Development Fund, the largest organization in Pakistan to provide free skill development courses, has joined hands with Coursera to provide free online courses to the youth. Coursera is one of the leading platforms in the world that provides quality online skill education to millions of people. Students who get enrolled in this free online course program will receive Rs. 6000/- on the completion of the course. Participants will also get certifications from PSDF on the completion of their online courses. Keeping in view the current circumstances of the world, it is a perfect opportunity for the students.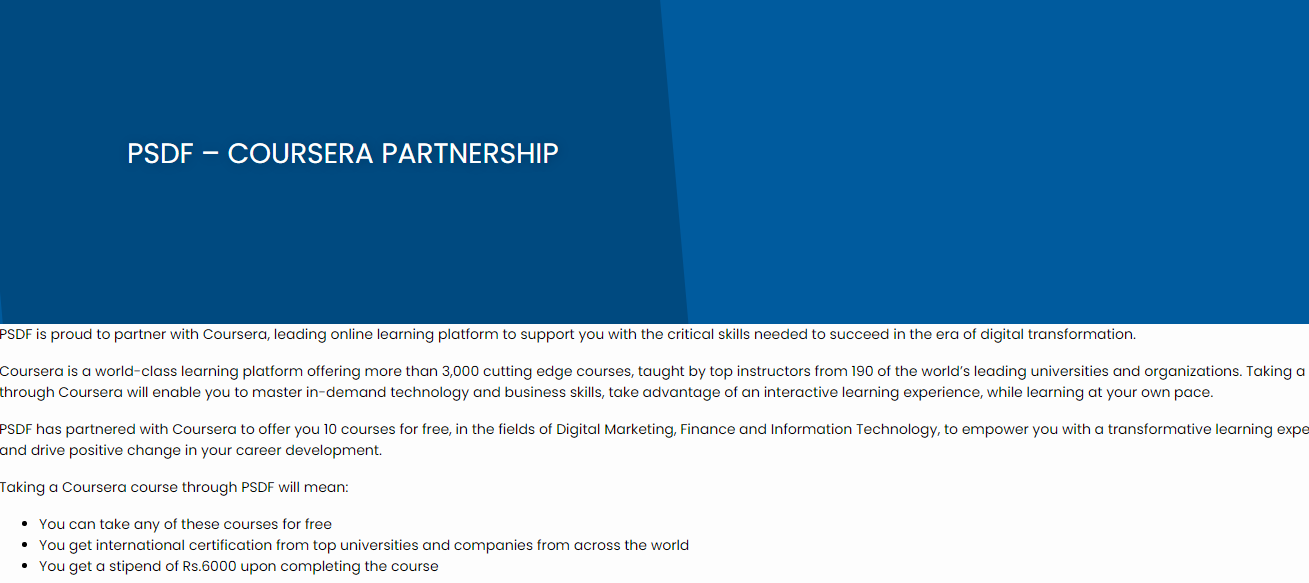 Course Information
According to the details, the courses will be provided in the IT, Development, and Marketing industry. Following courses are available for all students:
Search Engine Optimization
Social Media Marketing
Financial Accounting
App Development
Java Programming
Python Programming
Marketing Analysis
All of these courses that have been announced by PSDF will span over 4 months. Any student who remains inactive for 21 days in the course will be dropped from the course. Any student who has previously completed any course from PSDF will not be able to get enrolled in these online courses.
Benefits Of These Courses
All of the courses that Coursera offers are taught by Universities or Professionals. Coursera is one of the most prominent platforms of the world to learn new skills with almost 40 million+ learners on its platform. Universities and organizations such as UCDavis and Google provide their courses on the Coursera platform. Most of the courses offered by Coursera have a fee. With the partnership of PSDF and Coursera, students will take these courses without paying any fee. Students and employees who have taken courses from Courses are highly demanded by employers. So taking these courses will open new financial and academic opportunities for the youth.
Education, Employment And COVID-19
The spread of COVID-19 this year put a halt on all educational and financial activities. Online learning has emerged as an essential way to master new skills. PSDF believes in providing high-quality skill development courses to the youth. This partnership between PSDF and Coursera will unlock new avenues for students.