31 October, 2020
Views 949
PU Lahore Issues New Guidelines For LLB Admission
The University of Punjab has extended the last date to apply for the LLB 5-years Program to 6th November 2020. The date has been extended to make it easy for the study to comply with the new admission guidelines. Thousands of students have completed their law degree from PU. Over the years, the law graduates of the university have implied their expertise to improve the condition of law and order in the country. But now, after a long time, PU has decided to make changes in its admission policy for the 5-years LLB program.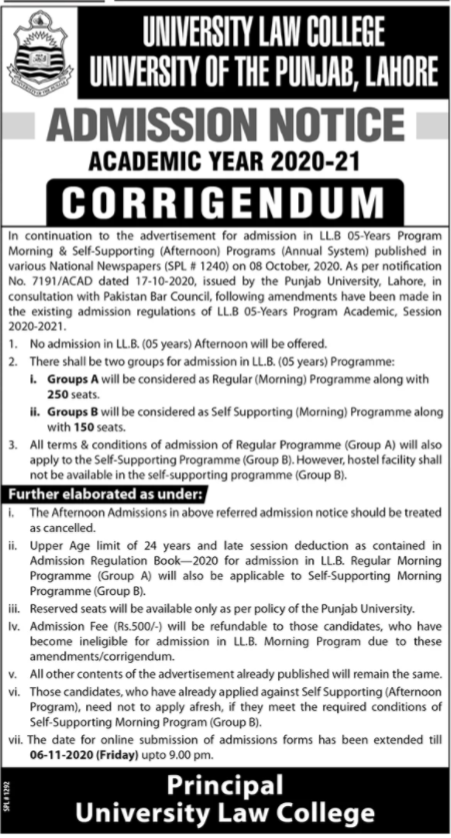 New LLB Admission Policy
In the last advertisement by the PU, it was announced that students will be able to either study in the morning program or the self-supporting program. No student will study in the Evening shift. Students of both regular and self-support will now only study in the morning shift. This decision has been taken by PU after consulting with the Pakistan Bar Council. The regular group will be named Group A and there be will 250 seats in this batch. The self-supporting program will be named Group B and there will be 150 seats in the batch. The students of the self-supporting program will not be able to get enrolled in the university hostel.
Effectiveness Of The New Policy
With this new policy, all candidates are required to have cleared their intermediate exams with at least 55% marks. Every student applying for the LLB Program at PU must have appeared in the LAT conducted by HEC. This policy of the Punjab University is to make sure that all the students who apply for the LLB Program and get enrolled in the University get the same environment to study. The Pakistan Bar Council has formulated this new policy of the University to assure that all upcoming lawyers get the chance to study in the best environment. Students who completed their degree in the Afternoon program of LLB had complaints about the system of education. But now, all students will get an equal opportunity to study in the morning program.