24 December, 2020
Views 1284
Punjab Education Minister Announces Schedule For Winter Vacations
Punjab Education Minister, Murad Raas has announced the winter vacation schedule for all the schools across the province. According to the notification issued the winter break will start from 25th December 2020. The minister has said that all the public and private schools and the other educational institutes in Punjab will remain closed from 25th December 2020 to 10th January 2021. The educational institutes will not conduct online classes for the students during the winter vacations. The decision regarding the reopening of the institutes will be taken in the first week of January. A review session will be held in which all the education ministers will propose the plan to extend the closure or to reopen the institutes.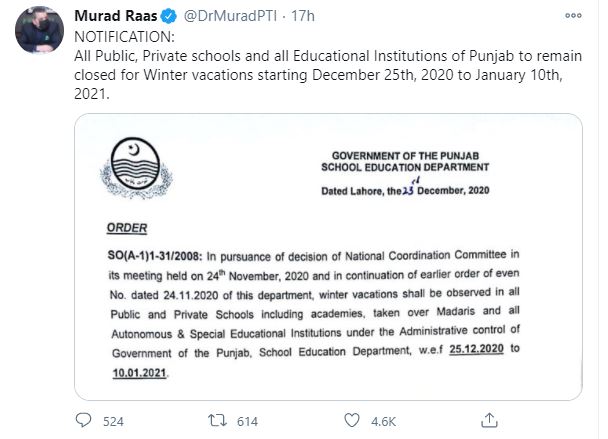 The Decision of Federal Government

Due to the rapid increase in the number of coronavirus cases in the country, the federal government had earlier announced to
close the educational institutes
from 26th November. The federal education minister, Shafqat Mahmood had directed the students to take the online lectures on a daily basis and focus on the students according to the schedule announced by the authorities. He had also urged all the students to use their time wisely and revise the courses during the vacations.
New Academic Year
Earlier during the inauguration ceremony of the Digital Continuous Professional Development the Punjab education minister had stated that due to the two long closures of the institutes the academic year for the schools may be extended in Punjab. He furthermore added the
Punjab schools will promote the students to the next grade
on the basis of homework. On the other hand, the Sindh education minister had said that the students will not be promoted to the next class this year without appearing in the annual exams. After considering the current situation of the coronavirus pandemic it is not confirmed yet that the classes of the new session will be commenced in March or August. The education ministers have also not made any announcement regarding the commencement of the board's exams of matric and intermediate.