06 November, 2020
Views 1165
Punjab School Education Department To Give Free Meals To Students
School Education Department has started a new initiative to provide free meals to kids in schools. According to the details disclosed by the Provincial Education Minister, this scheme is being implemented with the help of Allah Walay Trust. At first, this policy of school meals will be implemented in 100 government schools. One free meal in the evening lunch break will be provided to all students of the school. This announcement comes out after the severe blows of COVID-19 on the economy. The free meal initiative will facilitate the kids whose families can't support the living expenses.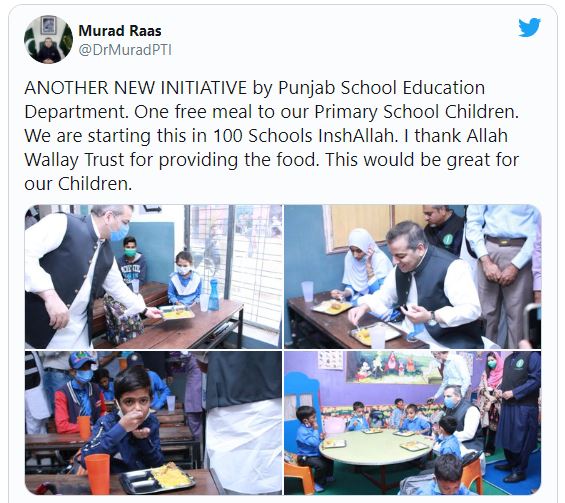 Proclamation Of Murad Raas
Education Minister of Punjab Murad Raas announced this new policy via his Twitter handle. He specifically mentioned Allah Walay Trust for providing food to the kids at schools. Education Minister declared that this new initiative will soon be implemented in 100 schools in Punjab. According to the Education Minister, this program will help the kids. Earlier this week, Murad Raas also ensured that schools will remain overall across Punjab. The agreement of all provincial educational ministers yesterday has made it clear that schools will remain open all over the country.
Child Malnutrition In Pakistan
Kids in Pakistan suffer from malnutrition, stunted growth, and anemia. Pakistan has the highest rates of child malnutrition in the developing countries of the world. Students who do not have proper food to eat perform poorly in education. Various private organizations have shown concerns over the problem of child malnutrition in Pakistan. However, the government has previously not taken any proper measures to fight malnutrition in the country. In recent times, the increased prices of food have also decreased the quality of food provided to the younger generation in most Pakistani households. Apart from the efforts to fortify and improve the educational landscape of the country, it is the need of the hour that the government takes action to provide a proper diet to the kids. Now, with the latest initiative to provide free food to kids in the schools of Punjab, it is expected that the kids will be able to have proper nutrition for growth and overall success in life.