24 November, 2020
Views 1326
Punjab Schools To Promote Students On Basis Of Homework
The Punjab Education Minister, Murad Raas said that the students in the Punjab schools will be promoted on the basis of their homework. As per the announcement of the federal minister of education, Shafqat Mahmood all the educational institutes will remain closed till 10th January due to the rapid increase in the number of coronavirus cases. Owing to this situation the Murad Raas has also announced that the annual examinations of the Punjab Board which were previously scheduled in March will now be conducted in May and June. While discussing the closure of the schools he said that the students will not attend the schools however the teachers have to go to schools on Mondays and Thursdays to ensure the quality of the homework. The provincial education minister declared that he is not in the favor of closing the schools but all the inter-provincial education ministers took this decision unanimously.

The Decision of Federal Education Minister
The meeting of the National Command and Operation Center was held on 23rd November in which all the ministers decided to shut down the schools as the second wave of pandemic hit the country. Due to the rapid transmission of the deadly virus, all the education ministers agreed to close all the institutes including schools,
colleges
, and universities. The students will learn from home by taking online classes from the teachers. As per the devised schedule, the online classes will be conducted from 26th November to 24th December after which winter vacations will start.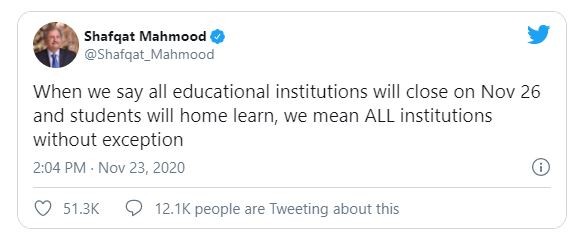 New Schedule For Examinations
Shafqat Mahmood said that the safety of the students and the teachers is our top priority and the government will make sure to take all the preventive measures to protect them. He furthermore added that the examinations that were scheduled to take place in December will be postponed apart from some professional exams such as MDCAT. After 15th January the review session will be held to monitor the situation of the pandemic to devise a further strategy. It was decided in the NCOC meeting that the decisions about the examinations will be taken by the respective provinces.