16 October, 2020
Views 204
School Education Department Changes School's Timing In Punjab
In the notification that came out on October 15, 2020, the School Education Department of Punjab has issued new guidelines for the opening and closing of schools. This latest notification is in effect for all public and private schools across Punjab. This new notification is following the previous notification of the School Education Department that was published on September 12, 2020. However, the new timings of school will be imposed only from October 16, 2020, to March 31, 2021. The government is making efforts to keep the kids in schools safe and this new notification is in continuation of the COVID-19 policy of the Government of Punjab.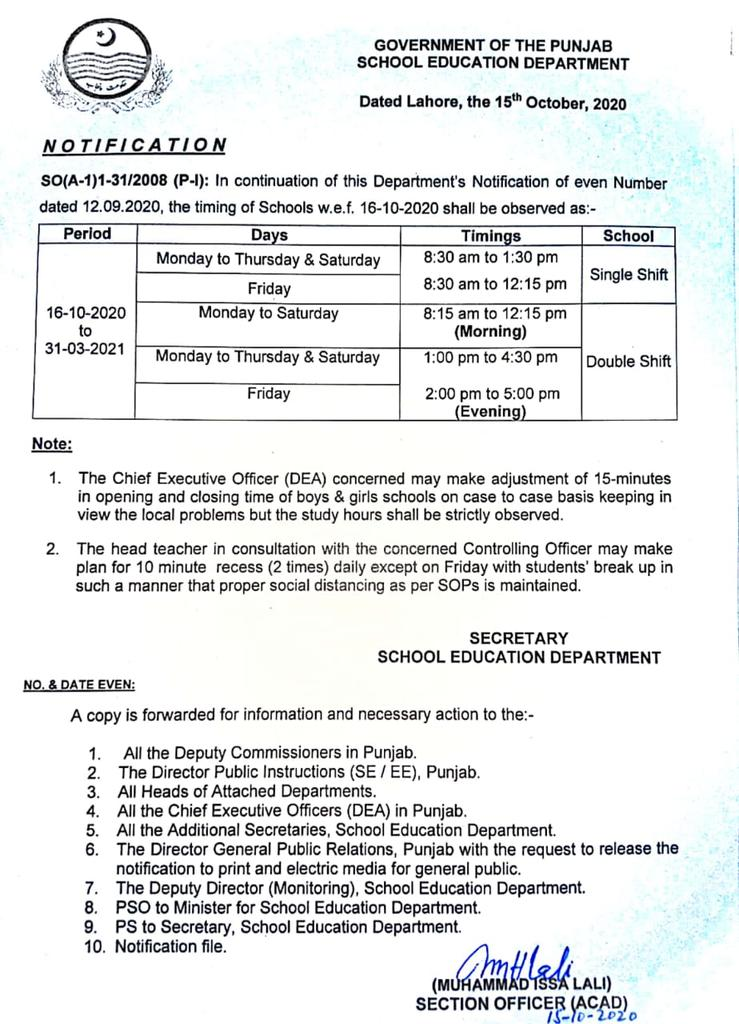 New timings for schools
The schools that are coaching students in a single morning shift will allow students to come at 8:30 am and leave schools for their homes at 1:30 pm from Monday to Thursday and on Saturday. The timings of the same schools that only hold the educational activities in the morning shift will be 8:30 am to 12:15 pm on Friday. However, the schools that follow the guidelines of teaching students in the morning and evening shift will have to follow different guidelines. The schools that conduct studies in two shifts will first teach the morning shift students from 8:15 am to 12:15 pm from Monday to Saturday. But the timings for the second shift in schools who are conducting two shifts will be different. Students will come from 1:00 pm to 4:30 pm from Monday to Thursday and Saturday. Timings for the evening shift will be 2:00 pm to 5:00 pm on Friday.
Good news for students
Earlier this month, there have been several fake news on social media that told the students about the closing of schools starting from October 15, 2020. Ministry of Education denied such fake news and made it sure that the schools will not close from the 15th of October. Now, the notification of keeping the schools open and telling the school authorities to follow new schedules is great news for students. But parents and school authorities have to make sure that COVID-19 guidelines are strictly followed.